EDIT: A lot of the pictures are too large. You can see them here
So last week I was watching Tommy MacDonald's series on his tool box. When he pulled out the router plane to clean up some dadoes, I figured I should look into one. After seeing the prices for them, I decided I would look into making one. There are plans all over the place for them: the $5 router plane, Derek Cohen's old woman's tooth, numerous projects here, and the list goes on. However, most people seemed to complain about adjustment or comfort, or some other reason. So I decided I wanted to make one that had more features to it. Namely, I wanted:
1. A depth stop
2. Better depth adjustment
3. Real handles and not the ones like ECE Primus planes
So I began poking around and found this post by mafe and really liked the bevels. Additionally, I looked at the Veritas router planes adjustment mechanism and depth stop (much like a drill press) and thought I could incorporate it relatively easily.
So I busted out the graph paper and pencil and did some doodling and came up with this as a rough plan:
I did a quick little tally of materials and figured that I should be able to do the whole thing under $20. So off I went to Lowe's and Harbor Freight. My materials list is as follows:
1. Harbor freight 10 piece SAE hex key set ($2.19)
2. 1/4" – 20 tpi threaded rod, 12" length ($1.27)
3. 1/4" – 20 tpi brass screws, 2 1/2" length ($0.96)
4. 1/4" – 20 tpi brass nuts, 4 total ($1.92)
5. 1/4" – 20 tpi brass threaded inserts, 4 total ($3.26)
6. 1/2" Pex brass test cap ($1.18)
7. Brass drain caps for irrigation systems ($2.78)
8. 1/4" fender washer (wanted brass, but they were out) ($.07)
9. 1/4" – 20 tpi hex bolt, 1" length ($0.09)
Total after tax was $15.13
So here's a shot of it all: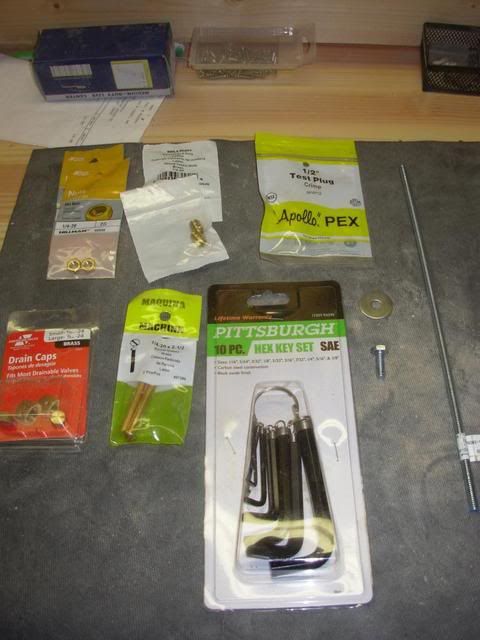 Next, I decided I should at least prototype this thing. So I started with the depth stop and depth adjustment mechanism and set screw. For the set screw, I decided to drill through one of the drain caps. First, find center: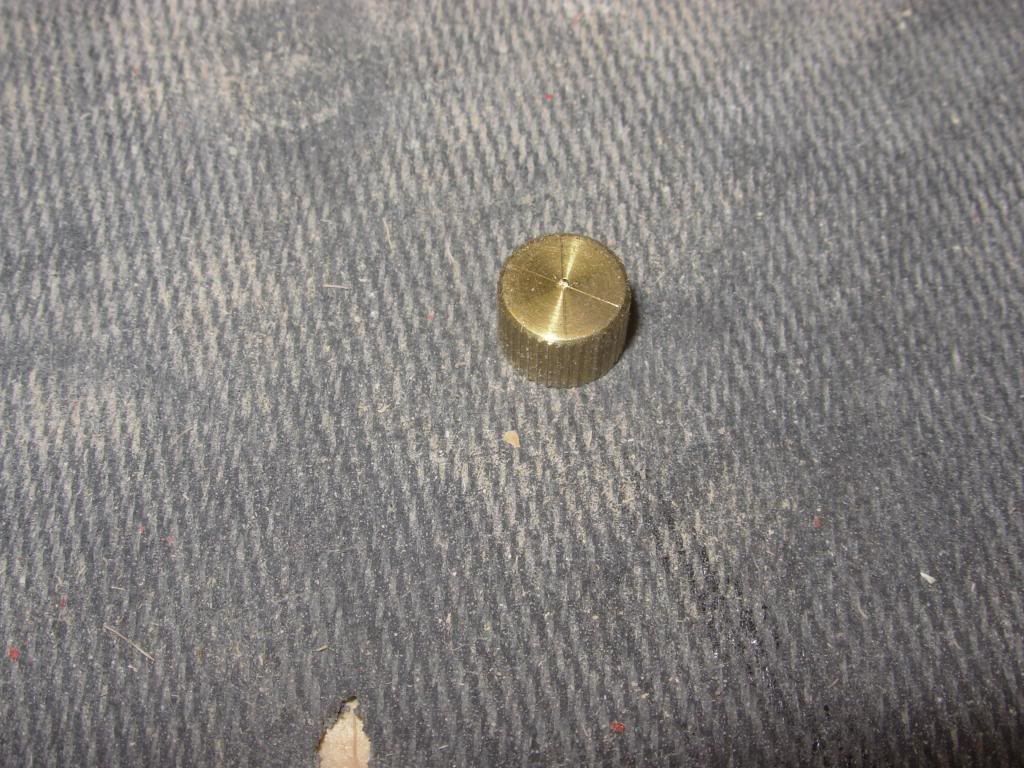 Drill out and get this: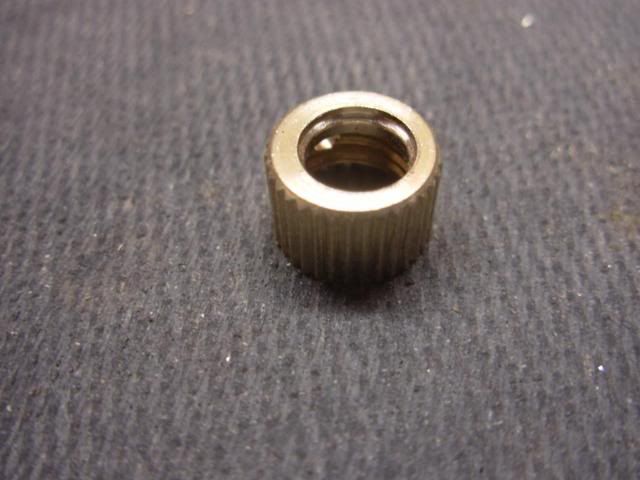 Chuck up one of the brass screws in the drill press and use a file to get the head to be the same diameter as the drain cap: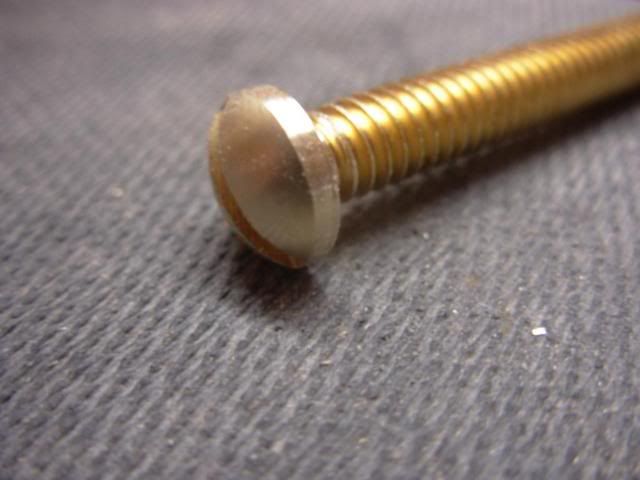 Quick test fit: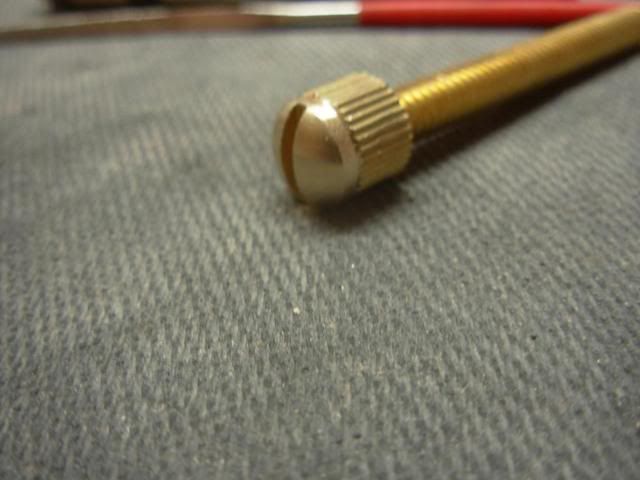 I have some left over rosewood binding from a guitar build, so a quick fit shows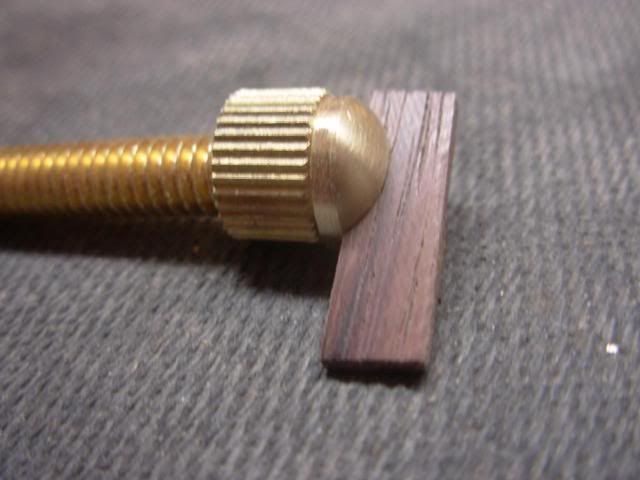 Next, for the depth stop and depth adjustment, cut a 2 1/2" length of rod and thread on three nuts, like so: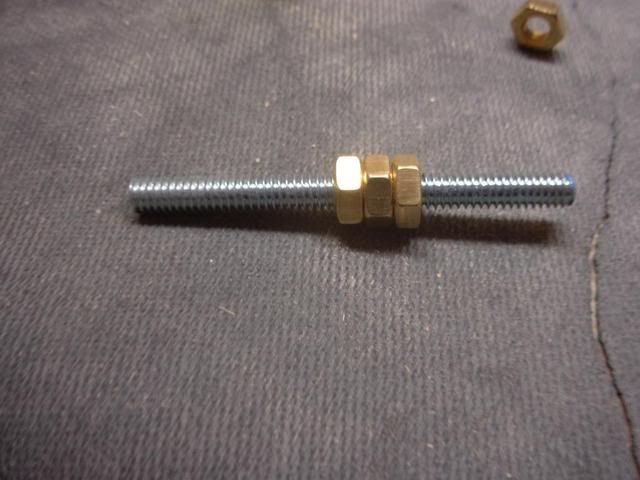 Chuck it in a drill press and go at it with a file, then some 600 and 800 grit sandpaper and you get this: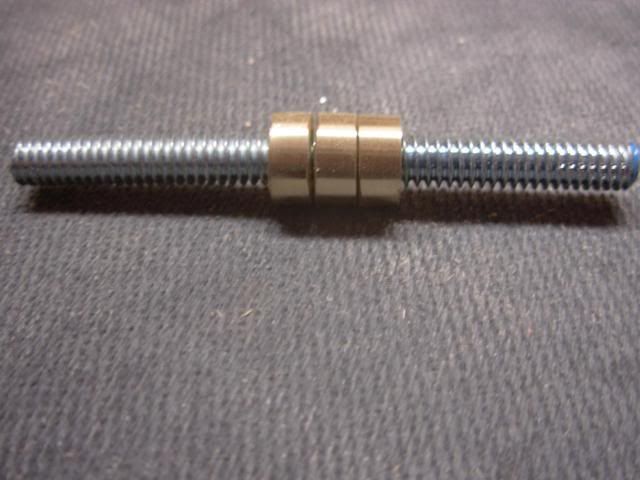 Then I turned to the wood: a grody piece of maple. Here is where I made the first two tweaks to my plans above: a 2" hole as opposed to my initial 1" hole and an overall size of 3 3/4" x 6" instead of 3" x 5". So after the first operation we got this: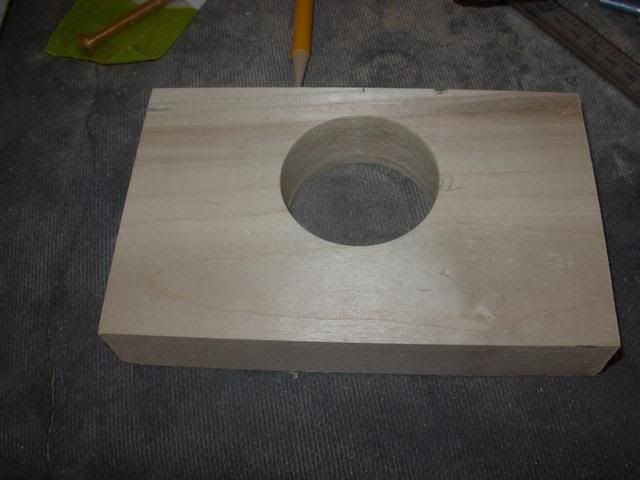 Cut some bevels on the table saw and it's starting to look more as I imagined: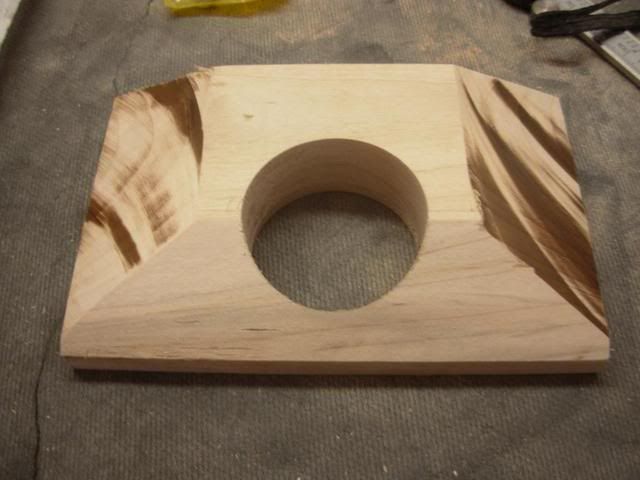 Then I drilled the hole for the set screw: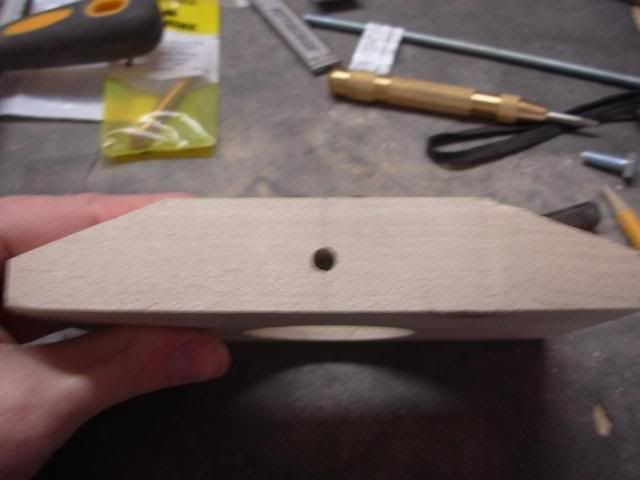 After that, mark out locations for the blade and the handles: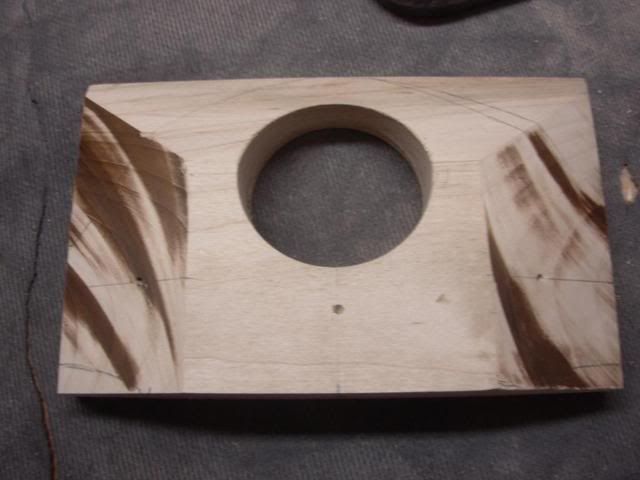 After drilling those holes, I drilled the hole for the depth adjustment post and used the 1" long hex bolt to thread the wood (I wasn't going to use the threaded inserts on a prototype)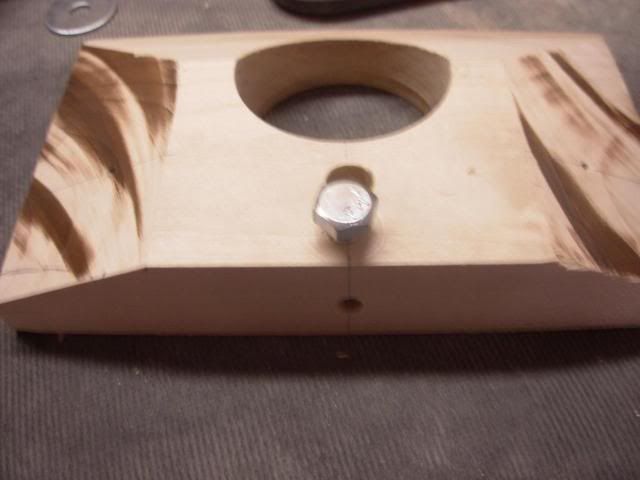 To drill for the handles, keep the cutoffs from cutting the bevels and put some double sided tape on it like so: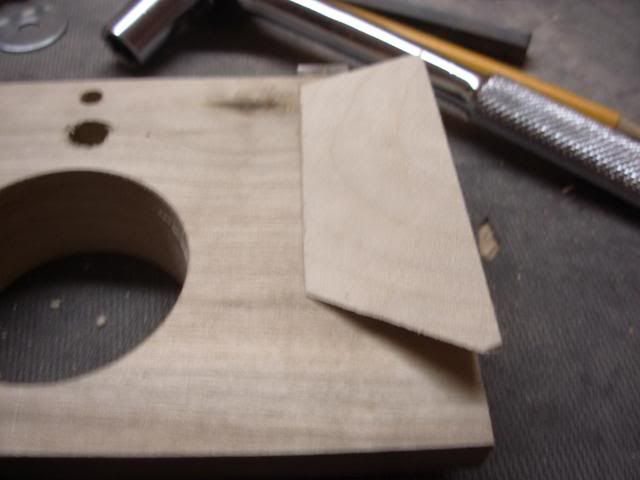 It makes a nice level surface for drilling (no tilting the drill press table)
After bandsawing the shape, it looks like the bat plane or something: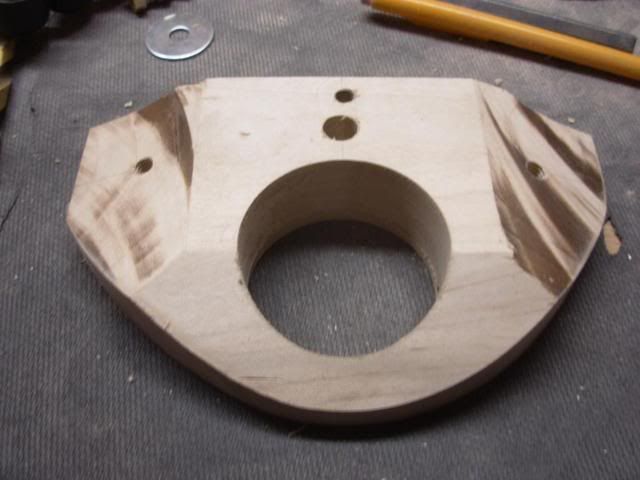 I had some 1 1/8" poplar dowel that I used for handles (don't have real lathe chisels yet). Using threaded rod, I put them on and now it's looking almost comical: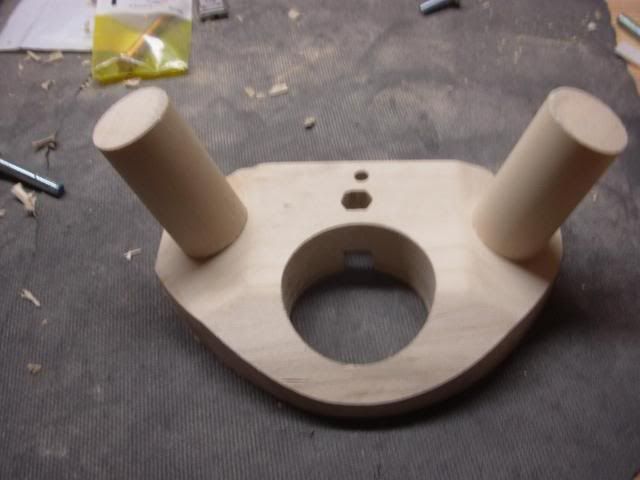 The next part was grinding the hex key to make a blade. I decided to use the 3/8" key. Now, don't be fooled by the price tag of the hex keys, these things are HARD. And grinding down a 3/8" hex wrench into a blade involves grinding off a LOT of material. It took me about 1 1/2 hours to get it all ground down sufficiently, and involved quenching in a 3 gallon bucket of water every 5 seconds on the wheel so as not to wreck the temper. But I finally got it looking like this: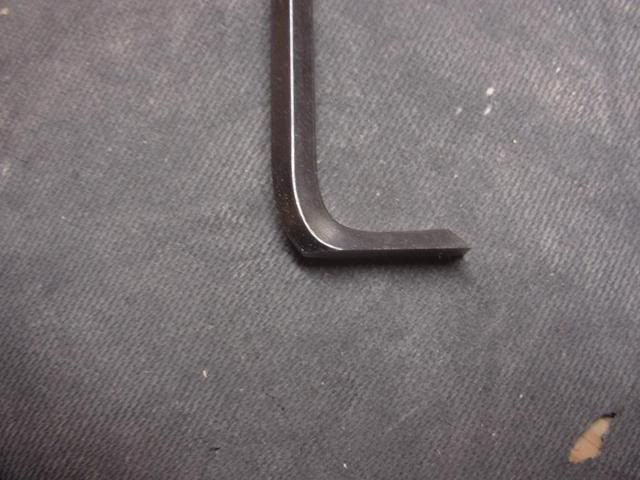 After creating the blade, I ground a groove with a dremel into the shaft for the depth adjustment: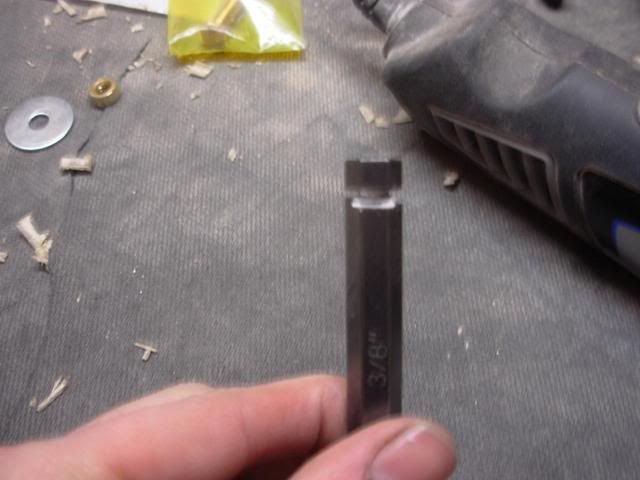 Now it's time to start assembling. Put in the depth adjustment rod: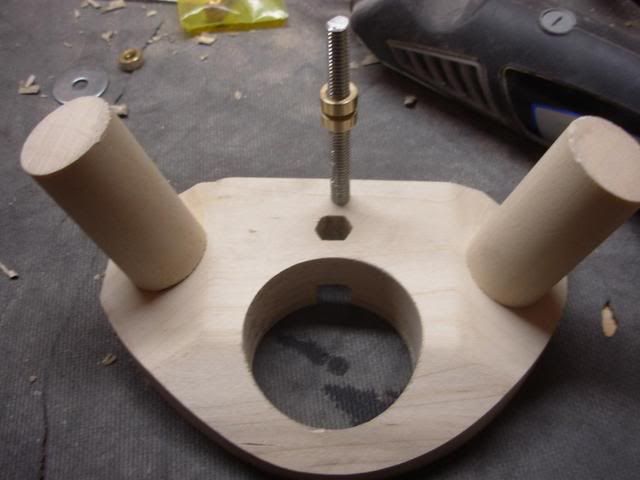 All put together:
Now, a couple things to note: The top brass nut will ultimately be epoxied into a larger wood disc for more torque and the washer will be epoxied to the under side. I also am going to use a thicker washer.
But it was time for a test! The blade was only ground up to my 60 grit wheel, so I wasn't expecting too much. I pulled out a scrap of fir and rough chiseled out a groove which looked as so: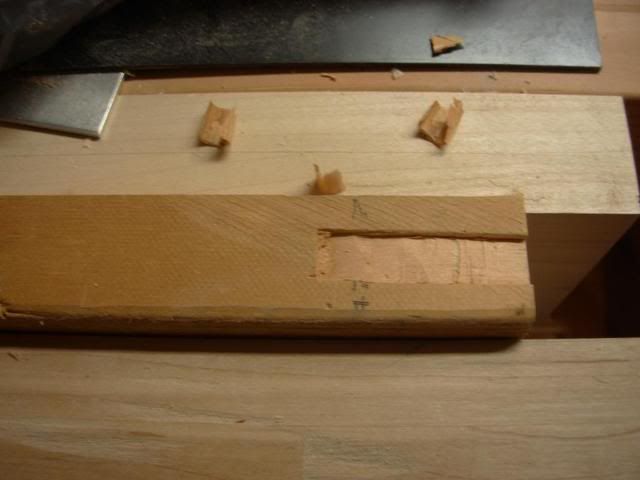 After a couple passes with the new router plane: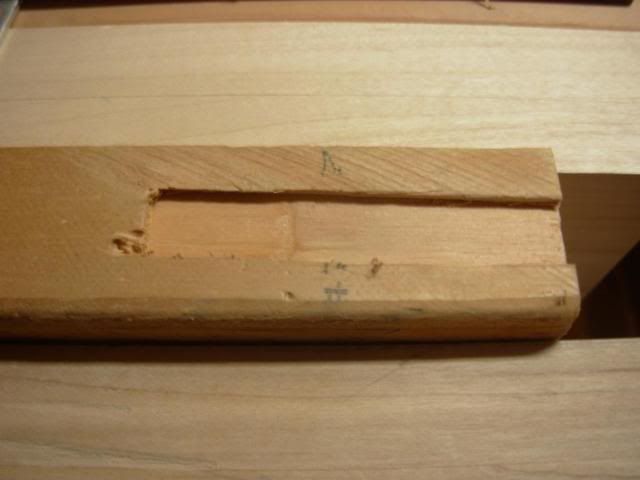 Now, I know it's not perfect, I was too lazy to go any deeper.
So now, time for some lessons learned:
1. The 2" hole seems a little too big, I might make it slightly smaller
2. The depth adjustment mechanism shows promise, though the size of the washer makes it tough to get to the upper of the two depth stop nuts.
3. Grinding down a 3/8" hex wrench is a long task. It's no wonder most people use a 5/16" or smaller.
4. The shape may need to be tweaked and I'm open to suggestions
5. It took a lot less time than I thought. I kept track and it was about as follows:
Depth adjustment and set screw work: 1 hour
Wood work: 1 hour
Grinding down hex key for blade 1 1/2 hours.
So it only took about 3 1/2 hours over 2 nights to get done. I have a few more ideas, but for now, that's all. Stay tuned for when I make the actual plane (may be a couple weeks though).
-- Brian T. - Exact science is not an exact science
---