It was a good day in the garage. I need a few more like this one to keep me on track to finish this project and a few others before Christmas Eve.
First I cut the pieces for the base frame, box sides, and the drawer fronts out of White Ash).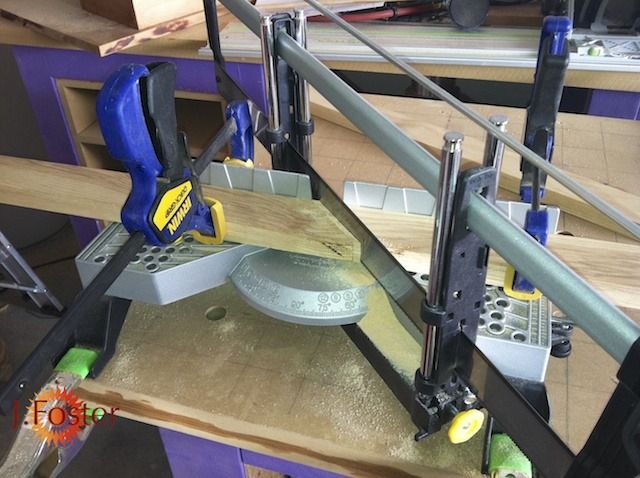 Because I'm going to attempt dovetail joints for the first time on the box sides, I cut the sides by hand and jointed the edges by hand to make sure they were perfectly matched.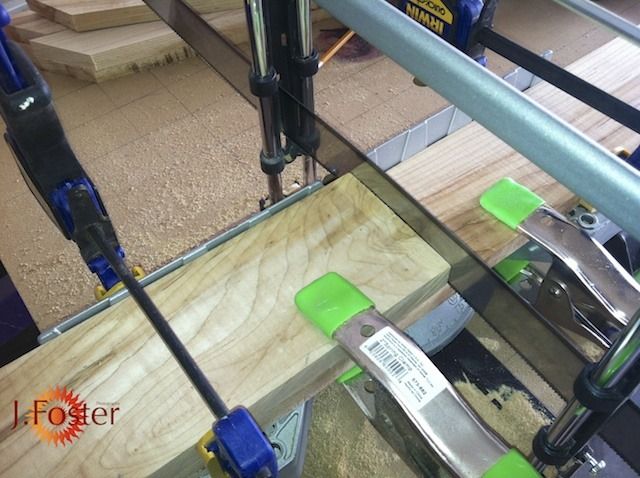 My playing surface was about a quarter of an inch oversize in both directions. I could have just glued everything up and trimmed the outsides, but I didn't want to have some squares that are smaller than the rest. I really want everything to be as close to perfect as I'm capable of, so I took the extra time to cut a 2.5" measuring block and used it to mark each square at 2.5" on two sides.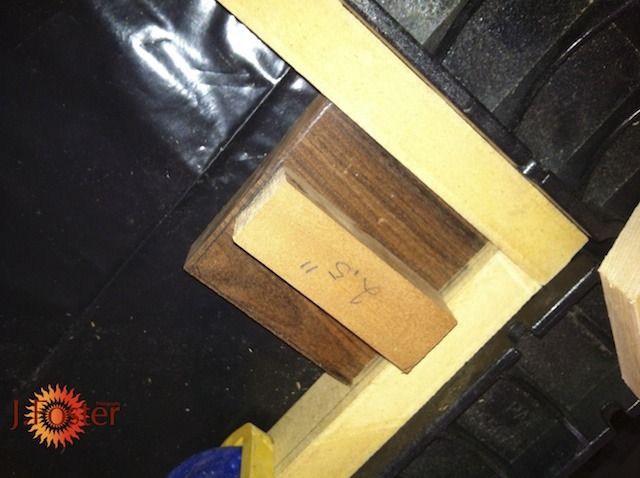 Here's a look at one of the white ash squares being marked for sanding.
Next, I used my Rigid Oscillating Belt Sander to sand up to the lines and square them up. I found one square out of sixty four, that was actually a bit undersized, so I'll have to cut a replacement before I glue it in.
Here is a shot of my first row of blocks in a jig I made for the glue up. The rest of the blocks have been sanded and are ready to be glued in.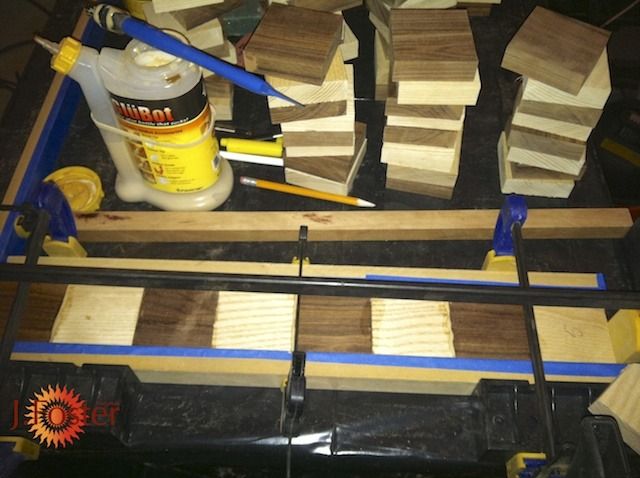 I see now why most people build their chess boards by cutting long strips, gluing them together, cutting across, and flipping every other strip. Maybe I'll do it this way in the future, but for this project, I decided that I liked the idea of an interrupted grain surface, so I'm stuck with doing it the hard way to get the look that I'm going for.
Here's everything I want to accomplish tomorrow:
1) Add a thin border between the top frame and the playing surface to look like an inlay. I'll probably cut the strips from my left over Pau Ferro. I'm really enjoying working with this wood.
2) Complete assembly of the top frame and checkerboard using my biscuit joiner.
3) Make up a panel for the bottom of the box and install it in the bottom frame. I think I'll probably use the same 1/4" Poplar that I plan to use for the drawer dividers and just float it in a dado. It's only going to show when the box is upside down. I was going to use MDF, but I kind of like that this entire project is made of solid wood.
4) Actually stop putting it off and force myself to cut those dovetail joints for the box sides. At least I'll practice a few on scraps to get the bugs worked out.
If I can get all this done tomorrow, I'll be in good shape to rout some decorative edges, sand everything, build the storage drawers, complete the final assembly, and get started on the finishing during the week.
I hope my photos will be helpful to someone else who may want to build a similar project.
Regards,
Jeff
-- "There seems to be a black hole in my garage that swallows up pencils and tape measures as soon as I put them down."
---