When I first started getting into woodworking, Pops showed me his two carving mallets. One was made from Osage Orange and one was a heavier, denser, more oily wood. He didn't know what it was, but he said if I ever came across one to pick it up because they were pretty hard to come by.
It didn't take me much research to figure out Pops had a Lignum Vitae mallet in his possession. So I started looking into finding one. An extensive search found very few places that sold them. Most sold mallets made of similar woods or slightly-less-dense hardwoods like Tonga. I did find a place that claimed to sell brand new Lignum Vitae mallets. They have Lignum heads and an ash handle. Here is what one looks like:
It didn't quite look the same as what I'd remembered Pops' to be like… After reading up on it a while, I came to understand there are really several different genus/species of tree that people refer to as Lignum Vitae. The mallet I had is Bulnesia sarmientoi, or Argentinium Lignum Vitae. It is a good, strong wood, but it doesn't have the characteristics of true Lignum Vitae, which only grows in a narrow lattitude of the Earth and includes Haiti and the tip of Southern Florida. Scientifically, it's name is guaiacum officinale.
Thus started my search for a true, one-piece lignum mallet…
My next eBay purchase ended up being a bit of good luck on my part. It was listed only as a wooden carving mallet. I could tell by the weight the seller gave (true lignum vitae weighs in at 88lbs per cubic foot) and the grain of the wood that the mallet head was true lignum. The handle is probably oak.
It wasn't the one-piece turned mallet I was looking for, but I knew I was getting closer. Besides… I picked it up for a song and a dance ($20) and the guy happened to live right here in St. Louis, so we ended up meeting in a hospital parking lot, passing money and woodworking tools through cracked windows in a small rain shower. It felt very cloak and dagger like…
The next two I collected were more along the lines of what I was looking for! The seller listed them together, so… I got two. I paid a little more for the pair ($32), but I think I still got a good deal. The larger one is a very hefty mallet; it is useful for more forceful carving and chiseling work. The end of the head is still stamped with "HAITI", a sure sign of the true Lignum mallet.
The smaller one is a very light mallet – the lightest Lignum Vitae mallet I've seen – and it works well for finessing a chisel just the right amount. This mallet was turned from a piece of Lignum that was all sapwood, which is why it is lacking the distinctive dark graining.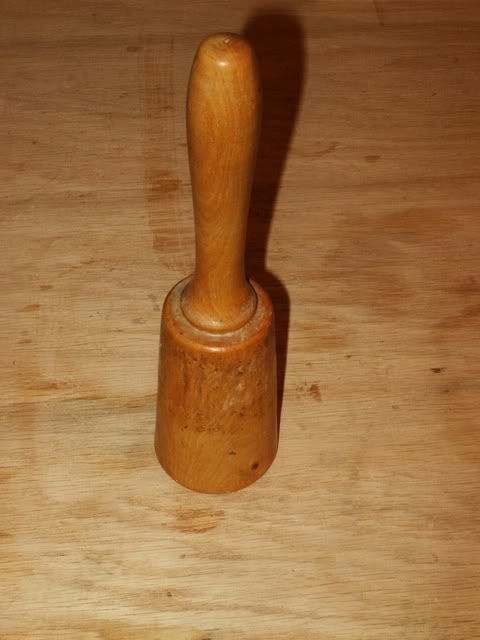 A few months ago, I was given the task of cataloging the woodworking tools of my first mentor, as he'd suffered several strokes and was unable to do any more woodworking. His wife wanted me to pick out one or two tools that might mean something to me. My eyes immediately rested on Pop's lignum vitae mallet – the one that had started it all. I picked it up and held it by the handle and looked up at her. She nodded quietly. I gave her a $100 bill. It is the most I'd paid and probably the most I'll ever pay for a lignum vitae mallet, but I knew it was going to a good man who needed it. At some point, hopefully I'll get over this weird desire to track down and own these mallets… but even when that day comes, I'll still hold on to this one.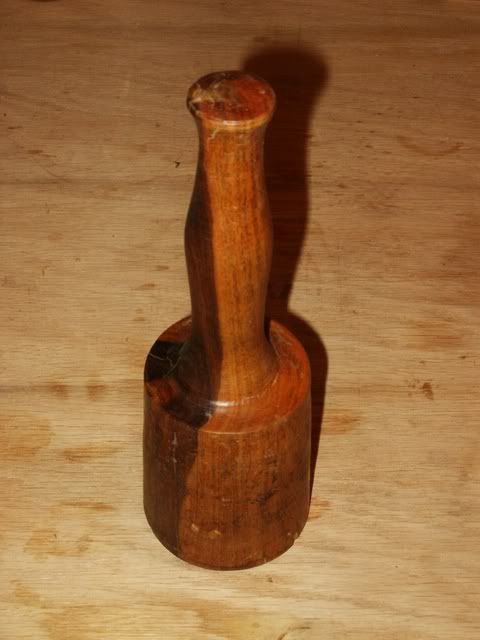 Speaking of stopping… What started this whole blog entry? My latest find… Just won and paid for it this evening, so I don't even have it in hand yet, but… here it is:
http://www.auctiva.com/hostedimages/showimage.aspx?gid=75153&image=44744041&images=44744041&formats=0&format=0
A slightly different shape, no? It will be interesting to get it in hand and measure it out to see where it compares to the others. I'd also like to start weighing them and maybe doing some tests on which mallet works best in what situation.
(I guess I'm really just trying to justify my problem… whatever works, right?)
-- Ethan, http://thekiltedwoodworker.com
---