(an excerpt from http://greystonegreen.blogspot.com)
My wife and I took a trip across the river to the monthly Belleville Flea Market this past weekend. We combined that with a visit to my great Aunt Edy who is about 80 and still walks five miles every day (wow!). Dana and Aunt Edy spent a lot of time looking for cut glass and Griswold cast iron. If you can imagine, I focused on other things; namely, handtools.
To be honest with you, I thought the pickings were quite slim, as far as flea markets go. I did find a fairly nice Stanley #5 in good condition. I chuckled as I disassembled the plane, checking the various parts out for defects – the blade was set bevel-side up! If it was a "user", it must not have worked very well…When I assembled it again, I put it together properly; my OCD would not have it any other way.
The handles were crisp and tight and the Victory blade had a lot of life left in it. It wasn't priced terribly high, at $27, and I was sure I could talk him down some, but I thought back to the pre-WWI #5 I have sitting at home, waiting for me to restore it, and I decided to pass. In retrospect, maybe I shouldn't have. I could have fixed it up and given it to my best friend or one of my woodworking friends… I probably won't pass up the next one I find like that.
I did not, however, pass on a nice little piece I thought I'd share with you. It was in the $1 box, so I didn't feel right trying to talk them down any. It is a hand tool, but not the usual kind one keeps an eye out for, I suppose. Here's a picture of it in the untouched state…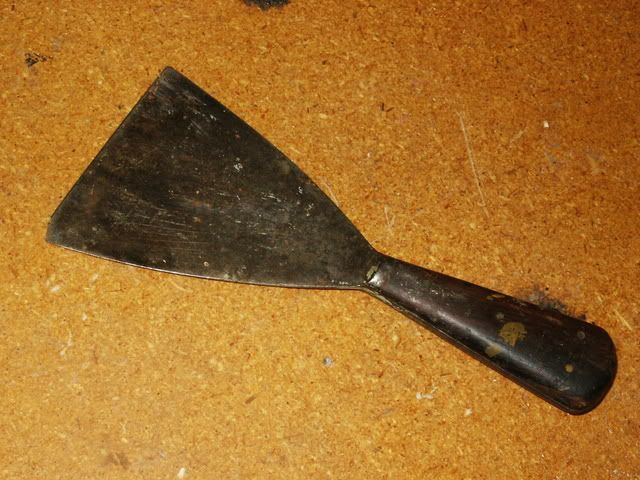 Not much to look at, is it? Give me a few minutes with some mineral spirits and a green scotchbrite pad, though, and see what you think after that.
That's a little better. Now take a closer look at the handle. That isn't plastic, my dear big-box-shopping friends! Looks like rosewood to me. And check out the metal in this close-up.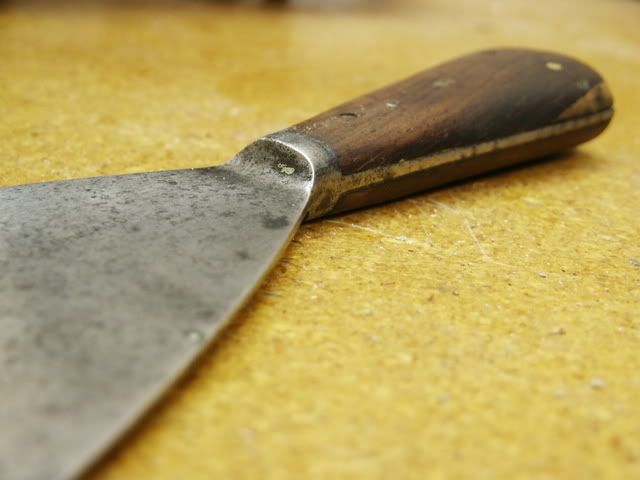 The blade, the ferrule and the tang are all one piece of metal, riveted to the rosewood handle with brass pins. In this picture, you can also see a small band of sapwood on the end of the handle. It actually has a maker's mark on it, too! It says, " G. L. & CO. CHICAGO" on one side of the blade. Google didn't come up with anything on it, yet, but I'll keep an eye out.
The blade is really thick and hefty; I wonder if I might be able to file a nice clean flat edge on it and sharpen it up like a scraper. I could use it to clean up the insides of boxes or tight corners, maybe? It feels like it could really hold a hook, though.
I'll have to post something about it if and when I give it a try!
Aunt Edy kept apologizing to me; she felt badly that I didn't find anything other than an ordinary paint scraper. I don't know… a rosewood handled paint scraper with an integral tang? It might not be the find of the Century, but in our world of plastic and poor quality, I'd call that anything but ordinary…
-- Ethan, http://thekiltedwoodworker.com
---