I have traded e-mails with LJ member Dennis Zongker, and he was kind enough to offer a shot at scrap lumber that was too small to use/store at the business he runs with brother Dan. Usually they give loads away to the local high schools, but being the shameless wood hoarder that I am, I had no punctiliousness about robbing the kids of a few sticks of lumber (Sorry, Teenagewoodworker, it's every man for themselves when they are handing out free wood).
This last Sunday, Dennis was down at the shop working on the parquetry project he is currently involved in. Since the largest part of his day is spent running autoCAD and planning/project managing, it struck me as not one bit odd that this Sunday – his birthday – was spent in the quiet pursuit of his craft with only the his thoughts and the shop cats in attendance. He offered to let me come down and make off with a horde of wood, much of it 8/4. Those of you who are familiar with the fiction of J.R.R. Tolkein know that Hobbits, the diminutive race of Middle Earth have the practice of giving away gifts on their birthday – rather than receiving them. Striped mahogany, beautiful walnut, cherry, yellow poplar, flame birch, ash, maple and purpleheart cast-offs were on the bill of fare at this quiet party. Since time was tight before he was off to the movies with his children, I had just enough time to stop at the Old Market in Omaha for a slice of chocolaty goodness from Delicé a European bakery a few blocks from the shop. Quite a haul in exchange for chocolate.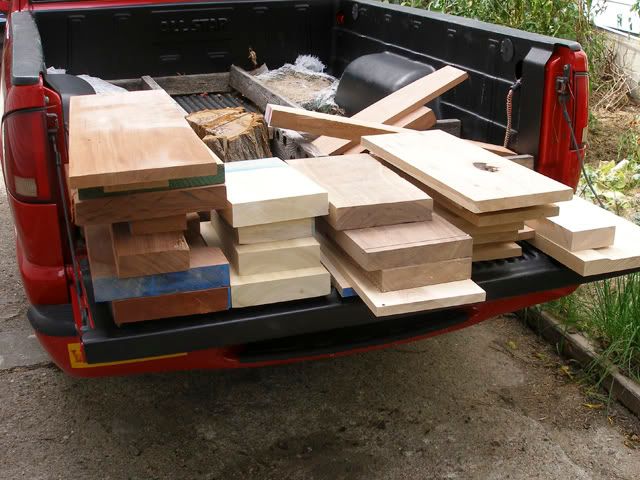 I'm already carving some up for use on a plane till project I'm working on, from this idea from Thos. Angle
Thanks again for the wood and the help out with it to the truck, Dennis. This is enough fodder for a year of small box work and shop fixtures. Happy Birthday to you!
-- "Bordnerizing" perfectly good lumber for over a decade.
---