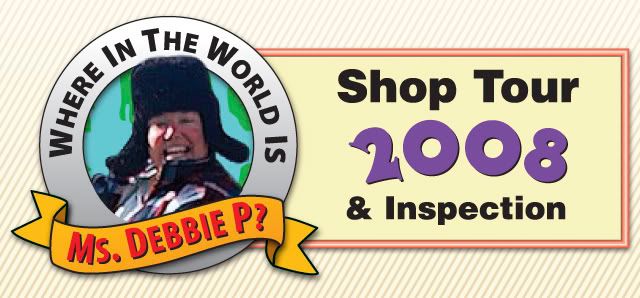 This month's visit is to Lebanon, New York, at the garage-shop-laboratory of Dadoo. In his own words, he is a; "Mad Scientist, creator, salvager, grandfather (Dadoo), husband, home builder/wrecker, sawdust and grease spreader, designer, dreamer, computer geek, photographer and Licensed Nurse. I've also been a volunteer Firefighter/EMT since '92." And a slippery slope ridin' Galoot. He's pretty worked up about his recent reclamation project. a 1927 Sargent #714 Auto-set Jack Plane.
All business, Deb takes thorough notes on the process. That tote and knob look pretty great.
Assured of a claim to greatness for this (and so much more), here is a shot of Dadoo's most excellent hinged sheet goods storage device. Apparently, Dadoo still has to get an automobile into his shop (on occasion), and with the winter weather upon us in North America, there's the uncontrollable problem of the ingress of slush and moisture with the car. After putting on his thinking hat, he arrived at this elegant solution.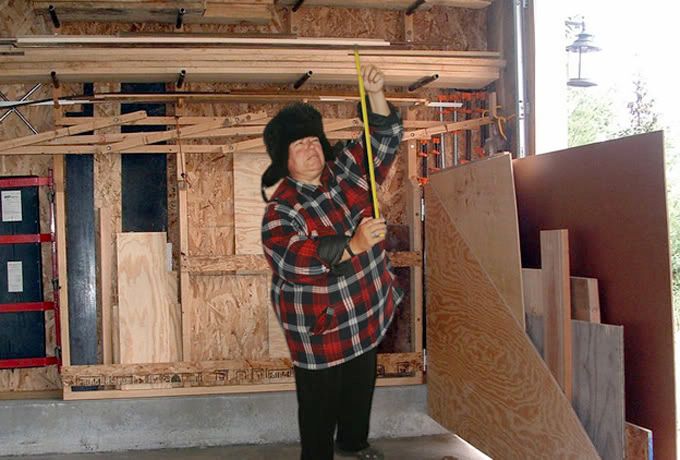 Debbie specs out the job. I desperately need one of these in my shop.
Hand in glove with the storage solution is the mobile assembly table work bench that Dadoo has fashioned, complete with jauntly purple paint job. At first blush I thought it was made of Purpleheart, but I suppose you'd have to be Warren Buffett to afford one of those.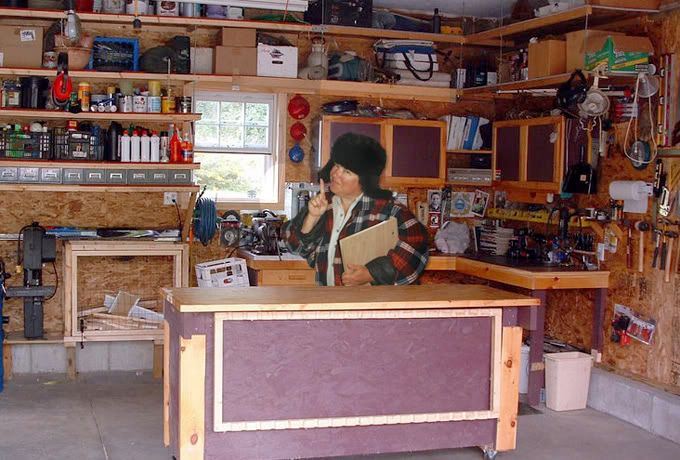 Dadoo gets major points for overhead extension cord storage, and readily available hearing protection.
As our visit wound down, and the gloaming filtered through the shop window, we heard a high-pitched hum and the tinkling of tiny bells. Looking up at the picture of Norm Abrahms, we witnessed a mystical experience.
Apparently a new episode of The New Yankee Workshop was completed and in the can. It was like a trip to Lourdes. Fascinating.
Well, as you might guess, the innovative Dadoo passed his inspection with flying colors. Dadoo, your passed certificate, suitable for framing, awaits here.
Good show! Keep the not-so diabolical ideas coming!
-- "Bordnerizing" perfectly good lumber for over a decade.
---