This week's tour is in Delhi, CA, just down Hwy 99 from WayneC and Bill Brooks. Lot of Californians on this tour. Could it have anything to do with the advancing winter in Canada (and Nebraska for that matter)? I expect more Midwesterners to step and volunteer for a tour!
Ron is a roofing contractor who has annexed a 20×30 foot area of his 40×60 metal building for a wood shop. The rest of his building is reserved for his business as a roofing contractor.
Here Deb takes note of the ceiling mounted air hose, a nice decluttering touch.
There is also wall mounted compressed air.
The structure in the upper foreground is a lumber loft. You can guess Ron is no stranger to that big ole ladder, either on the job or in the shop. The shop has a 16 ft. ceiling.
Here Deb takes the measure of the assembly bench and planing station as well as the lunchbox planer.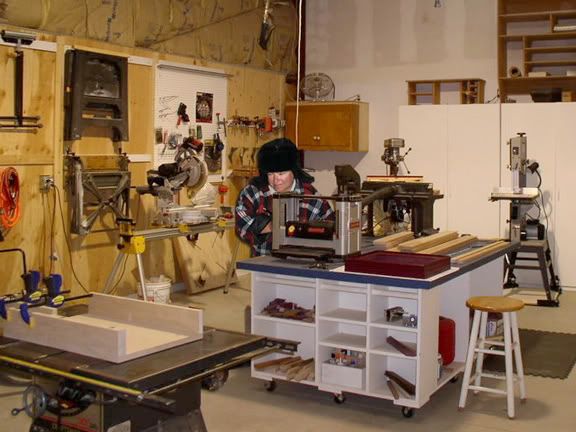 There are few other stationary tools as well… this shop is loaded for bear.
After inspecting every inch of the 20×30 floor space it was time for the traditional "Tea and Tally" part of the tour, complete with shop tunes and a sink to wash up the traveling tea set afterward.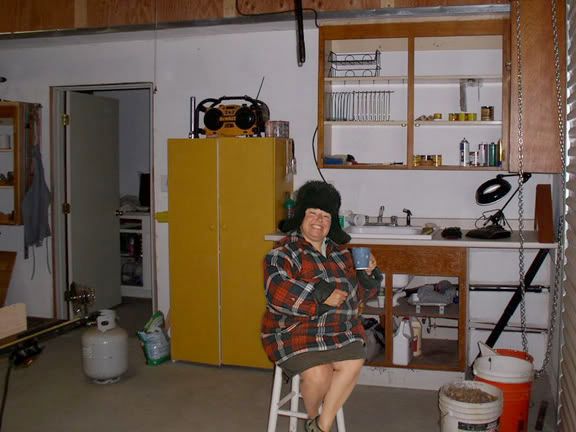 On the way out we took a gander at the path into the shop and noticed the tiller. Let's see…RAH is a woodworker, a home roofing contractor and has gardening interests.
A triple threat in the burgeoning Sojka InterNetwork of fine sites. Your shop's a winner Ron. Let's pencil in a tour of the garden at gardentenders.com.
You passed certificate is here
-- "Bordnerizing" perfectly good lumber for over a decade.
---