The story, for those unfamilar with the first entry, is that I was driving through the neighborhood. Truth be told I had the feeling there was going to be something I was going to find. Highly developed "Free-dar". I happened upon a yard with the entire length of the sidewalk lined with quartered log sections of a massive maple tree and a sign exhorting me to take all I wanted. I was frustrated because most of the sections were massive. And when I went to toss one in the bed of the pickup, I about busted a gut. Each of the pieces I tried to lift were in the 80-90 lbs range. The homeowner helped me get a second log quarter in the bed, and told me there was more in the back.
I politely told him that these were for bowl-turning and would likely have more than I needed, but thank you.
If you ever hear something like that come out of your mouth, slap yourself.
I waited a week to have the time to render bowl blanks that would fit my mini-lathe and my 14˝ bandsaw with the 6˝ height stricture. Then I coated the endgrain with some left over blue paint. The next day I decided to try a wet-turned bowl, and turned the piece down to about 1/4˝ walls. I let it air dry for a day, mounted it back up in a four jaw chuck, refined the shape and gave it a preliminary sanding. I had thought to let it dry in paper bags, but I decided to try microwave drying with this small piece. Predictably there was some warping, as the bowl became oval in shape – stretching out in length along the end grain. But the shape remained pleasing, and so I pressed on, mounting the blank back up and in the spirit of investigation I decided to wet sand with some homemade danish oil that I toned with Walnut and Corinthian MC Campbell Microtone wood dye (acetone and alcohol base, non-grain raising).
Predictably the endgrain took more dye than the rest of the bowl. But the science experiment looked okay to me, so I'll post these shots.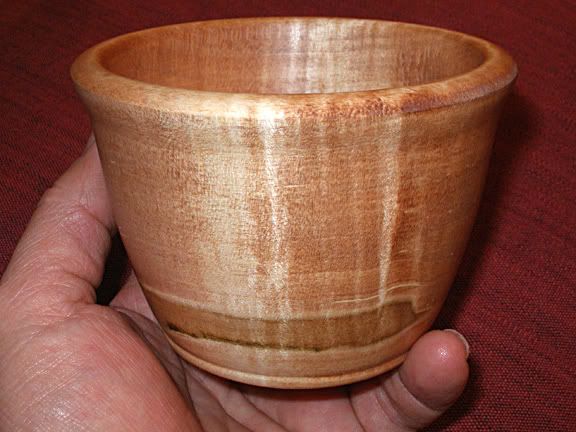 This last shot I took into Photoshop, cut out the background and a huge flash shadow, and made a digital background to match the other shots taken on a couch pillow and added a modest drop shadow.
I didn't have to add any grain! This haul of logs has tiger-striped figure in the rock maple. I have since recovered every usable scrap of the blank offcuts and trimmings. If only I would have known this, I would have rallied every relative and neighbor within shouting distance and stacked maple behind the garage up to the eaves.
But you know what they say…"If ifs and buts were candy and nuts, it'd be Christmas all year 'round."
I'll have to be thankful for what I've gotten.
When I'm sure everything is completely dry, I'll put on a decent clear coat on this piece and it will sing…
I'll post the progress, and any other offspring of my lucky logs.
-- "Bordnerizing" perfectly good lumber for over a decade.
---