This week's visit is to Blake's shop in Santa Cruz, CA. Blake is a part-time firefighter and student, who eventually wants to fight fire full-time. He has been a member for only twenty days, but burst on the LJ scene with his claw box challenge, and has been active in posting boxes, jigs and blog topics since signing on.
He has a great shop with a host of good tools, some new and some handed down from his Father-In-Law. And he has posted the rehabilitation of a 1959 Dewalt Radial Arm Saw, made in the era of indestructible powder coated tool cabinets.
Here is Deb, pointing out a major safety item, the ambient dust filtration system mounted to the ceiling of the shop.
He has a photo in his workshop photos in full gear: dust mask, goggles, muffs and apron. I'll bet he wears them when they are called for rather than letting them hold down nails in the wall (I am guilty of this).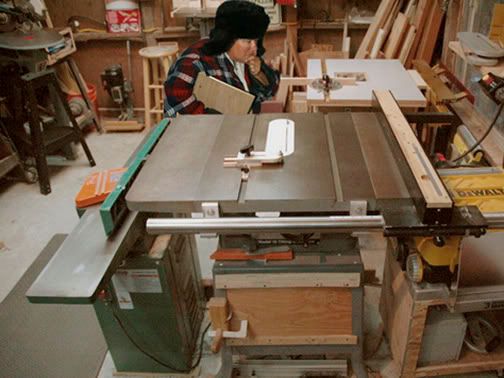 With her usual attention to detail, Deb takes look at Blake's TS, planer, jointer configuration. I look forward to seeing some marquetry down the road. Look over in the corner at the nice scroll saw… There is a hollow chisel mortiser waiting to perform as well. And he has a fold-down incra jig on his router table. That is a great innovation/storage solution I'll have to investigate on my next router table incarnation.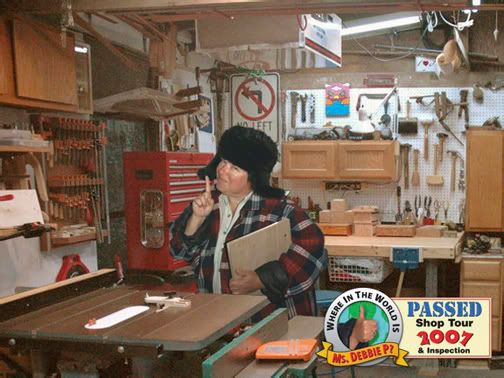 With a parting shot Deb reminds us of the important use of safety equipment in the shop, as well as pointing out the micro-splitter and thin-strip ripping jig on Blake's TS.
The shop is a winner. Thanks for some fresh takes and some great projects Blake. You're a natural for Lumberjocks (as well as a great Boxhound).
Go get that certificate
-- "Bordnerizing" perfectly good lumber for over a decade.
---