Our inspection this week is to a another garage-based shop in Great Britain. We visited YorkshireStewart, whose facilities are "just a half mile or so from the rapidly eroding boulder clay cliffs of the East Yorkshire coast."
Here's a map to identify the location of those of us that were daydreaming about shop class while we were in geography class.
In this shot it's apparent that there is no small measure of wonder being manufactured there. This is a wooden rocking motorcycle made by Stewart for the Christmas gift of his grandson Sam. The detail of this project is astounding. There is even a tiny wooden sparkplug sticking out of the block.
Stewart enjoys box and cabinet work, as well as carving and turning. His work is featured in a Flickr Wooden Box Group. His handle there is Voigtlander, but it was pretty easy to sniff out his identity based on the photos posted on Lumberjocks. I'd venture to say that there are no other exact duplicates of his unique natural-edged lidded box anywhere in the world.
Debbie has occasion to inspect the totally organized hardware storage in Stewart's shop. I was taking notes too.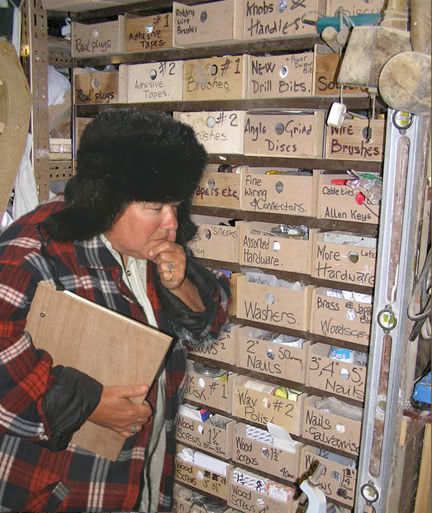 A shot down the length of Stewart's work area, which is just wide enough to "Swing a cat". PETA, please note that no actual cats were use to measure the shop's circumference. The usual inspection tape measure was sufficient.
After a close look about, it's time to close out this week's tour with a suitable cup of tea.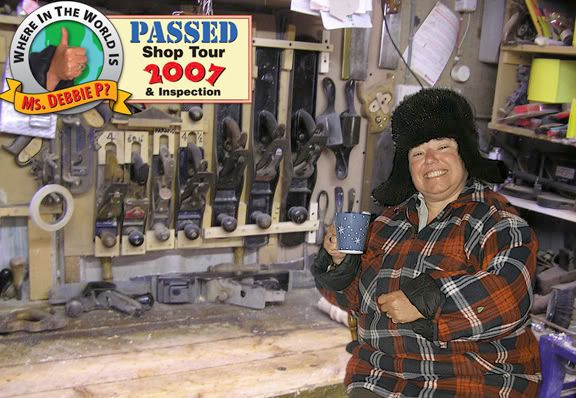 Thanks for allowing our visit Stewart and for sharing your great projects with Lumberjocks around the world. Be it ever so humble, this a great shop and a definite winner. Stewart your passing certificate awaits.
-- "Bordnerizing" perfectly good lumber for over a decade.
---