This week is a continuation of a homage to the Lumberjocks California Highway 99 group (including Bill Brooks, Obi and WayneC). Wayne, as many know who follow his blog series has a passion for rehabilitating older tools with an emphasis on hand planes of all types. And he has awakened the desire in this woodworker (for one) to brush up my hand tool skills, as well as to give new life to tools that are looking for a new home. He also has a fair menagerie including birds, cats and (surprise) dogs. He has been a featured character in Gizmodyne's Lumberjocks comics series.
Our first shot in the inspection is this troop review of his hand planes.

Wonderful examples of Stanley, Thomas Lie-Nielsen, Record and Lumberjock Philip Edwards planes, as well as nice plane related items from Craftsman Studio
Wayne has work-related travels to Shanghai and Singapore. One wonders if some wooden bodied pull-planes will be joining the order of battle soon. Wayne's shop is in the family garage, and so must share space with the family's storage. It gets a bit tight at times.
Safety points are awarded for having hearing protection and pushsticks at hand. I'm not sure if Deb noticed the extension cord in this shot. We compared notes after the tour, and both of us complained of having a befuddled feeling while in the shop.
So Wayne, for sharing your information and your passions with fellow Lumberjocks, for helping to promulgate hand tools skills and for having a great shop, congratulations on a successful shop inspection.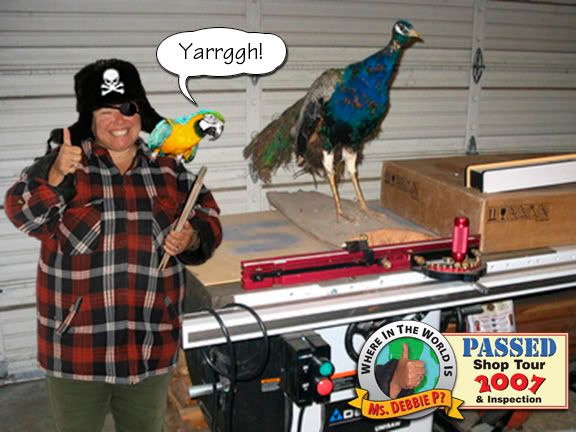 Debbie got some practice on her Halloween get-up with the aid of Popeye, Wayne's Blue and Gold Macaw, and LJ the peacock.
Thanks for allowing the visit. Your well-earned (we think) certificate awaits.
-- "Bordnerizing" perfectly good lumber for over a decade.
---