Bob2 has described his current shop digs as "A collection of tools at or near electrical outlets." The space is in his business warehouse until he is able to pour concrete for a dedicated home shop. I feel instantly at home in this environment as there is a lot packed into a small space, and it's none too organized. No sense burning brain cells on prettifying and organizing when the thrust to learn and create is where the true fire exists.
As long as you know what pile to look in, well, it's really the same as having labeled drawers and hanging folders in filling cabinets. My Missus doesn't buy this line of thought and Bob was reticent to allow Deb and I to showcase his shop for fear of becoming the second lumberjock to fail the inspection (I am the only current failure. Yet again fulfilling my destiny as poster-child for behaviors one should prudently avoid). However I really needed a volunteer for this week's tour and I arm-twisted Bob into stepping up to fill the void. In deference to his brave and noble self-sacrifice, I managed to work with Debbie to provide Bob a pass on any clutter-based demerits.
Enclosed in the safety of this protective pass, Bob was happy enough and gentlemanly enough to allow our visit for the glory of Lumberjocks and the Maple Leaf standard that flies above his facility. Here is a shot of his dandy lathe station. He gets extra safety credit for having the rainbow colored "Chuck Cuff" on his lathe. It wraps around the chuck to help avoid losing chunks of flesh to the jaws which become virtually invisible when rotating at high speed.
Good show, Bob!
So far we have visited two Canadian turners, and although that number hardly fulfills a necessary sample to support any scientific conclusions, I am a bit surprised that neither of them have a big ole Oneway machine. Any Canuck with a big white wonder that wants to sponsor a visit would be appreciated. Heck, any barely breathing Lumberjock anywhere in the world with any woodworking equipment would be welcome to sponsor a visit.
Next, Debbie prepares to measure the boom length on the excellent blade cover and dust extraction unit on Bob's table saw. More safety points.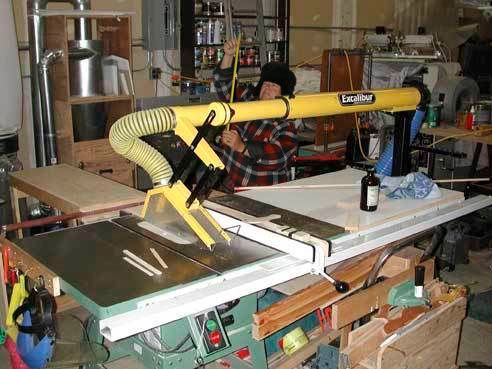 Next its a view of Bob's bench and assembly table. I was impressed with the double drill holsters. Two-Gun Bob, the drill-driving machine! Worthy of Deb's contemplation.
Now Bob's current specialty is the design and manufacture of jigs. A current project Bob posted is a slab gauge/resaw jig for the bandsaw. There was this tasty slab of spalted maple that I couldn't pass showing. I know Dorje and CharlieM1958 share my love of spalted lumber. I sense the possibility of a Planer/Panama Jack style cross-border lumber raid brewing.
Everyone should take precautions when working spalted wood though. An effective dust-mask is a must due to the possible inhalation of spores that may become aerosolized when cutting spalt. Very bad and potentially deadly inhalation hazard.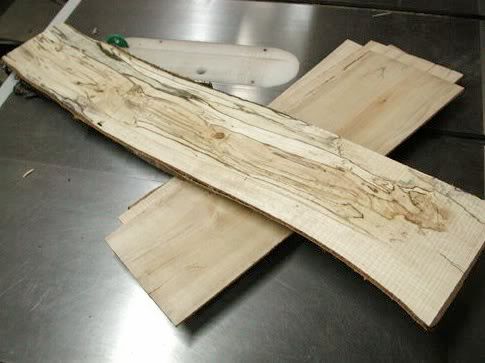 Check out the nifty little green Micro Splitter on his zero clearance throat plate. Yup, even more safety points.
Well, I have rambled on again through another Shop tour, and reached the end of the alloted space. I just want to say Thank you, Bob2. You are, sir, a gentleman and a scholar. And a credit to Canadians and woodworkers everywhere. You and your shop are winners.
Your well-earned certificate awaits.
Tapadh leibh
-- "Bordnerizing" perfectly good lumber for over a decade.
---