We waited patiently, and here they are. The pictures of Bill's shop have arrived and Debbie was quick to sign on for a trip to sunny California. We visited Bill's shop in Turlock, along the Lumberjock corridor that runs along California Highway 99 (from WayneC's in Sacramento, down to Obi's in Salida and then to Turlock).
And she went right to work.
We both liked the offcut storage by the saw and the anti-fatigue mats at the various workstations. Plus Bill has a great little arsenal of machines. And some nice purpleheart stashed away…
After an inch-by-inch inspection, it was time for a breather, and a nice cup of Licorice tea.
Bill has a website, brookswoodworks.com were he sells an expanding line of pens, gift items and furniture. He started out thinking that he would focus on lathe turned items, but the requests for bigger items turned those thoughts on their heads. Here is one of my favorites, an artist's box with room for canvas storage, a portable easel and room for all the tools of the trade. Love the way the oak and purpleheart play off one another. Nice knobs!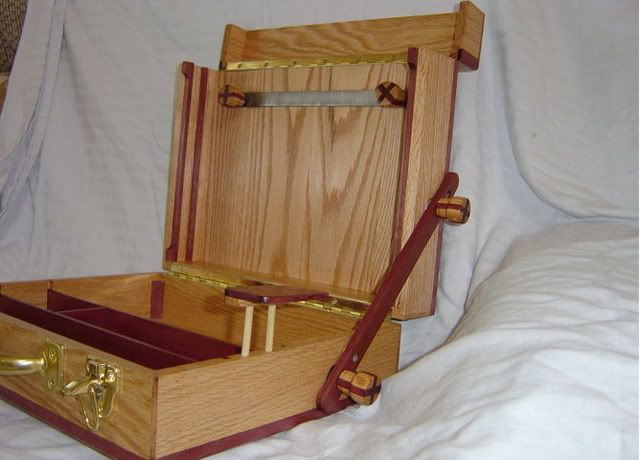 So here we have it. A clean organized small shop, and great projects for sale. Deb says, "Be like Bill -volunteer for a shop tour today. If you've got it, show it off"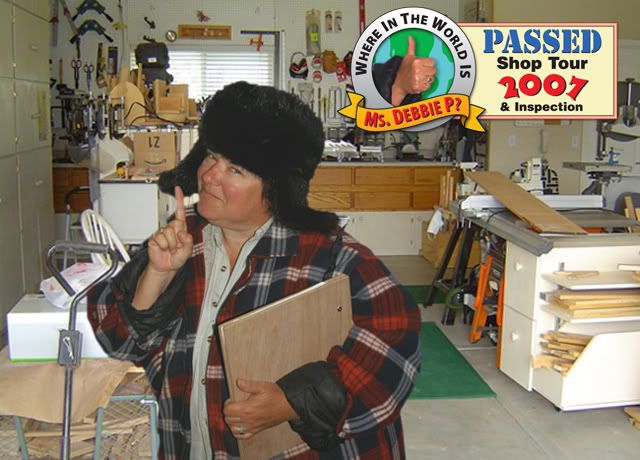 Thanks for stepping up Bill. It's a great shop. Go get your certificate. You deserve the recognition.
-- "Bordnerizing" perfectly good lumber for over a decade.
---