This week it's a repeat visit to Karson's shop. You may remember that Debbie visited Karson's long ago in the early forum version of the tour, exhibiting her mountain goat-like scaling abilities while inspecting Karson's incredible collection of lumber. This tour is a recognition of Karson's contributions to Lumberjocks. Yes, Karson was one of the pioneer members of LJs, with nearly 500 days of membership logged.
Here he is at the beginning with our founder and several of the other original members, presenting the plan for the site to the Governing Body of the Internet.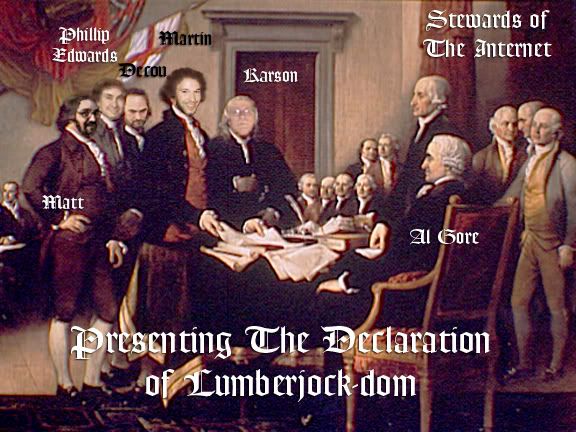 But it's back to the shop tour. Karson has packed a lot of equipment into his shop, so it's a tight fit. But I doubt there many tools here that aren't well used and well cared for. Here Deb inspects his Table Saw blade guard and dust extractor set up. I was very interested to get a load of the Incra system that serves the saw and the adjacent router table. I have a Incra Ultra on my router table, and would be lost without it. This is it's big brother, and it's a beauty.
Over at the bandsaw, Karson gets points for having magnetic feather boards at the ready. I forgot to ask him if the fence is stock with the saw or and after-market addition. It is tall and it's solid.
Down to my favorite aspect of this gentleman's shop. Check out the hardware bins. The same kind I have been known to lurk around for hours at the hardware store. Everything's there and where it can be found. No need for the sixty mile-per-hour dash to the Big-Box store on Sunday night before they lock the doors. The replacement widget is right there!
So for a great shop; for welcoming so many of us on our first posting to Lumberjocks, for offering sage advice and well-tempered comments to all and for being a member of a local guild with a ton of philanthropic projects, it's hats off to Karson Morrison. You pass the tour and you raise the bar for all of us.
I invite you to receive your well earned certificate.
-- "Bordnerizing" perfectly good lumber for over a decade.
---