In the interest of furthering an appreciation of Geography, and all it's nuances (Heads up, prospective Beauty Queens!) we are traveling north of Deb's home turf to the shop of Robb. Robb is starting his third week as a Lumberjock, and extended an invitation to visit his shop. Where would it be, you ask? On some frozen tundra, near the Arctic circle?
No it's in the U.S.A., in beautiful Holland, Michigan. Robb and his wife live on a farm property and his shop space occupies a post and beam constructed barn.
A peek through the front and straight through to the backdoor highlights the air flow properties of his shop. Roll open the doors for the best lighting. No need to worry about HEPA filtration and micro-dust build up. Let the wind blow.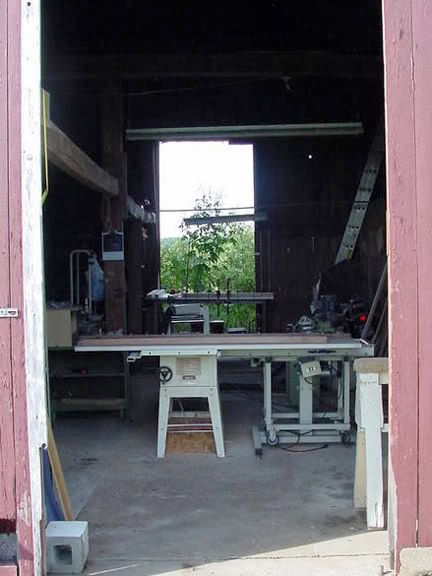 The shop is unheated, and has one 110v outlet. So Deb and I spoke on the way over to the Inspection, just to clarify Robb's predicament, and with a little reasoning together, managed to come up with an allowance for the necessity of extension cords. With a jointer, planer, table saw, router table, dust collector and a shop radio, Robb stays busy moving the power to the machines in use. Deb's only admontion…don't overload those circuits, Robb.
And watch your footing!
Robb has built some nice shop fixtures, including this router table and wood storage. On a previous project, Robb was able to justify the purchase of a dandy planer. I look at that collection of billet stock, and my inner voice says "Robb needs a lathe." Maybe we can help him come up with a Christmas project for the Missus that involves a lot of spindles and maybe a gallery rail. That's the ticket!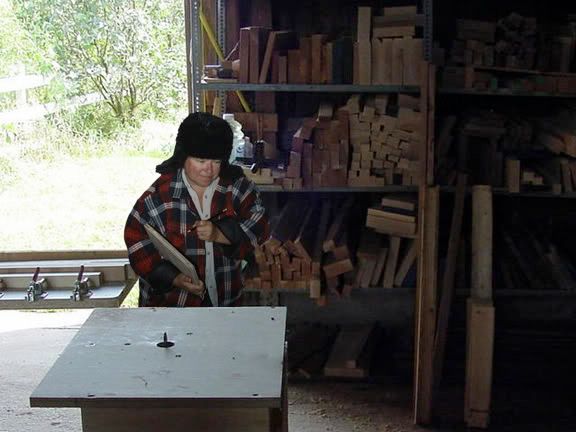 Necessity is the mother of invention, and a sale on DeStaCo clamps at 50¢ a go engendered the creation of Robb's clamping station. Pretty cool.
All in all the shop is a winner (I loved the neighbors – a family of barn swallows).
Thanks for the invitation, Robb. Go get your certificate.
Oh, and work fast, there's a fall chill in the air, and Christmas is right around the corner…
-- "Bordnerizing" perfectly good lumber for over a decade.
---