This week's visit is to the shop of Mark Decou in the scenic Flint Hills of Kansas. I grew up in Kansas, and fished and hunted on "the old home place" not far from Mark's neck of the woods. Big sky, broad vistas, rolling prairie hills with flint and limestone outcrops, farmsteads with Osage Orange hedgerows and babbling creeks. Plenty of serene space to contemplate the meaning of one's existence.
And contemplative is a natural adjective for Mark. He has done much to share the triumphs and pitfalls of running a one man shop, from the business challenges, to marketing, and the philosophies that guide his work. His work runs the gamut from small hand-carved gift items to huge natural-edged tables. He has a full suite of Mission style furniture and has done most of the traditional furnishings for a nearby Catholic church.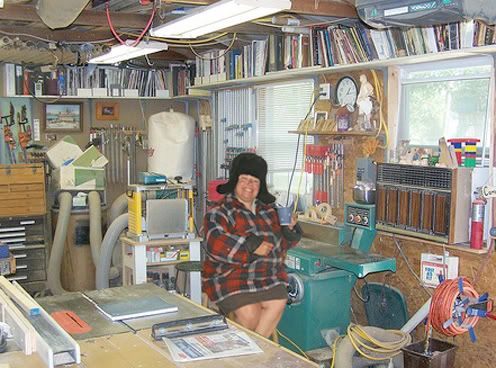 Here Debbie charges up for the inspection with a cup of tea. We both were knocked out by the 12˝ jointer. Never seen one that large in person before. And yet it was no match for the tables mentioned above. Mark got huge safety points too, with the wall-mounted First Aid Kit and the fire extinguisher. I voted for an extra points for having a three-ring binder punch available in the work zone and a huge shelf full of reference materials. We both were enjoying the newly installed air conditioner. Didn't want to think about working or even inspecting in 120°F heat.
And how do you joint a big log section? Here is one of Mark's answers – a router fixture. This is the small one.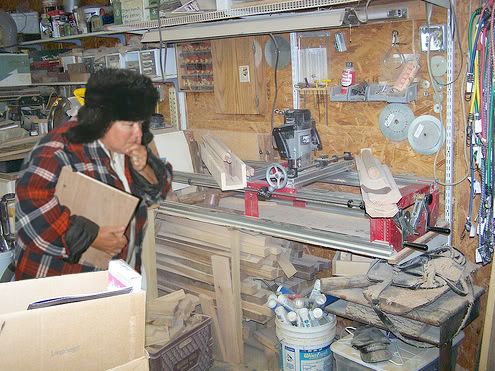 Check out the big one.
Then Deb has to resort to mental math to calculate the total of the various clamps available. Answer: You can never have too many.
Mark gets points for ambient air filtration and hearing protection. I'm liking the Delta belt/disk sander. We both liked the kid's art wall.
Great shop Mark! You passed with flying colors.
Thank you for sharing your thoughts and views, and the diversity of your talents. Make sure and visit Mark's website.
Mark go get your Shop Tour Certificate, suitable for posting on the finest website!
-- "Bordnerizing" perfectly good lumber for over a decade.
---