Off we go to the shop of Thomas Angle and his wife Carleen, in Jordan Valley, Oregon. Here he operates two businesses, Owyhee Design and Thos. Angle Saddlery. I asked Tom about the name of the wood business Owyhee. Named after the local mountains and river that brace his property, Owyhee when sounded out takes on a different slant.
"In about 1812? Peter Skene Ogden came down the Snake River with a trapping brigade from the Hudson' Bay Company post at Vancouver, Washington. He had two or three Hawaiians with him who were trappers. He sent them up an unnamed river that emptied into the Snake. The "Owyhees" never came back and no trace of them
was ever found. Owyhee is an old spelling for Hawaii." As Tom put it, "So… I guess us buckaroos in this neck of the woods can wear them flowerdy High-wayan shirts if we want!!!" I think I'd pay good money just to see that!
Here is a shot in from the front door
Good lighting. Check. Nice big cabinet saw, planer (there's a big orange jointer tucked away down there, too)
I like that B.O.S.S. spindle sander down there. Tom has just finished an outfeed table for the saw as well as this massive workbench. Gotta build a station for that Oscillator, too!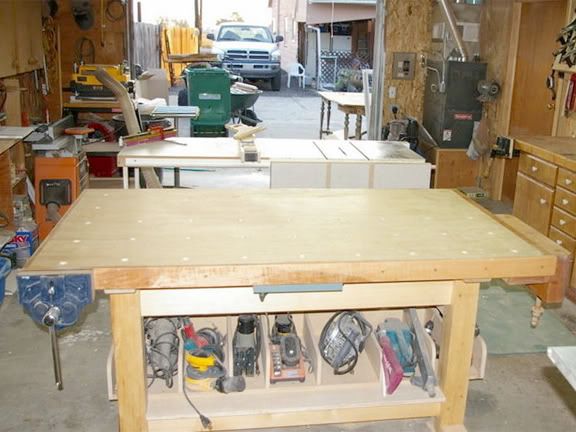 Plenty of dog holes to manage large stock. Wait till you get a load of the handplanes he'll use here,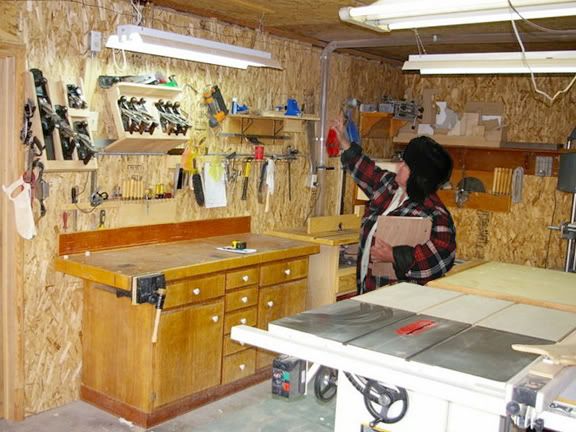 Beautiful storage for this arsenal…Check! Kreg jig, Check!
Next it's to the sheet stock storage and another venerable woodworking partner "Big Green". It's a Delta from just this side of the Rockwell era.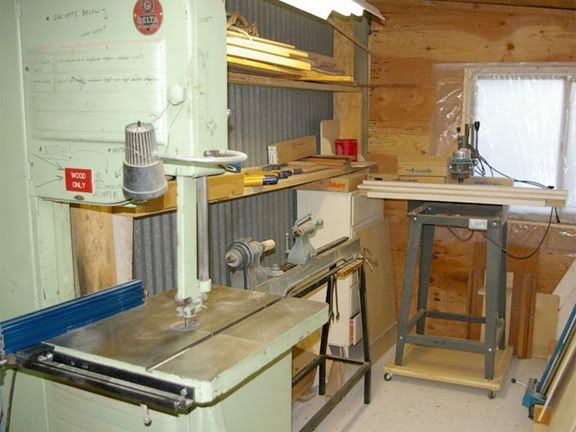 and why you ask would Tom need to remind someone to use this saw for wood only?
Because tucked away in another part of the shop is the leather room… (no lewd thoughts allowed here, boys)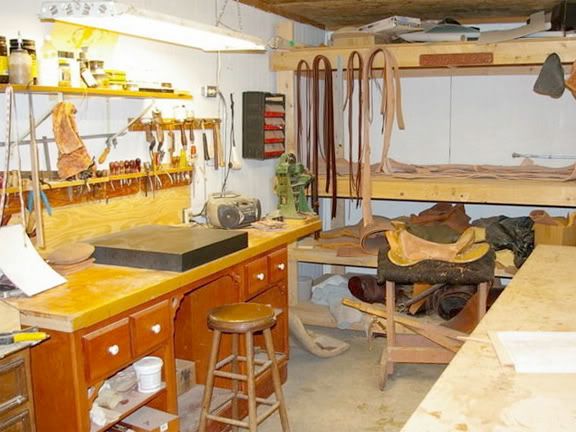 I could smell the Fiebing dyes before we were 10 feet away. My Grandmother was the repair and gold-leaf lady in an old-fashion luggage and tack shop in Topeka, Kansas when I was growing up. I had the run of the place as a kid, and this was like old home week.
I had to steer Deb away from this little nook. Extension cords…sheesh…gotta watch 'em like a hawk.

This is the thing… the perfect marriage of saddle work and woodwork. Check this out! Absolutely unique and beautiful.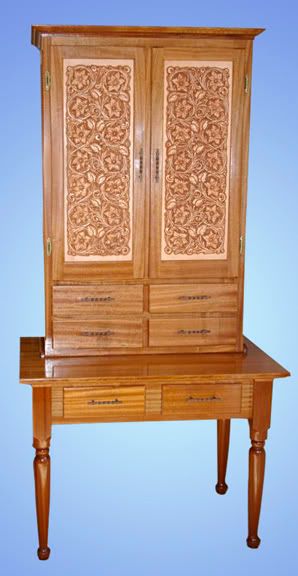 Wow. This shop and it's owners pass the inspection. Thanks for the invite, Tom. Get your certificate.
-- "Bordnerizing" perfectly good lumber for over a decade.
---