Craftsman-Sears, is like Charlie Sheen, either you love them, or you hate them. But I fall into a category that I
think many fall into: The quiet MAJORITY. We know what we want, can afford, and can live with. Each time I get a new tool, I increase my productivity and ability to overcome problems with workable solutions because I have the tooling that allows me to use alternative techniques. As a new woodworker, with only six years experience, Craftsman, has been a big part of my wood working experience, and I have done well with there products. Not all of there products lived up to my expectations, but even then the tool added to my woodworking capabilities even thou it may of had limitations. When I buy a tool, it is usually when I know I'm going to run it into the ground
starting on day one. Giving me the opportunity to return it to the store for an exchange or refund. Sears, has always treated me fairly.
Every wood worker wants reliable tools to work with. Not every craftsman tool has been that for me, even
with the failures I have gleaned a little bit of usefulness. My craftsman jig saw at best can rough cut holes, but I know it is way past time to replace it, the most disturbing thing about this jig saw is that it doesn't blow the dust off the cut line. 3 seconds into the cut and your pencil line is buried under a heap of dust.
As a start up shop price is always important. Craftsman tools always has scratch and dent, 50% off, and sales with the proverbial incentive to buy. With few exceptions, no matter who I buy from I always look for these deals.
Craftsman tools always have some good price going on. Today I was working on book cases that I'm building
for a guy, my biscuit joiner I bought from Sears 4 years ago at 50% off. What's a biscuit jointer but
a miniature circular saw blade. I paid 65 bucks for it and it works great.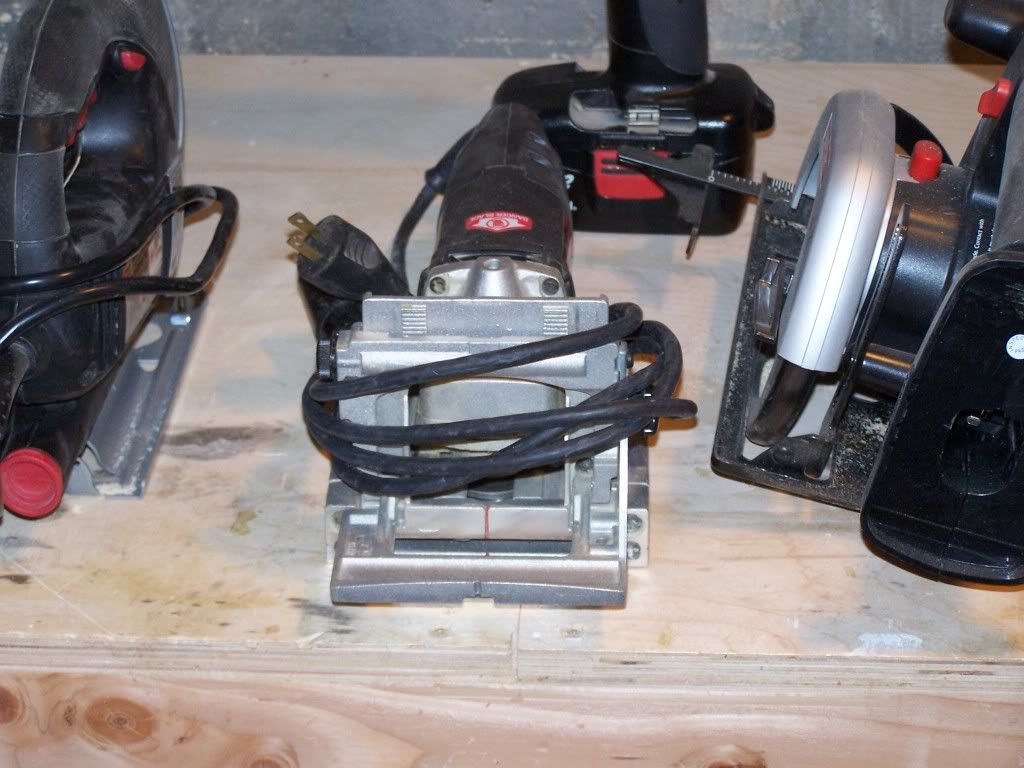 the biscuit jointer was an outstanding purchase and has paid for itself in time and in need!!!!
I needed the ability to cut shapes, and on a very rare occasion maybe re saw. I purchased this band saw with 7" re saw capability for under $300.00 bucks tax included.
Over this past 4 years of ownership, the saw has only needed a switch replaced on it. I bought the new switch from sears on line and it was delivered within 5-7 days. I have dozens of hours on this saw, and use it very often. The largest re saw it ever did was 5" max, but I bought it mostly for quick cuts and cutting shapes and even with the craftsman blade it has given me exceptional results when you considered what I paid for it.
Many new wood workers have to live with the fact of there budget will only allow so much. But the ability to add new tooling and increase productivity is still central to their work. I have 19 volt drills, sanders, circular saws, clamps, strait edges, and routers, all craftsman that work as good or better than I hoped or expected.
Craftsman, Harbor Freight, and the big box stores, have given a lot of options to the wood working community. Without them there may not have ever been a Lumber Jocks Web site. These are places you can buy your tools, and if they don't work you can get your money back now!!! If they do work you can create and grow your skills in wood working. I am not very fond of the term Crapsman, because I feel they
have brought so many good tools to the woodworking community. I consider Sears and the other stores as a building block for working yourself up to better more high quality tools in the future. And with many of the craftsman tools I own, I find no reason to upgrade or change what I have.
-- Bob Kenosha Wi.
---