I was out sailing with my friend Scott a few months ago, and noticing his very worn, rotten, and duct-taped tiller, thought of an excellent barter. Scott is an excellent amateur blacksmith, and me being at least an average amateur woodworker, I offered him this trade: I would shape him a new tiller in exchange for him smithing the iron parts of my curiosity cabinet project. Scott agreed, and a week later this lovely, silvery weathered mahogany was waiting in my driveway: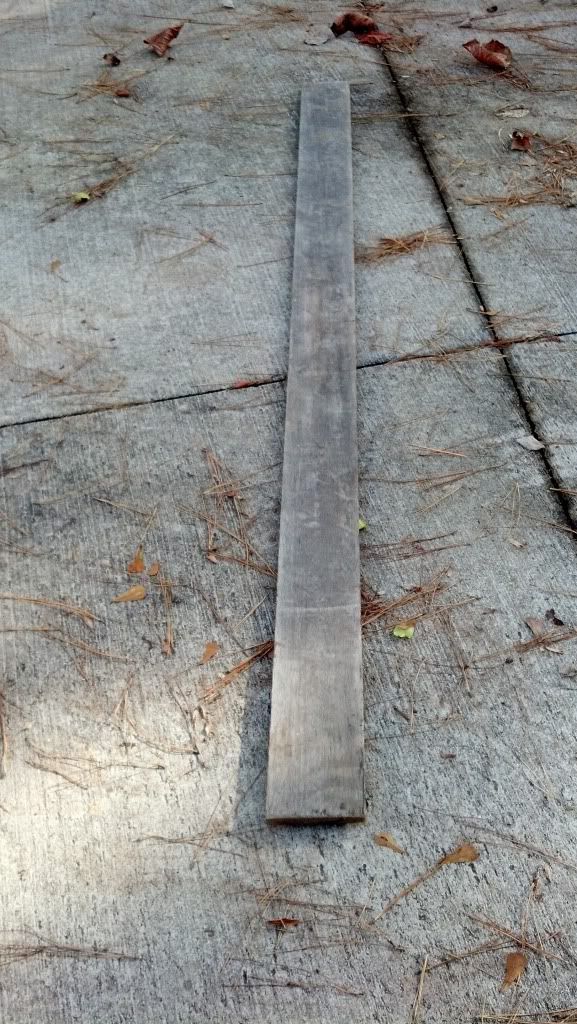 Along with the old tiller: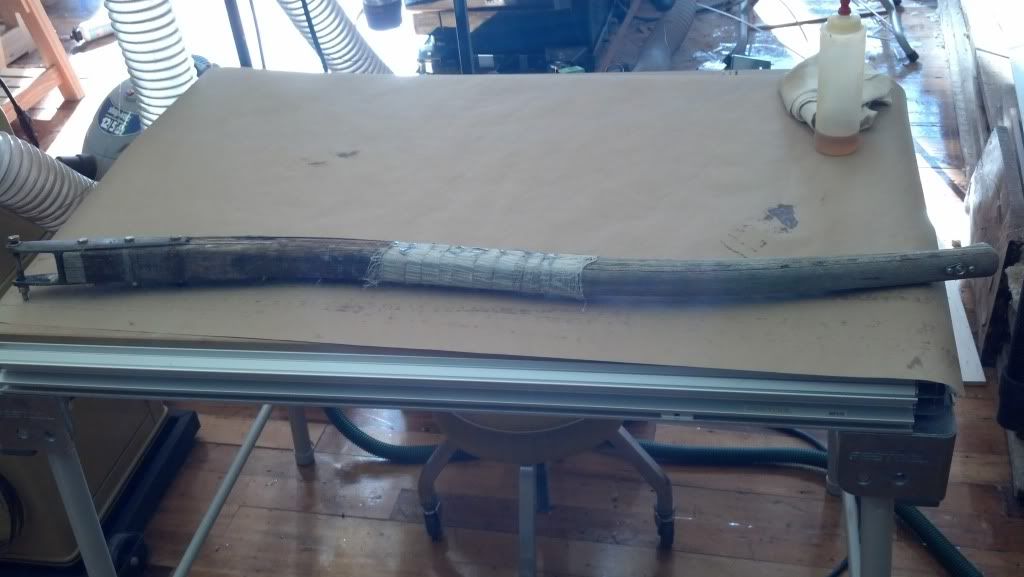 I could think of three ways to make the tillers curved form from the board available. The first would be to crosscut it to smaller lengths, glue these together, then cut the form out of the resulting thicker board. This option has the disadvantage of making an inconsistent grain pattern on the top surface of the tiller. Also, the board is probably not long enough to get enough pieces to make up the full thickness that would be necessary. The second option would be to steam bend the board. The board is not thick enough for the tiller without laminating, and I do not have access to equipment for steambending. My third option was to resaw the board into thin strips, then glue these up in a curved form. I settled on the final option.
The board was very flat, just very weathered. So my first step was to plane the two surfaces in my 13" Dewalt planer. Next, I cross cut it in half, then ripped each piece in half. This left me with four pieces. Each piece was then resawed on my bandsaw.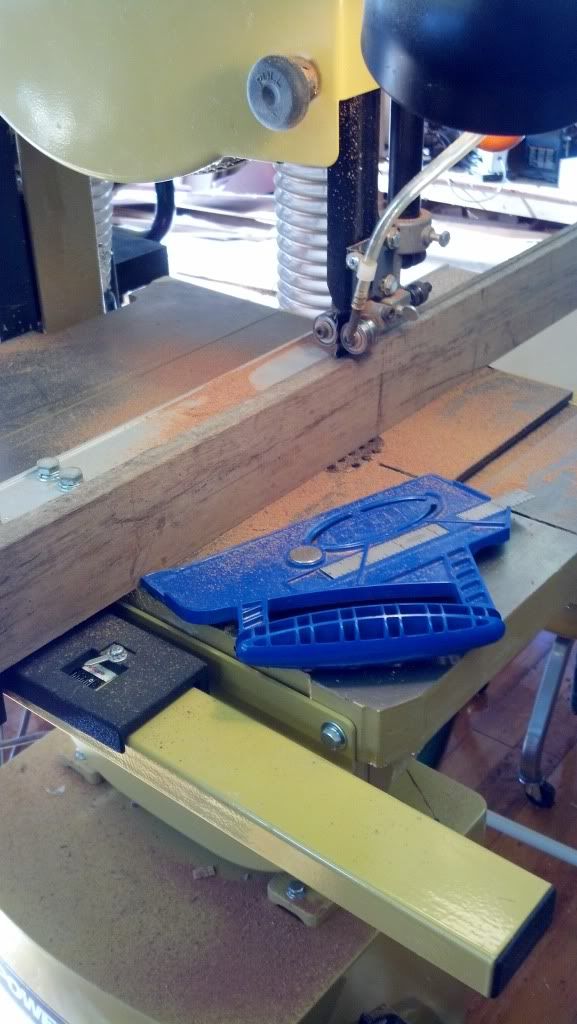 After each resawn piece was planed on its rough face, I was left with 8 pieces of approximately 1/4" thickness.
I then needed to make a form to bend them in. For the form, I used 3/4" plywood doubled up and glued together. I used the old tiller as a template to draw the curve on the form.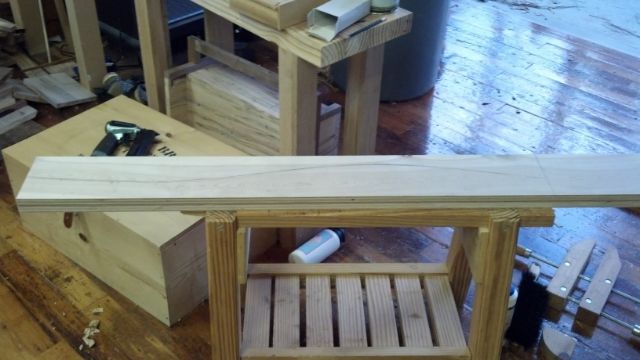 Then I sawed the form into two pieces along the curve.
I then glued all of the layers together with Titebond waterproof glue. A trip to Lowes was made for the Titebond, and I debated whether to use Gorilla or Titebond, as Gorilla would survive submersion. I decided the extra expense for Gorilla was not worth it, since if submersion was an issue there would be bigger problems for Scott than the tiller!
Here is a picture of the layers clamped in the form. I used many more clamps, but didn't get a picture once all of them were on.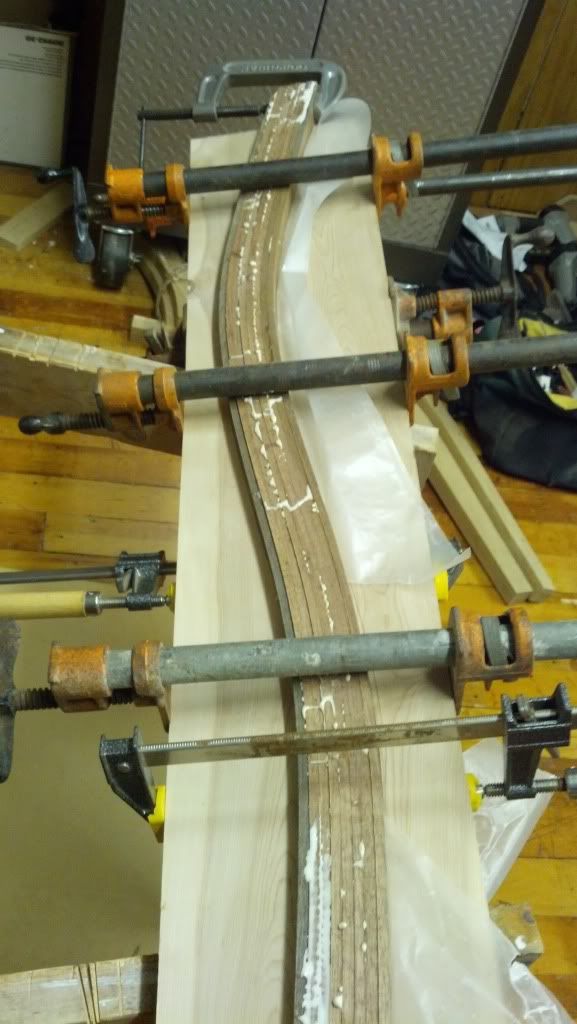 24 Hours later I removed the stock from the form. Here is the result:
-- Joe, South Carolina
---