click the marker to see the address
I'd Rather be fishin
Pop and I moved out of the garage and the van into our current location about five years ago. We started out at a thousand square feet and kept growing until our current size of thirty five hundred square feet, and we still need more! In our specialty field, we realized that outsourcing moldings, doors or any other type of millwork can be expensive and a real pain in the neck, so we decided to start adding equipment that eliminate the dependency for outsourcing. Screw them! We'll make it ourselves!
10" Jet table saw with a biesemeyer fence: This fence is so accurate that you can cut a whole kitchen without using a tape.
10"and 8" Hitachi slide miter box: Great for trim and cabinetry work
18" Jet band saw: This tool speaks for itself!
20" General International planer: I wish it was a 24"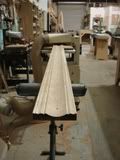 Jet Planer molder: We've dedicated this machine strictly for moldings.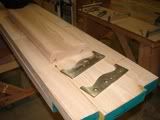 William and Hussey molder: Makes curved moldings as well as strait moldings, this is what we run our large bar molding with.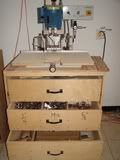 Pneumatic hinge boring machine: Makes a mess, but who cares!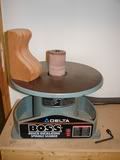 BOSS Table top oscillating spindle sander: Another machine that speaks for itself.
Jet Shaper with feed: Feeds are a nice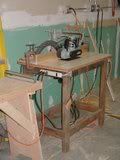 Router table with 3HP porter cable router and feed: This machine is dedicated to cleaning and squaring edges for gluing up boards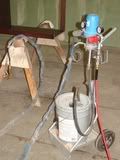 Kremlin Sprayer: This machine almost makes me look like I know what I'm doing!
Plus a bunch of routers, hand tools and all kinds of carts and racks that Pops comes up with.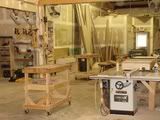 -- Illegitimis nil carborundum - Don't let the bastards grind you down http://georgiacustom.com
---