I was delighted to have a special visitor this afternoon just before I left on my trucking run.
Having just completed Jim's casket, http://lumberjocks.com/projects/3333, my wife called his wife Carol to make arrangements for delivery, and was very surprised to hear Jim's voice at the other end of the line. He was home from the hospital and sounded chipper. After subsequent phonecalls and a visit to their home, my wife informed me that Carol would be coming over to view the casket and make arrangements for storage as Jim's health had improved so fantastically that there was no need of the casket at present. In fact Jim wasn't interested in seeing it after all the chemotherapy and being so low for so long.
I had been working in the shop on a custom display cabinet for a local bed and bath boutique and had come in for supper before heading out in the Freightliner when my wife went to the window to investigate the sound of a car door. "It's Carol" she said, and went to the back door to meet her. Then my wife called me to come and see who else was at the door. There stood Jim. I couldn't believe it.
He had looked at the casket on LJ and had printed the article, then drove over to see it. Yes, he was driving the car. For almost an hour our home and shop were filled with excitement, seeing our friend back from near death.
It has to be a miracle because Jim's cancer is gone from his brain, spleen, and legs and I think his liver was mentioned as well. He said he didn't even get sick from the chemo. He was going today(I'm back from my run and am writing this at 12:30 am) to get a checkup on two small spots in his chest that might be suspect. I pray they're gone.
We had a great visit and chat about the artwork on the lid as it was in our living room. The picture of Ponoka Alberta is also reminiscent of Medicine Hat Alberta, a favorite place memory for Jim and Carol. I've been there many times, trucking, and told Jim about my trips to Suffield army base west of there. I asked him about the wild horses they had rounded up and taken off the base one year. He told me that somebody had put two stallions in the same holding pen and one had killed the other. I was amazed at all the details Jim came up with. His mind is alert and he is functioning amazingly well. It was a real treat to talk with him.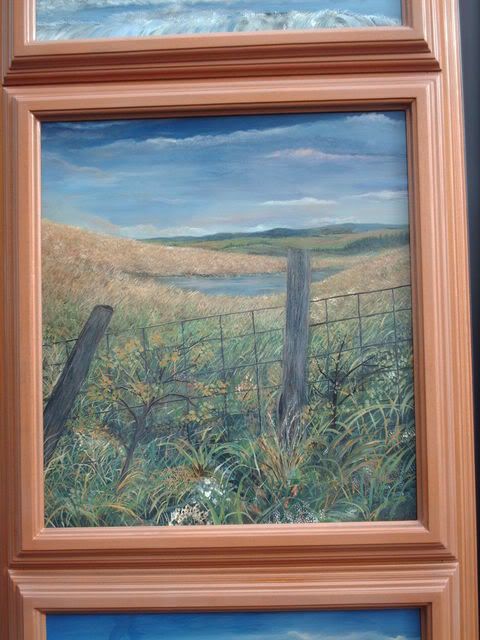 We discussed the flour mill and its renovation to office space,

and his favorite racing pigeon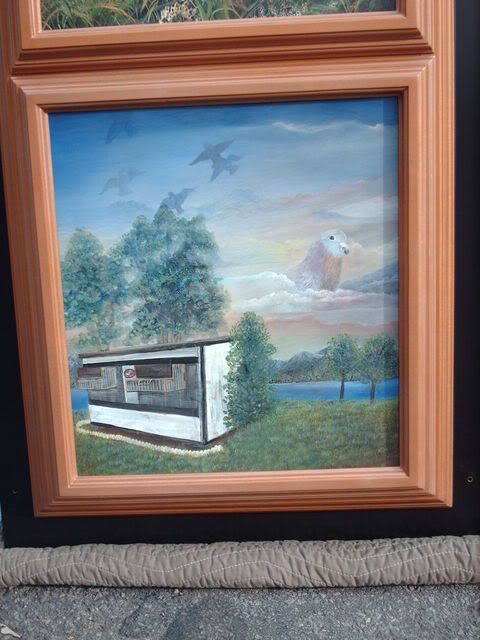 I didn't follow my wife and Carol out to the shop to see the casket, but when Jim got up and went too, I tagged along. Soon we were going over the various aspects I had designed into the casket – the faux leather panels, the wedding satin interior, the bronze moldings and the black finish.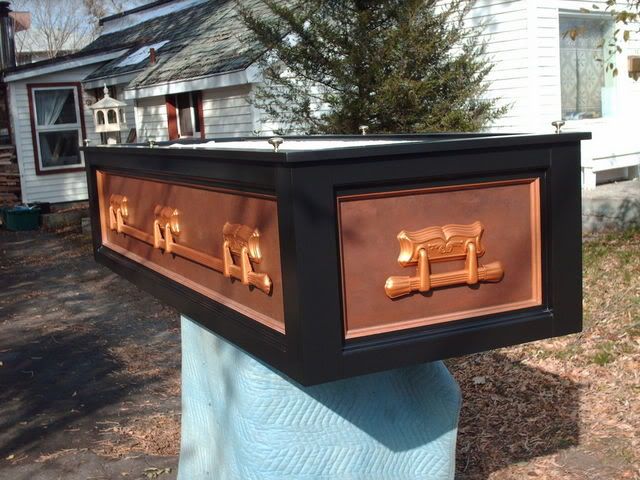 Carol followed me to the pillow which I explained I had sewn myself, when all of a sudden my wife started cracking up. I looked down to the foot of the box where she and Jim were standing and he was knocking on the mattress with his knuckles. "Too hard" he repeated, dryly. It was too much. We all cracked up. That's Jim's style of humor.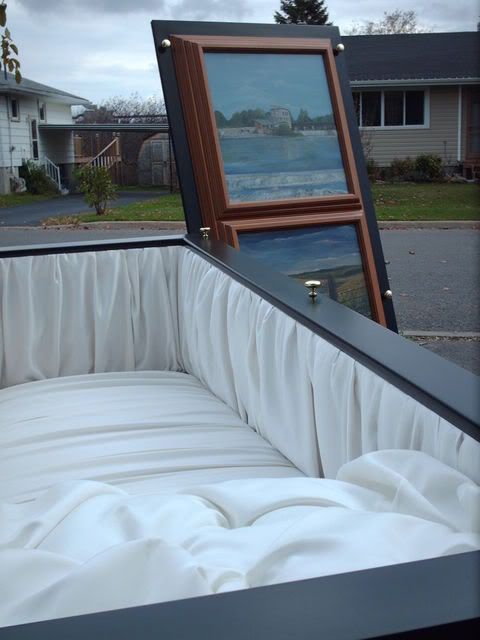 It was so awesome to see Jim back to his old self, so happy to be well again, back up to 180 pounds from 120. He said he wouldn't need the casket for another fifty years. I said I'd burn it if it would keep him here longer.
Carol was very passionate that I should continue this line of work and gave me tremendous encouragement to follow up with the biker casket I've been talking about. She's praying for a shop for me that will have a display area where I can keep several styles already pre-made, as my shop is very small at present. I could handle a larger, nicer shop.
Jim, Carol, and my wife and I are supposed to get together over dinner soon and catch up on the months we haven't seen them. I look forward to that. What a treat to see our friend well again.
-- Phil Brown, Ontario
---