I've been really busy lately, and stressed. I got a call from our friend Carol and was asked to build her husband Jim's casket as he was going downhill rapidly, with brain cancer. He had been in bed since Christmas and was given days to live as of last week. The family had already said their goodbyes in the advanced hospital Jim was moved to a day after she ordered the casket, so I had to move fast.
Carol asked for an art casket like Christy's, my first project post, and wanted the painted lid cut in three after the service, and a panel given to each family mamber for a remembrance. I was to also build a cremation casket, and an urn displaying family photos so Jim could be taken and buried out west with his family.
With the trucking at night and the company short a driver, I've had to pull some extra shifts, giving me less time in the workshop. As well I've been busy painting three separate scenes which will be set into the casket lid already framed, and able to lift out and hang. This was Mark DeCou's idea for which I'm very thankful for.
I've got the box done and the moldings routed and glued up, ready to attach. The lid is done and primed, and the artwork is almost complete. Still, a ways to go yet.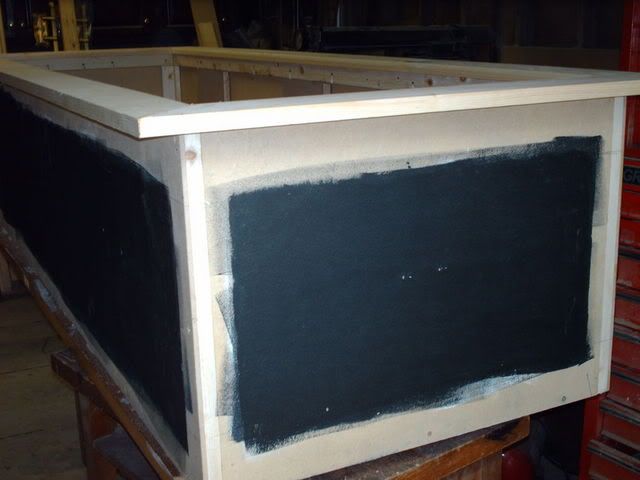 The outer panels are 1/4 inch material with an untempered surface which I sand and prime, 2 coats, then sand and paint, 2 coats, then sand and paint a third coat to get a grainy leather-like texture which I will wipe on some burnt sienna and gold to give a fine leather appearance. Contrasted with black trim, I think it will look nice.
Here I've mocked up the top frame, end moldings and handles to give me some advance encouragement that I'm getting close to finished. I wanted a more masculine look so the moldings will be butted to the corner pieces instead of having mitered corners.
I also left the first frame of the lid, and the top frame of the box with square edges as well to complete the look of a man's casket.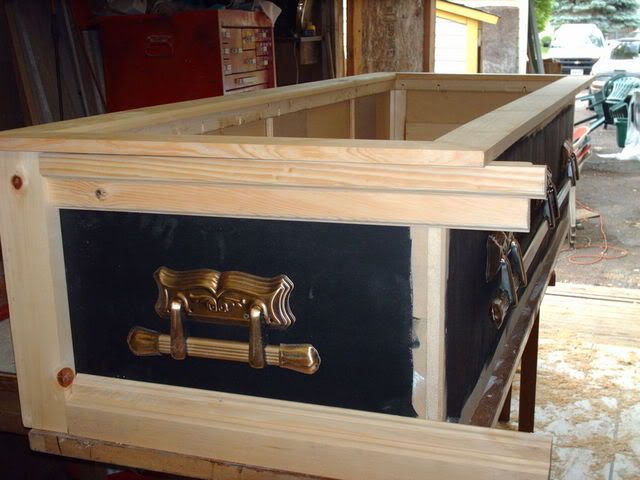 I mocked up the lid and semi completed artwork to get a snapshot in my mind's eye of the finished product.
The first scene was a requested image of Wylie's Flour Mill in Almonte Ontario, where Jim worked for 35 years. Almonte is a village on the Mississipi river, founded by a Mexican general, Juan Almonte. Leonard Lee, the founder of Lee Valley tools hangs his hat around here, producing surgical equipment. James Naismith, the inventor of basketball, was from here. My wife was born here too. When I started the background for the mill on Sunday night, my friend Christy called from Vancouver. She is actually improving, down to 9 milligrams of morphine, from 40 a day. She went out to church, did a little gardening, and drove across town one day to see her grandkids, which got the doctor really mad at her. Her husband Wayne asked the doctor what the factors were for her improvement and the doctor had no words. When he left, a nurse/caregiver said to them, "It's the prayers of your friends."
Here's the sky I painted while talking to Christy. An uplifting conversation.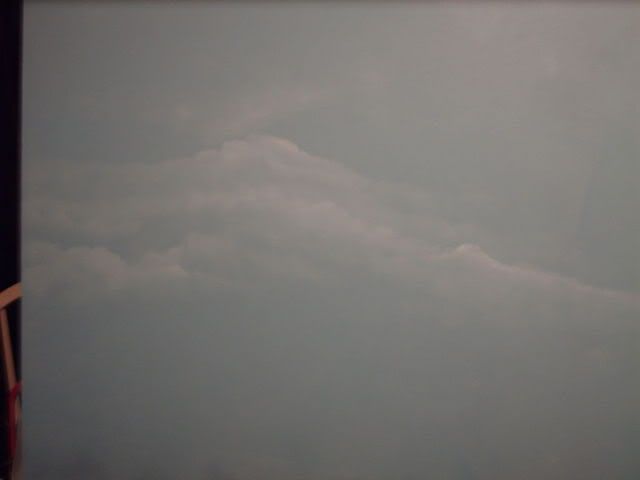 And here's the almost finished painting of the mill, between No. 1 and No. 2 falls(thats what they call them). From start to the edge of the second falls took from 7:30 to 11:30 Sun nite, and the rest a half hour Mon morning. I have to do these quickly being pressed for time. The lettering needs to be redone as I was very tired and my hand wasn't steady by then.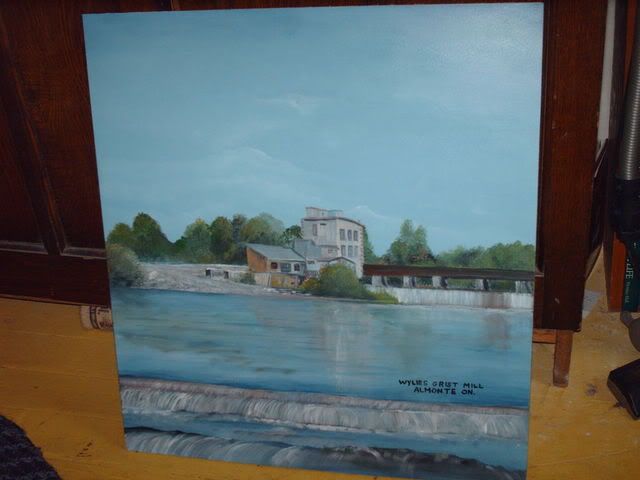 The second painting I thought was to be Ponoka Alberta where Jim will be buried, and I completed the scene, but Carol called from the hospital where she has a bed beside Jim and informed me that he was up walking around after a specific treatment that usually puts people into a coma. The doctors were amazed. Jim thinks he's in Medicine Hat Alberta, where he and Carol met, so she asked if I could paint a scene from there insted of Ponoka, perhaps a painting of Riverside Park on the South Saskatchewan River, where they courted.
Here's Ponoka in the rough.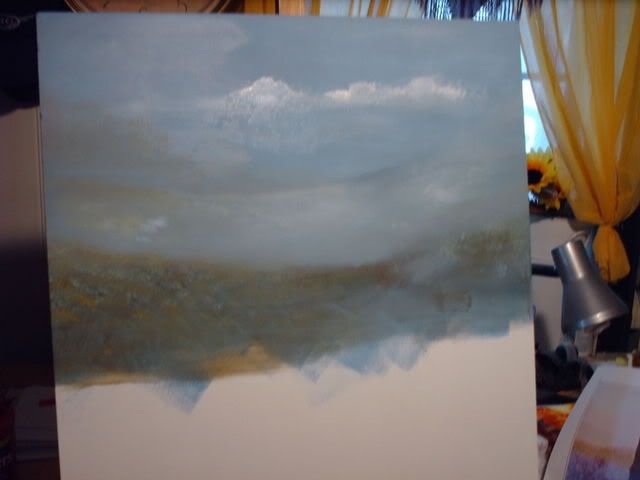 And a semi finished painting. The clouds need to be done and all the various land formations and water(fishing hole) need to be washed over with brighter, stronger colors to stand out.
The third scene is of Jim's loft as his hobby is racing pigeons. When the mill where he worked in the west closed, he moved his young family to Ontario to start over and had to sell his birds out west. If I heard correctly he had a bird worth $5,000. I am incorporporating his favorite bird into the clouds above the loft in this scene which has a ways to go yet.
Jim's Loft in the rough.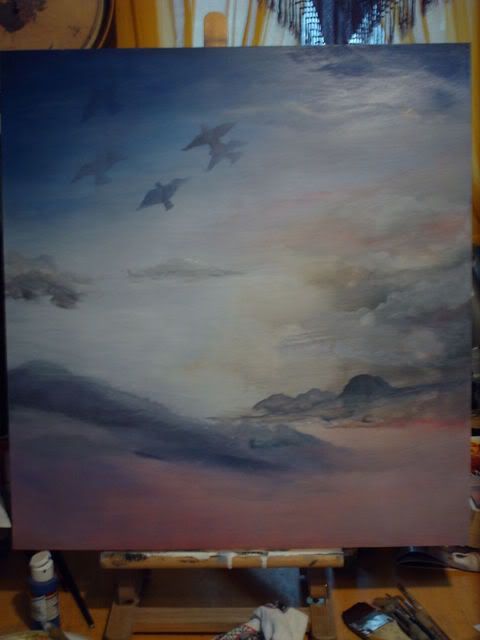 More details.
I better sign off and get to work in the shop, and then off to the Freightliner for tonight.
-- Phil Brown, Ontario
---