So what can you make with salvaged parquet floor blocks?
This one is not a gift, but it is intended to be a centre piece on the family Christmas-Lunch table.
Here is the rough design of a candle holder I am making for Friday. (inspired by an LJ posting)


.
The pale sections are parquet blocks, and the pink sections are thin strips of the found wood shown here.
This is my first laminating project so there are a few firsts, and a few lessons learned.
First glue-up of the main body.


.
Main Body trimmed after first glue-up including trimmed off-cut.


.
Glue-up of the legs next to the main body's final glue-up.


.
Two leg pieces after rough sizing taped together for shaping.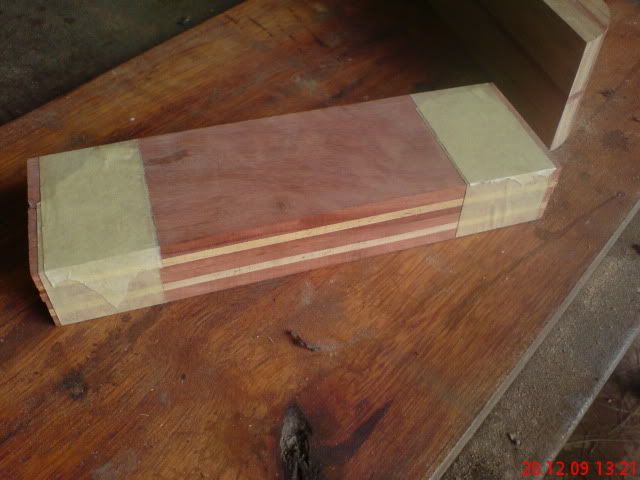 .
Body piece shaped on bansaw and belt sander.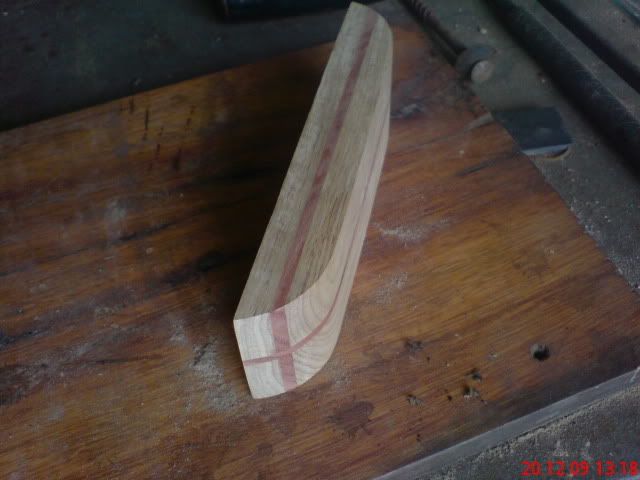 .
I got seriously engrossed, so I didn't take any more pictures of the project in progress, so look for the final product as a project in a couple of days.
Lessons learned:-
1. Wet glue is slippery, and laminations tend to slide while clamping.
2. Find some way of keeping the alignment while clamping.
3. Do NOT cut to final size before glue-up as you will probably have to trim off some misalignment.
4. Off-cuts can be good projects in their own right.
Oh, and just by the way:
That trimmed off-cut in the second photo makes an awesome book mark. A little sanding and a coat of penetrating wax, and I have a few extra brownie points with the loml.
:-)
-- I may be schizophrenic, but at least I have each other.
---