As you probably know by now (previous posts), I have no doors on the workshop yet. We did order some and paid a deposit, but the contractor did a runner.


-
I get all sorts of uninvited guests while I'm working, like rats, snakes, wasps, frogs, etc.
Below is the only type of visitor that I switch off for. The bay normally only comes in to ask for food.


-
I kill the stationary power tools, but I keep working with hand-held power tools and manual tools. They are so accustomed to the weird things that people do, that I can swing a hammer and make lots of banging and scraping noises, and they just watch or gently move away. Of course the traditional horse people would have a fit because you shouldn't be doing stuff like that near a horse – it's dangerous. Well, no it isn't if you make it a normal part of the horses life.
Sometimes the big appaloosa will actually pick up the broom or hammer and try to help me. I'm sure he thinks he is part human. The little pony so far is the only one that walks all the way through the workshop from the small back door past the RAS and bandsaw, and out the large front doorway.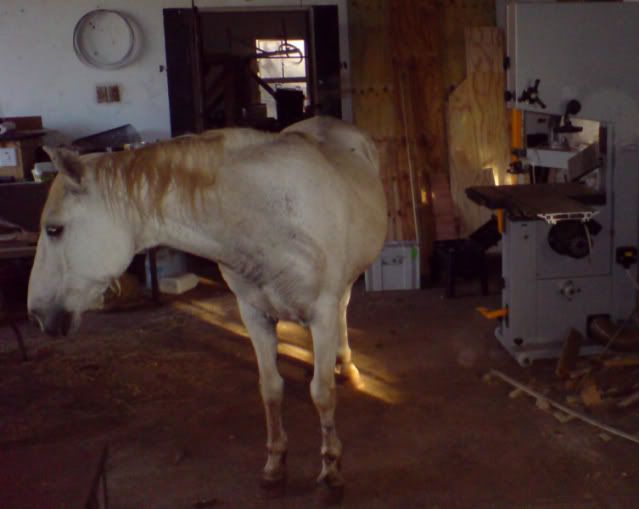 -
If I really have to continue working, it's easy to just ask them to leave and they generally don't come back for a while. If they are really frustrating me, I just take them to their paddock about 10 metres away and close the gate. Sometimes they'll stand there behind the gate and just watch until they get bored.
-- I may be schizophrenic, but at least I have each other.
---