No, I don't mean you have to swallow the stuff – ugh!!
What I mean is the barn has no doors yet, and swallows fly through it quite often. The farm has been chosen as a migration destination by several pairs of European swallows, and we have close to a dozen old mud nests around the property that the swallows return to each year.
There is a nest in my tool room that is the subject of today's blog entry.
I knew the nest was there before the swallows returned, and I didn't want them to use the nest as I want to keep my tool room locked.

I made sure that I closed the door properly every time I used it, and figured that when the swallows returned, they would build a new nest where they could have easy access. It was a good plan, and would have worked if someone hadn't left the door open while I was away.
The loving couple moved into their home during our spring and proceeded to do what birds do in the spring. I came home to find them well established and, judging from their behaviour, they already had eggs or the female was pregnant. I couldn't bring myself to evict them, so I just left the door open. During previous years, they had little human traffic around their nest, but I needed frequent access to the tools, so I started calmly talking to them. I call them Jimmy & Jenny, and would tell them "Jimmy and Jenny, I'm coming in, don't worry".
The first few times I went in, they panicked and high tailed it out of there, but they soon relaxed a bit, and would leave the room, but just perch on the electric box outside the door and wait for me to finish before going back in.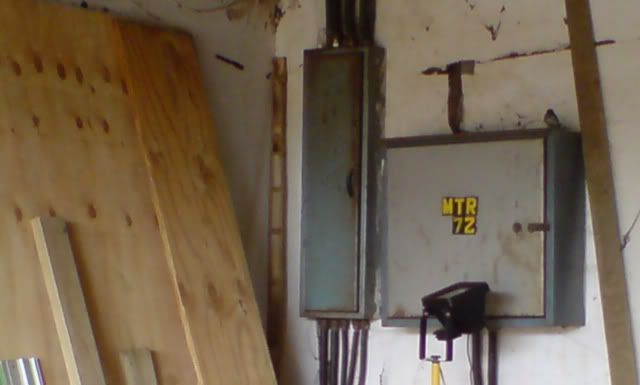 After they hatched, I would often hear the little ones chirriping away, and even got to identify their "please feed me" call. That is when the "problem" started. Adult swallows go outside to use the toilet, but the babies don't fly. For the first few days, I guess their parents cleaned the kid's mess, but soon they had to squirt outside the nest, and here is the personal cost of allowing them the use of their home they've known for the past few years. This is directly below the nest entrance.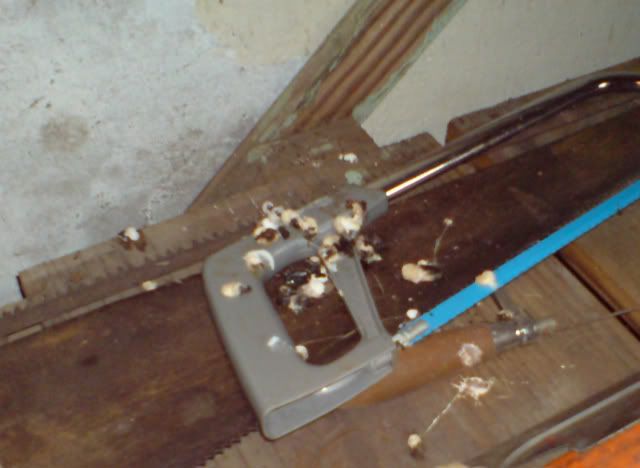 The babies fledged 2 days ago. I went into the tool room talking to Jimmy and Jenny as always, and I think the babies actually saw me and freaked out. Suddenly I had a couple of birds flying mad circles around me too panicked to see the open door. I just quietly backed out and let them calm down. A few hours later they were as comfortable with my presence as their parents ware. Sometimes I now have 4 swallows on the electric box watching me work.
When they leave in a few months, I'm going to cut an access hole in the tool room door, and erect a poop catcher below their nest.
Next Episode in a few hours.
.
-- I may be schizophrenic, but at least I have each other.
---