I am being tested. I KNOW it's a test.
You see, I'm all for conservation and preserving the environment. I preach (and try to practice) a philosophy of live and let live, but some thing are just beyond acceptable, like mosquitoes, and bees IN the workshop. Not just any old honey bee, but the African (killer) honey bee. These guys are not friendly, and have been known to attack people using electrical tools because the EM field disturbs them.
Anyway, there is a wild hive in the hollow base of a large tree just 2 metres from my workshop's back wall. That I can live with, but they outgrew the hollow, and decided to extend their home as any normal growing family would. They can't hollow out any more of the tree, so they looked around for some adjacent real estate, and found the workshop roof. Actually it is the ceiling void above my tool-room – the only ceiling in all of the outbuildings, and it is conveniently within spitting distance.
Here is their original home with my workshop wall just at the corner in the left of the picture.


-
Initially, I let them stay, but as the hive extension grew, they started using the workshop as their access route in and out of the hive. Like any sane person, I tried to chase these undesirables out of the neighbourhood using gentle persuasion – I gassed them with smoking fumigation pills. I got stung for my antisocial actions. (I also was stung while sweeping off the roof -previous post)
3 days later, they returned to their new accommodations, and within another day their highway was through the workshop again. This time I had my son gas them. He can achieve a zen-like state of tranquillity that doesn't disturb the bees. 2 days later I decided that they weren't going to cooperate and had to find an alternative. I decided we had to provide them with better accommodation closer to their main home.
I lifted the roof panel during the day and left it open until nightfall.


.
I then set up a scrap roof panel as their new floor at the base of the wall, made a hive box from scraps, and placed it on their new floor.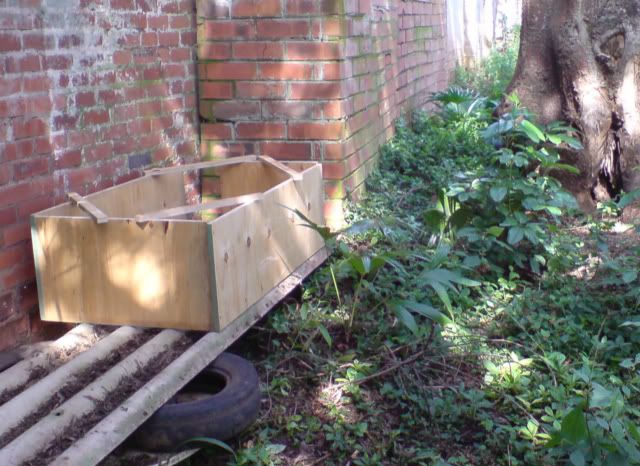 .
After dark when they had mostly gone to sleep, my son & I moved the panel off the roof,


.
and placed it on the hive box.

The next morning, they were moved in as if nothing had ever happened.
So I was tested to see if I could live up to my own standards.
I think I passed the test.
Now to repair the gaping hole in the roof after I had already repaired it once before.
Next episode in a few hours.
-- I may be schizophrenic, but at least I have each other.
---