Journal entry 11/9/2009
Working with Madrone
Bowl turned by David Gould from NY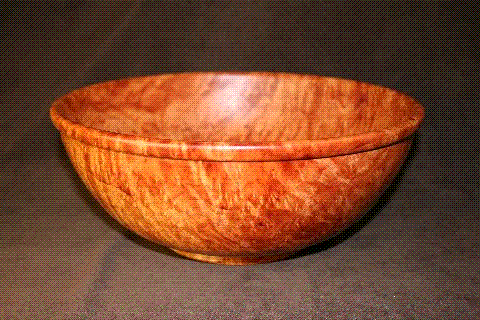 Proper handling and stabilizing of Madrone
Madrone in a very self-destructive wood. I will crack and twist on you in a matter of hours even minutes sometimes. But don't let that scare you. It is a beautiful wood to turn on a lathe or what ever the application.
What you ask of the supplier:
First of all make sure that you request sealing of all sides of the burl and not a thin coat. It has to be thick.
When you get your madrone you will want to turn it wet.
You have 2 options at this point…. do you want the form to stay true shape or do you want it to distort on you. Some turners like it to twist and warp.
Let's take it from the angle of turning a bowl.
If you want for it to stay true form you need to turn it about one inch sides and then boil it for 2 hours. Rule of thumb is one hour per 1/2". Cool it down under water.
After you have done this then set it in a dark cool place for about 3-6 months and then finish turning the bowl and sand it. Put what ever finish you want and presto you have a family heirloom.
If you want it do distort without cracking you just turn it to about 1/8" and let her go. It will not crack but will make some interesting shapes.
Note if you let it distort you might have to turn a sure pedestal for the bowl because of the uneven base.
For more info reading go to this link: Working with Madrone by Dale Larson
-- Greg, Southern Oregon, www.oregonburls.com What can I say but God Is Good!
---