This is in addition to the burl blog I put on a week ago. Thank you for all the reads.
This is to the best of my knowledge and I am still learning.
I have found crazy figure in tree crotches. A tree crotch is where two branches come together. It is usually the piece that fire wood people don't want because it doesn't slit.
That is because the crotch is the hardest part of the tree and the grain in going in different directions. It's where you get what is called "feather". "Haring bone, rays or fiddle back are found in other part of the tree and I am using those 3 terms synonymously.


This piece is for sale. It is 36×24 x 5" roughly.
Now the feathering is where the two braches have grown together. The Haring bone or fiddle back is on the underside just below and above the smaller branch growing out. The larger the branch the larger the feather, the more the fiddle back. I have had them 16" wide and for 48" long. Some time there isn't any feathering or rays but a lot of times there is. Some of the times you have to put up with inclusions in the feather.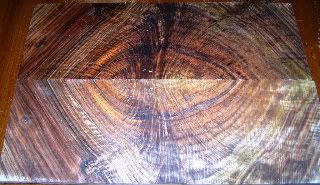 Another part of the tree where there is good figure is at the base. You can even see it thru the bark. If you see a rippled or waving thru the bark this is the compression point of the flare. If it has ripples this is called curl. This grain is not as dense as the crotch but it will have a wavy pattern that can go all the way to the pith of the tree. I like this part also. And it is the part that most people leave in the grown or dig up and burn or get hauled off.
Well I hope this helps some of you. Keep hunting for the beautiful wood and if you don't like the hunt you can always purchase from me!
Greg
-- Greg, Southern Oregon, www.oregonburls.com What can I say but God Is Good!
---