Well, time has slipped away and it has been too long since my last blog post. In the interim, thankfully, work has been keeping me hopping and have gotten small projects out of the shop. Also the bandsaw and I had a disagreement and the bandsaw won the day. Thankfully no major damage was done and in a few more weeks I'll be as right as rain.
I have finally finished the poplar mockup and tommorrow the "real thing" begins in earnest. I made all of the changes that I noted in the previous entry. You will notice in the following pictures that front leg faces have been curved to match the front aprons, thus creating a seamless curve across the front facade. Joinery has been worked out for drawer "guts" and I even mocked up a drawer. All of the rails and kickers are joined to the carcass using either a tapered sliding dovetail or double mortise and tenon. Though the case isn't likely to go through the rigors of a bedroom chest of drawers, I intend the piece to be capable of doing so. Is the piece overbuilt? Candor compells me to answer yes, but that's just my way. It doesn't mean its the right way or the only way. You will further note that joinery is rough and there are gaps here and there. That is no matter to me since this piece will never see the outside of my shop. The purpose of a mockup, at least as I see it, is to work out geometry, aesthetics and joinery. End of story. In the real piece there will be no room for this type of "quick and dirty". It is my aim that there be no gaps or imperfections of any kind. While this mockup took a mere 45 or 50 hours, the actual piece is likely to take double that amount of time plus another 40 hours for drawer construction. Yes, this is a significant time investment, but my client is paying for my time and I intend to give him his money's worth and then some. If I may chase a dovetail for a moment, I hear furniture makers apologize for their pieces from time to time, stating that next time they will do this or that better. My response is that, just perhaps, this time should have been that time and in turn no apology would have been necessary. I am making next time be this time where everything is the best I am able to do, no excuses or shortcuts or saying that thus and so will never be seen. There is a time for quick and dirty and a time for next time to be this time. Part of our job as wood workers, either professional or hobbiest, is to know which is which.
If anyone would care to see my original sketches, full scale drawings, or how I did the brick laying for the back apron, just ask. I am happy to discuss these skills, or for that matter any of the skills I incorporated into this piece. I have no secrets.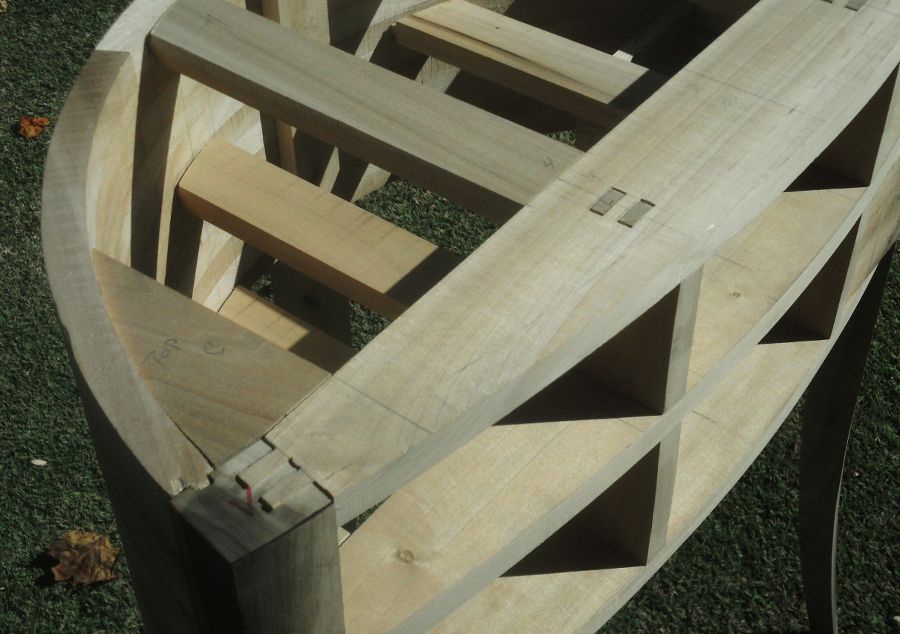 -- Cheers!
---