Well, I was able to dig my grandpa's old TS out of his shop which has been dormant for the better part of 30 yrs. and drag it to Ohio It is a 1954 Craftsman 1 HP 10" left tilting contractor TS. Here it is after getting off the truck.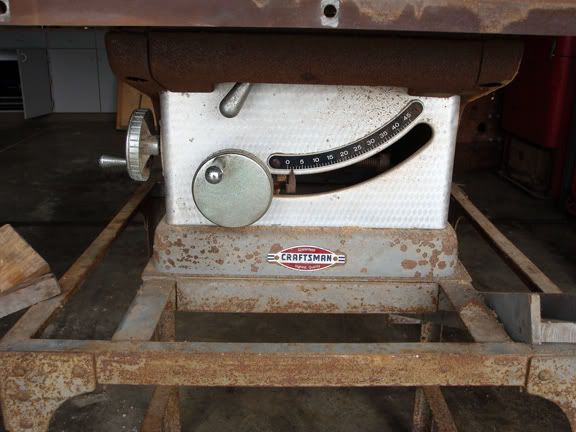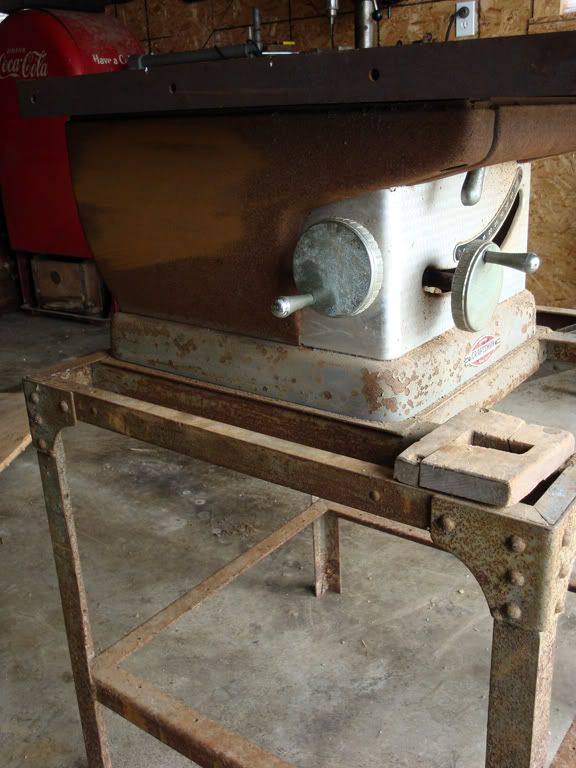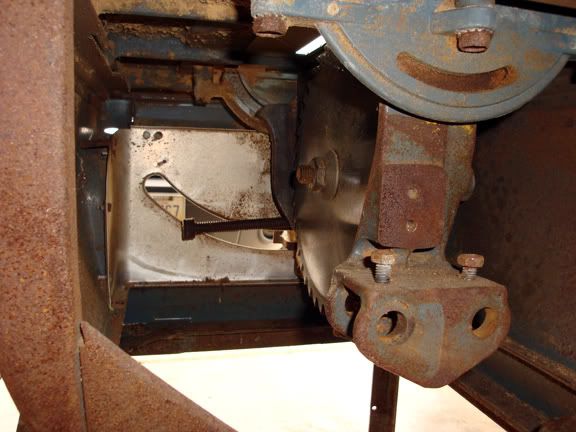 The inside shot shows how they used to make them to last, all cast iron & aluminum.
It was going to need some TLC, I started by removing the saw from the base and started to sand everything.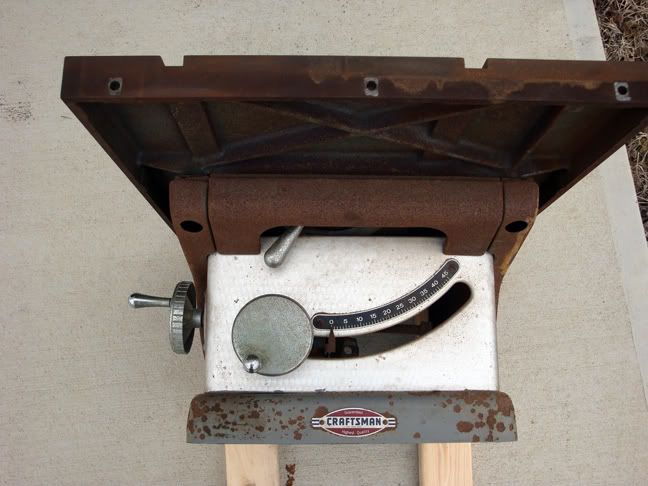 After sanding everything for a couple hours, I then taped off area's and started to paint. I used some good old Ace Farm/Machinery "Ford Grey". It took about a can and a half for the whole project.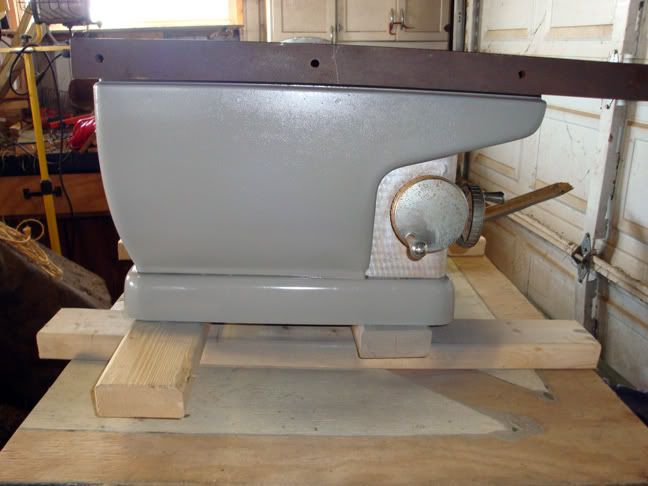 I had to paint it in the horse's barn and had several interested parties or we've just got stoner horses?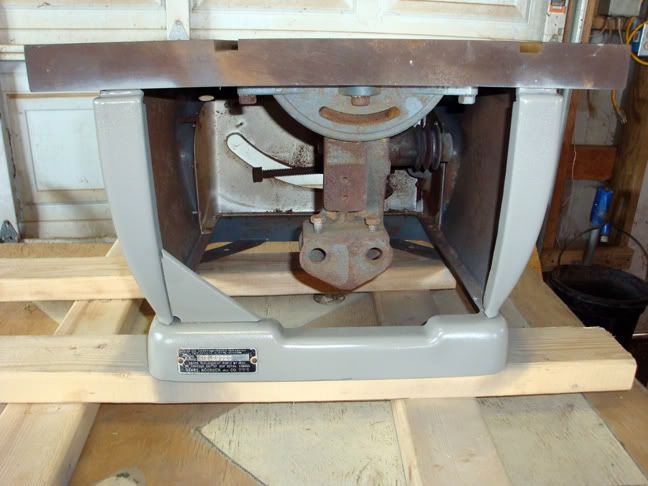 I think the painting went well, my only concern was how to clean up the aluminum on the face plate and hand wheels, I tried some "polish" but didn't get the results I was expecting? Any suggestions?
Once the paint dried I lugged it back to the garage/"shop" for reassembling. You might notice the ugly switch, which I replaced. I also made a little mobile base so it can park against the wall.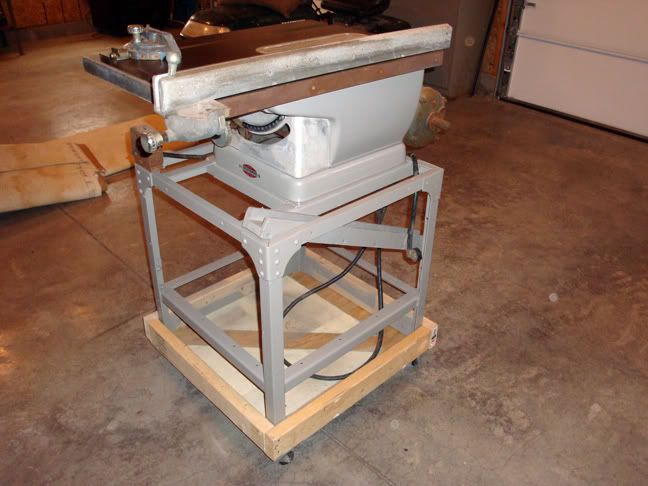 For the top I just used a fine grit sandpaper and applied Johnson Paste Wax for a smooth finish.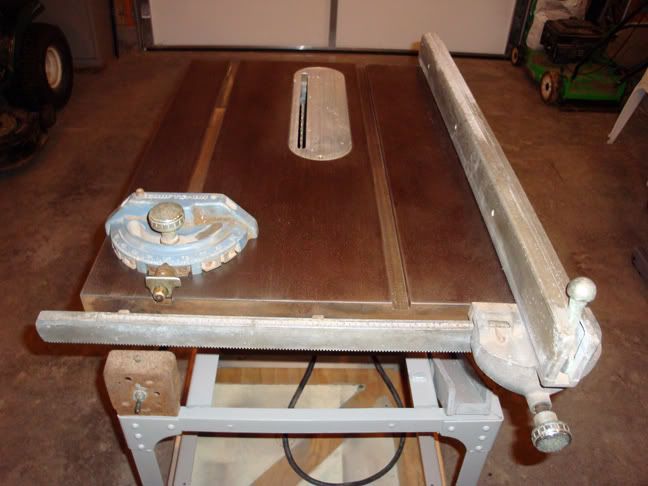 Once reassembled & proper set up I was able to get my first cut in!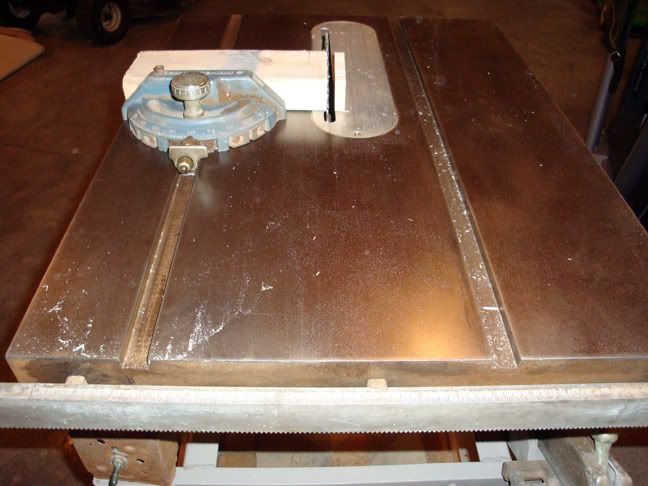 After reading all the horror stories of people who have Craftsman TS and the trouble they have with the fence I had little expectations for this one. Well, I must be a curve buster, cause the fence works great! within 1/32", can't really ask for too much for the age? My only problem is the fence only goes so far to the right/left, but haven't ran into an instance where I can't cut something. I wasn't happy with the switch that arrived with it, so I got a new one from Grizzly(also got a very nice feather board from them). Since I was replacing the switch I also rewired the motor for a longer cord, the original was cracking. I think all I need for it is to make an out feed table & maybe a side wing or buy a wing? All in all I am happy for what I have. I believe I have less than $50 in it. (Paint,belt, switch, wire) It should serve me well for several years to come. And if that day ever comes where I have a shop and upgrade saw's I might use this for dado's?
Well here is the final shot with new switch, looks pretty good for being 55 years old!
It's kind of funny, I never knew my g-pa, he passed in '79(at the age of 84) when I was 1, but some how restoring this saw and using several of his other many many tools, I get this funny connecion feeling cause I know he has used them also? I just hope this isn't the saw he cut two fingers off with!
-- If you can't fix it with a hammer, you've got an electrical problem!
---