One of the main projects which I've done for literally everyone in my house, is to build their beds. They're not fancy, but they hold up the mattresses and I guess that makes them successful.
Recently my wife upgraded one of my son's mattress from a twin to a full size, going from a loft style (no box spring) to one with a Box spring in the process. This mean that his Old bed frame which was half of a bunk which he and his older brother split into two mini lofts is now out in my shop in pieces waiting for a new life as a tool stand or some other useful reincarnation.
To get his new bed up off of the floor I've started (should be finished later today) building his new bed. The budget was tight, but we needed this, so I went with dimensional lumber, which he says he'll stain and then we'll slap a coat of poly on it for good measure. I expect it will be installed by sometime next week.
The design evolved over the past few days, but essentially is a 4 post frame using 2×6's for the verticals and 2×10's for the rails. That was partly to keep the box spring hidden, but also to add strength. The rails will be bolted to the head and footboard assemblies, so it will come apart into 4 pieces for transport when we move in a couple of years.
Several friends over on Family Woodworking helped out with the design, including a lesson on how to use sketchup from Dave Richards over the phone one evening. I put mouse to desk and came up with this design.

Of course I had to christen our new crossover vehicle as an official woodhauler…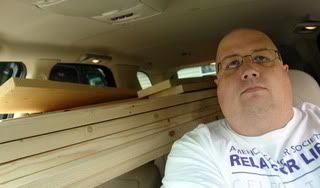 it barely fit…
Adam helped move the wood out to the shop, and we got to work cutting the pieces. About an hour later (if that) we had them stacked up: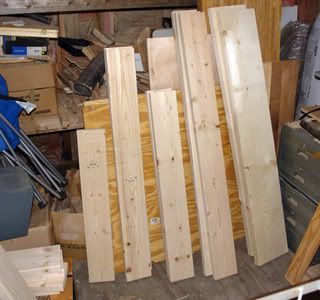 I always buy a couple of extra boards just in case… in this instance that was a good thing…
For christmas I received this dado stack set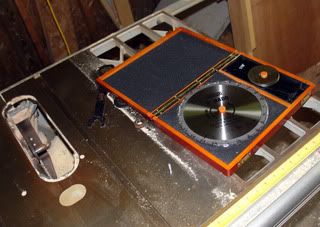 I put an auxiliary fence on my miter fence and went to work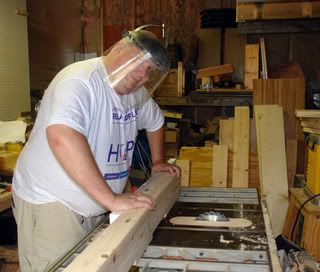 Note to self, Pay atention to the layout lines!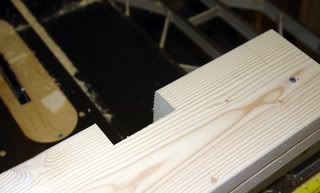 -- Ned - 2B1ASK1 http://nedswoodshop.blogspot.com
---