I've got most of the dimensional lumber cut to length now, as well as the pipes on hand, and the clamps. I've decided to make something of a traditional bench on one end however. I have been gathering tools for several years and I scored a very nice old Morgan model 100A quick release vise off of craigslist last a couple of years ago: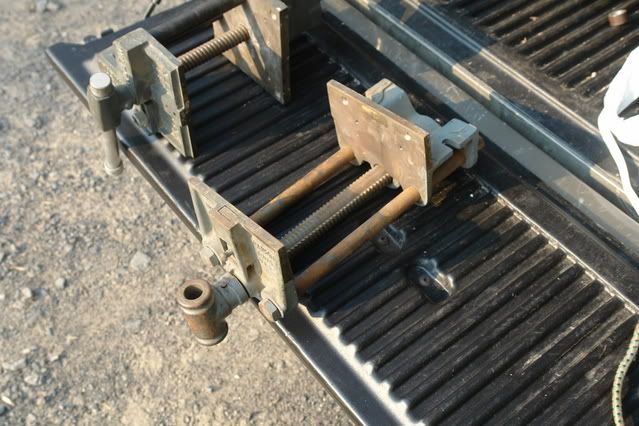 the vice on the left is a different model which I had for a friend of mine, neither one of us have installed them yet.
Speaking of which; since I have this already, I'm going to incorporate it onto the left end of the bench. My bench will be 5' overall, and the pipe section will be 4' long. Most of what I expect to be working on will be smaller than that. I'm still working out the plan on that end, but essentially I'm planning at least initially that i'll glue up some filler boards for the trough. I will incorporate the planing stop into the mount for the vise .
I'm planning on getting some assembully done tomorrow. I will have to see if I have a forstner bit large enough to drill all of the holes, if not, I'll swing by Sears and pick one up.
-- Ned - 2B1ASK1 http://nedswoodshop.blogspot.com
---