I picked up several sheets of drywall, plus some cement board and even some pegboard in the past year or so… all for very little money ($20 total), and no immediate plans to use it… It has been cluttering up one corner of my shop.


Today I decided that I would do something about that. I"ve got my newfangled workbench to complete, and that is going to need a spot in the shop before I can assemble it, Well, here's what I did to get rid of the clutter:
I cut the 2x materials to length, these were all pieces left over from my shop build, so zero cash outlay:

First I measured and drllled so I could bolt the vertical pieces to the joiists. 4 3/8" bolts in all on each piece.

Then I screwed a 2×4 to the wall to support the other end. And toe-nailed (toe-screwed?) the horizontal piece to it. It is only a temporary solution, eventually I'll be putting a piece of plywood on there, and at that point I'll rig a temporary brace, pull the rack away from the wall, slip the plywood in and then hang some joist hangers to give the ends better support, but this will do for now.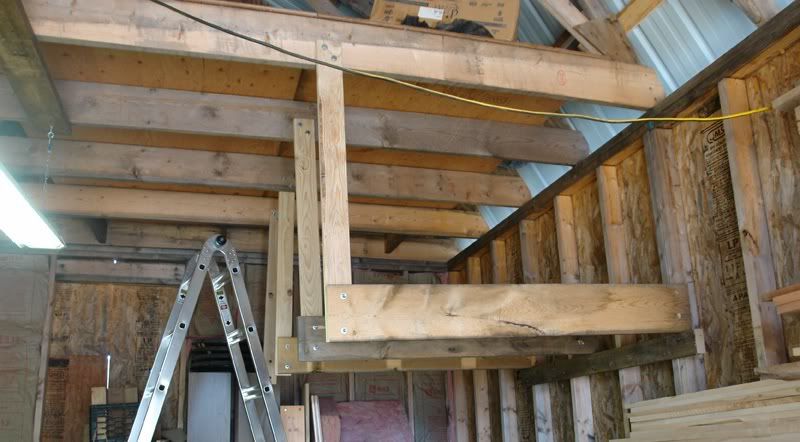 I'm taking a break to grab some dinner, then I'm heading back out to the shop to muscle the sheets up into the rack.
and while that looks like it is pretty low… It is a good 6" above my head. the Bottom of those joists are at 10'3" high. The vertical drops are 3' long so I've still got clearance. My plan is to have my drill press station and bandsaw over there. I might hang a flourescent fixture there as well at some point.
Thanks for Looking!
-- Ned - 2B1ASK1 http://nedswoodshop.blogspot.com
---