Now I'm all for building my own cabinetry, but this one will be very tough to beat.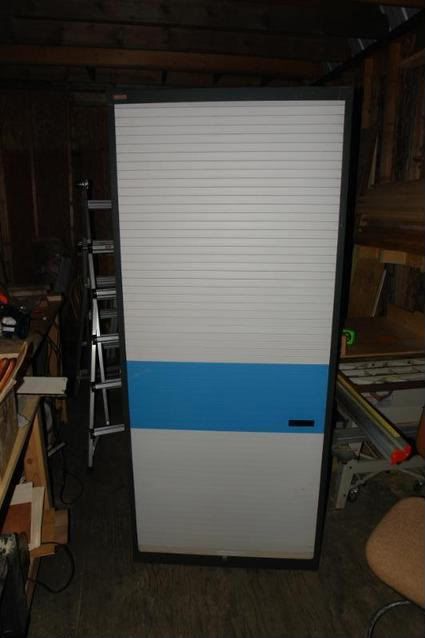 It's a cabinet any computer type who used to sit at a 'terminal' instead of a PC will recognize. Originally purposed to store data reel to reel tapes, I'm going to use it to store most of my tailed and battery op tools, along with a shelf for fasteners, etc… It measures a whopping 7' 1/2" tall, 36" wide and 18 1.2 " deep.


The tambour door should keep most of the dust out, it has been open in my storage unit, so I'll have to clean it up a bit before I install the new shelves I'm planning on putting in there.
It has these handy clips which are extremely easy to adjust.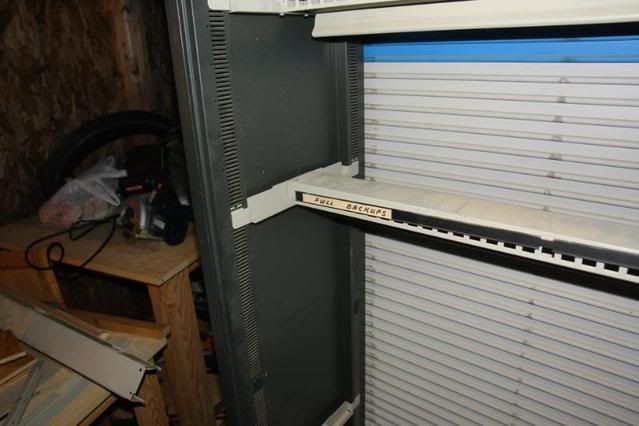 My father salvaged this one, along with a couple of other similar units. Here's what he did to his, making it an adjustable bookcase:


that cabinet is only about 6' tall. He has another 7' one which I really would like to 'borrow' cough cough on a semi permanent basis. too bad I'm so far from VA. he he he
I've got plans to make as many shelves as I have cross pieces for, but there's a bunch more shop moving to do, so I'll only cut and install two or three to get the ball rolling in the morning,
-- Ned - 2B1ASK1 http://nedswoodshop.blogspot.com
---