Buddy of mine gave me a chunk of bowling alley earlier this year. I was going to make Something out of it, and my wife asked if I would make a rolling kitchen island to replace our kitchen table.
It needed a little cleanup on the ends, and I lucked out, only barely nicking this nail with a router bit.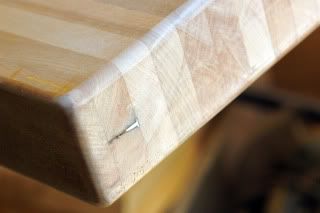 The plan is for it to be counter height:


I decided to do a decorative treatment on the ends of the rails, somewhat 'greene and greene' influenced, but just out of pine, so not nearly as ornate as their work.
I'm going to have to wait a bit to get the locking casters for budget reasons… so I designed removable feet.
I rounded over all edges of the pine legs with a 1/4" RO bit, and also put a 3/8" roundover on the top.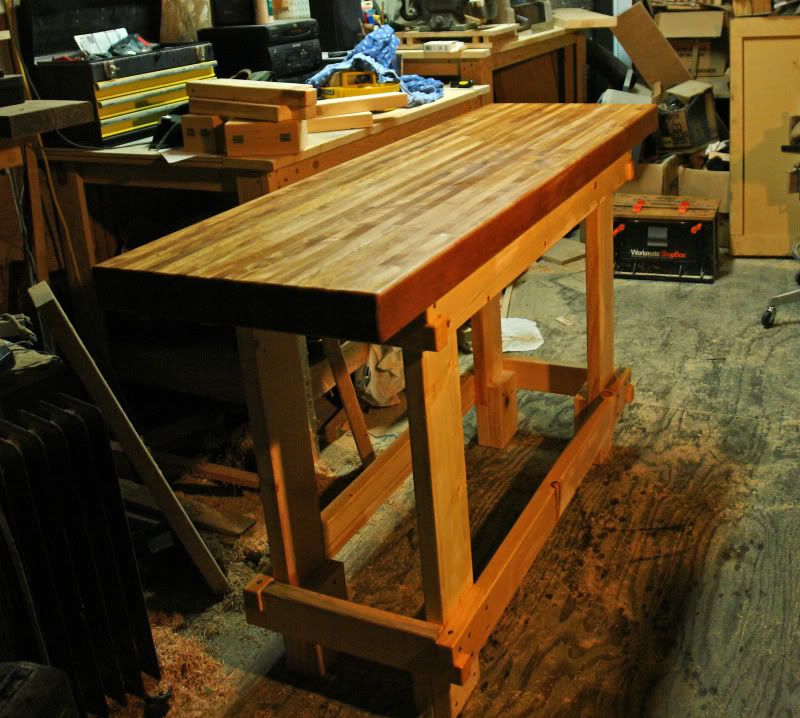 I'm using a wipe on poly/BLO/Tung oil mixture from Rockler, the Sam Maloof forumula.
It imparts a very amber tone, but the grain pops incredibly at the same time.
I need to pick up some 0000 steel wool and rub down the finish (plus sand off some pencil marks on one leg, then apply a couple more coats of poly on it before putting it into use in the kitchen.
-- Ned - 2B1ASK1 http://nedswoodshop.blogspot.com
---