For better or worse, I've dipped my foot in the handtool pool.
A few weeks ago, I purchased a lovely 'tricked out' Stanley #4 from Don W. as well as a Sweetheart #3 from an anonymous LJ. Both planes were auctioned off by LukieB for charity.
While I was waiting for the planes to make it across the border, I picked up a Bailey Stanley #4 that looked like this: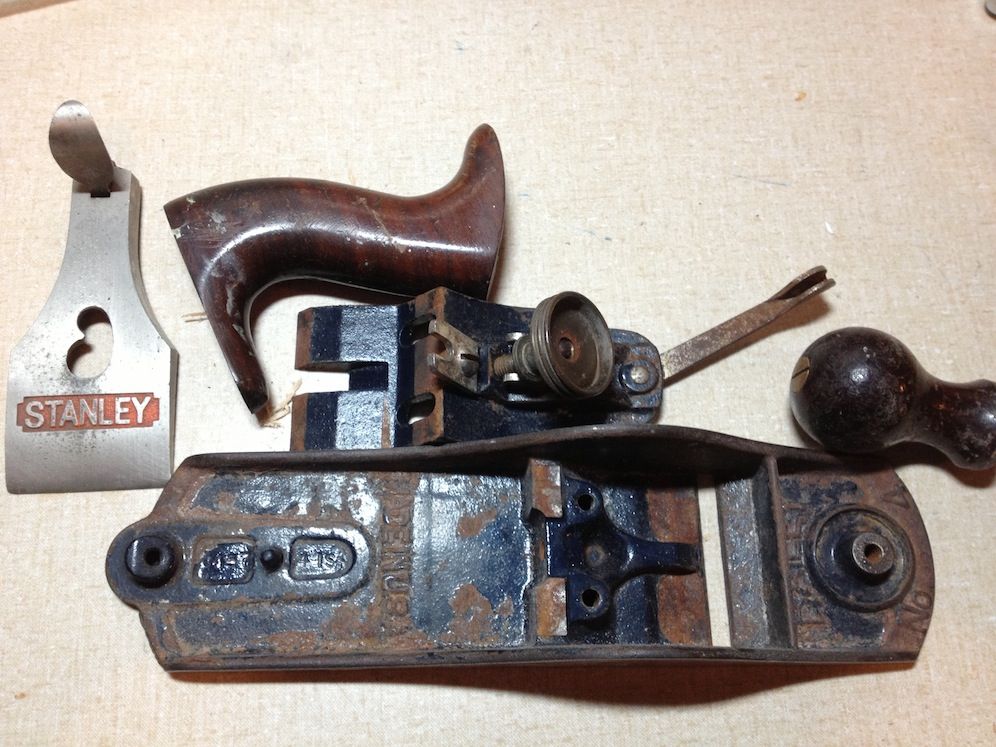 I wanted to take one apart and understand how it works before possibly ruining all the work that was already put into the planes I purchased. I also started reading Hand Tool Essentials by Pop WW. I can't recall who suggested that book, but it was good advice.
After some CLR, steel wool, elbow grease and rustoleum, the Bailey looked like this: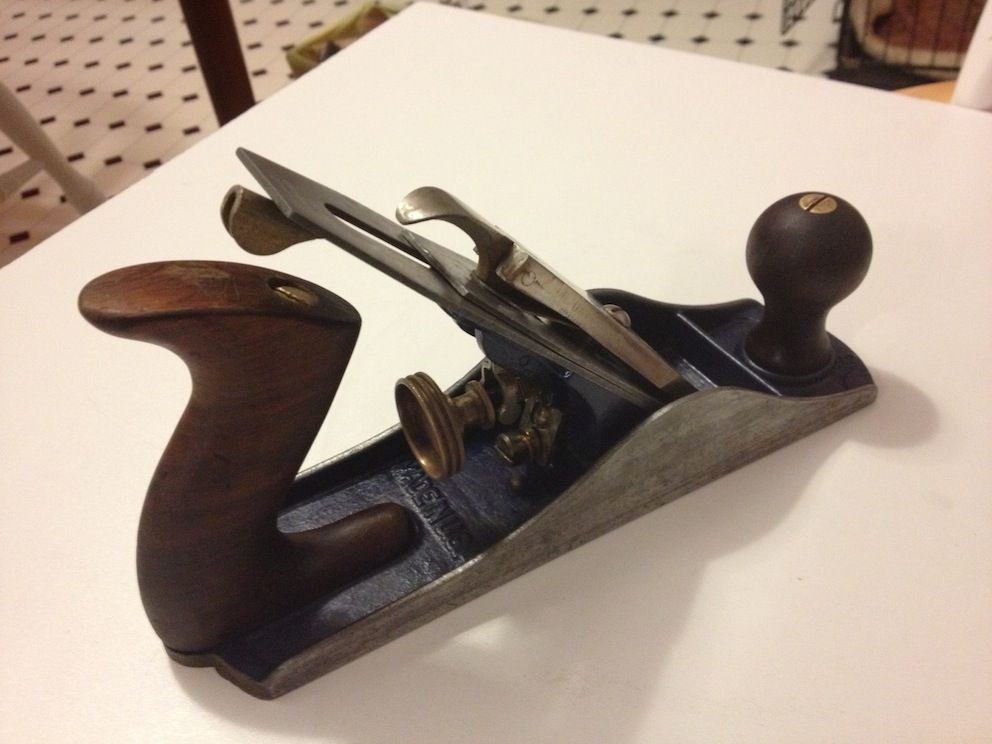 Flattening the sole was an onerous task to say the least, considering all I had to work with were two 6" diamond stones. (Should have bought the larger ones, should have bought the larger ones, should have bought the larger ones) I had the same issue with the blade, but got it done.
There's still a dark strip through the centre, which I presume is a low spot, but it's a shiny low spot if that's what it is. After hours I decided that for now it would do. Flattening the sides was far easier.
Getting it ready for use was interesting, but not so bad. Here are my first results from a rough piece of birch: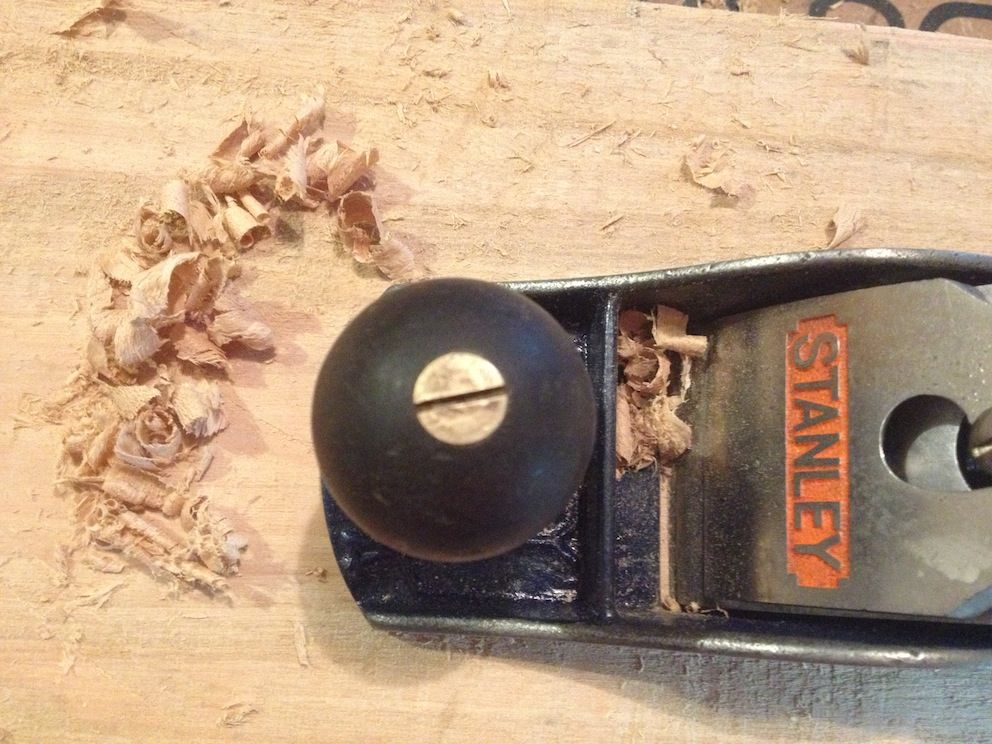 The main issue is now my worktable. The durabench was skittering across the concrete floor making it very difficult to use the plane. I certainly didn't get nice curls, but it's a start.
And THEN yesterday, both planes arrived.
The Stanley #4 from Don W was ready to use out of the box and looked like this: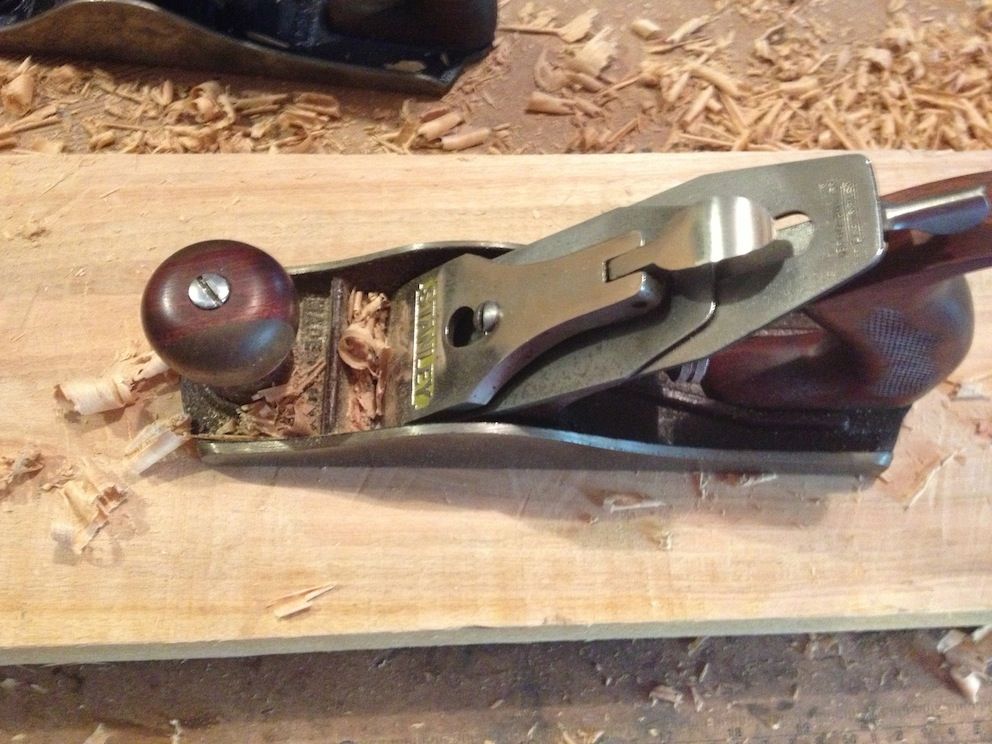 Again the workbench proved to be a problem.
The lovely #3 sweetheart from the anonymous LJ was probably also ready to go out of the box, but I promptly took it apart to see how the y yoke works. It's back together and did well considering the user and the workbench.
So here are my three Stanleys. The one on the far right is the #4 I cleaned up, the centre one is the #4 that Don W tricked out, and the one to the left is the lovely sweetheart #3
For the record, the shipping for each of the planes was over 35$US, so these guys ended up paying cash to auction their planes off for charity.
Now, it's back to working on my workbench so that I have a sturdy base for using my new tools.
Thanks for looking,
Sandra
-- No, I don't want to buy the pink hammer.
---