Something doesn't look quite right here…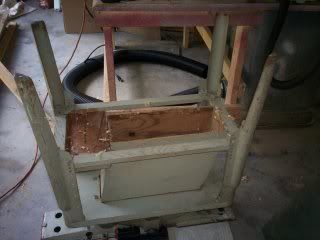 I've had this 6 inch craftsman brand jointer for a while now. For the longest time I wasn't albe to work on it. I actually didn't really UNDERSTAND the workings of the jointers. Mechanism wise. Well, today I jumped in with both feet and learned a couple things.
I knew that the screw mechanism raised and lowered the table sides, and I had also been told recently to just flip the jointer over to see the jointers workings. I started out by lowering the table as far as I could. It jammed up several times. Achems razor declaired the best bet was that there was something jamming the main screw. So I thought I would worry it back and forth, applying oil to loosen it was I went.
Suddenly there was a loud clank in the tub I was using to catch shavings.
I found this doo-hick laying on the ground. Ugh oh…. So, I took of the fence, the motor, and horsed the jointer upside down. Thank goodness the feet didn't slip as I was lowering it. Thing weighs a ton…
Looking at the underside… epiphany! (My joiner must be so embaressed to show it's privates…)
The set bolt goes on the main screw. It must have worked itself loose, and my ministrations to the screw must have worked it loose. VERY luck for me, because if the set bolt hadn't fallen off, I may not have flipped the jointer. It was nothing to screw the bolt back in place, and I used the one on the other table screw to judge where it went.
Afterwards I flipped the jointer back up. My back and elbow still hurt. Of course, this time the feet slid. Ouch. Low and behold though, the infeed table now raised and lowered now, smooth as silk. I can even get the tables level now, something that was impossible before I started.
I'm pretty sure I got the outfeed table set right.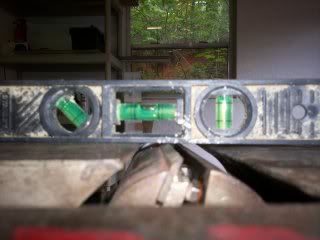 Here's the rough pine I tested the jointer one. Turned out pretty well!
As another LumberJock always says, "If sawdust (or in this case shavings) where gold…"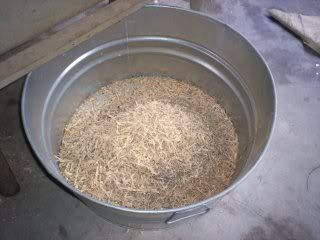 Lastly, and this is actually almost the most important thing I learned today, USE PUSH PADS WITH A JOINTER!! Not only is there the safety factor, but MAN, I can JOINT WOOD! It ACTUALLLY WORKED! I've always had a love/hate relationship with this jointer. NOT ANYMORE! I was doing one pass flattening at the end. WOW… :-)
Here's was I was using…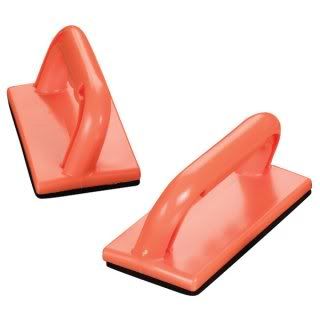 Don't fear the jointer, man!
-- Beer, Beer, Thank God for Beer. It's my way of keeping my mind fresh and clear...
---