Well I started the first step in building the Holtzapffel workbench. I went out last weekend and picked up some Douglas Fir for the bench and started to mill it up. I choose Douglas Fir for a couple reasons. First it was pretty cheap, I only spent about $150 on the lumber. Secondly, its a stable and stiff wood, which is good for a bench. It is also pretty hard for a "softwood". I also used Douglas Fir on the small bench I built as a sharpening station. I like how it turned out. I think have some strategies for dealing with the tear-out I had on that project.
The big benefit of Douglas Fir was the price, but it is also one of it's flaws. I did some digging through the lumber pile, but I still have to deal with some knots. I'm hoping I can bury most of them inside the top and legs. I may have to deal some knots on the top (hopefully small ones), but we will have to wait and see. I might also pick up a couple more boards, if I have some big knots to deal with. If they become a problem, I don't have too much invested in the top.
One of the other benefits I listed, was that it is a stable wood. I think that showed itself when I was ripping the boards down. The top is going to be about 6 feet long. I was expecting to deal with the board pinching during the ripping cut. To my surprise the cut stayed straight and true. I have never seen that when ripping a board that long before. The kerf always seems to close up on me.
I didn't take pictures of all of the lumber. Below is a sampling of some of the lumber for the stretchers. The smaller pieces were easy to find knot free sections.
This weekend I plan to laminated up the legs and stretchers and start on the base. I've rough cut the the pieces for the top, and I'm going to let them dry a little longer in my shop.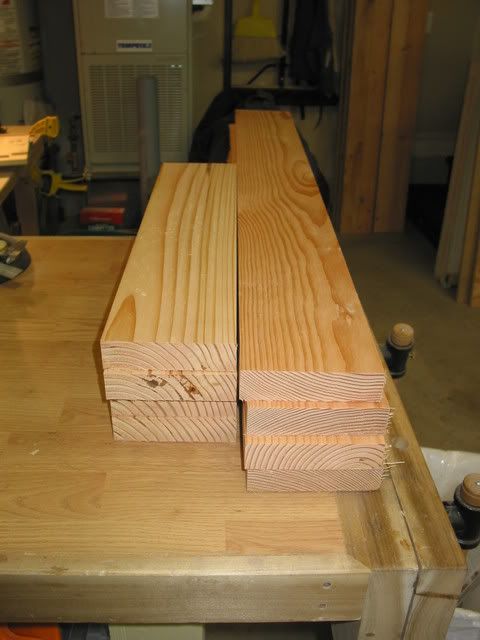 ---