Being relatively new to woodworking and building my new "shop", which basically consists of a 2 car garage, I've finally got around to using those sheets of birch faced MDF that have been staring at me for 6 months to build the Ultimate Tool Stand. I think it's the perfect solution for my garage as far as maximizing space and versatility. Mounting it on 4 inch casters will allow me the ultimate flexibility to roll it out of the way, but also outside for when I'm cutting nasty MDF which I've learned makes a huge mess in the garage as opposed to regular veneer core plywood.
The plans for the Ultimate Toolstand (as mentioned by several other LJ members) can be found at http://christophermerrill.net/ww/plans/UTS/Tool_Stand_1.html .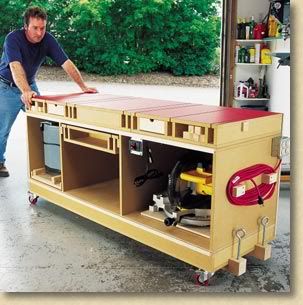 I started my project with a few modifications from the original plan. First of all, I utilized a hollow core door as my torsion box, to save time. I was unsure if it would work as I hoped, but when sandwiched between 3/4 MDF, it's rock solid. I also added about 6 inches onto my tool stand so that my Dewalt 735 planer would fit in the bottom shelf. I don't think it would have fit otherwise, so making it longer also allowed me to use the full hollow core door without cutting it down. I'm guessing this also kept the structural integrity in tact.
Here are a few pictures of the progress. It's coming along pretty nicely. I can't wait to finish so I have a suitable bench for the many projects on my list.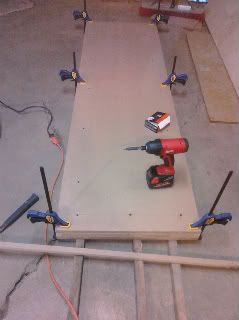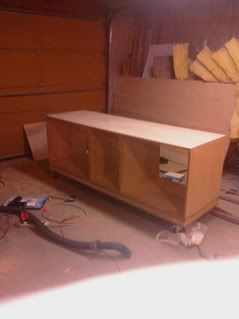 Update: 5/15/2010
Making progress. Cut the channels in the top with my new dado blade and just did my first laminate job. I also installed a vise which presented it's own challenges given the configuration of the top. Tomorrow I plan on wiring everything up and trimming the laminate. I decided to not cut the channels in the middle of the side boxes as I couldn't see a need for them.
!
-- Mike Minneapolis, MN
---