We started building this house in August 2008. I had built a room at our house in Nakusp all out of wood and thought…now I wanted to do something bigger and with hard wood. Oh how naive I was…
I thought, "Hey how about doing all the inside woodwork out of maple." It seemed like such a careless thought now in retrospect, a whim really, as I had never had the chance to work with maple before. I knew it was a hard wood and that was just about it. But I got a line on about 2000 board feet of roughcut Eastern White Maple. Dropped $7000 on that bunch of very heavy wood, thinking that I could make some of my money back with what I would have left over. Well, that seems like a long time ago and a lot of hard learning since then.
This is my first 'blogging' experience. Journalling projects is a good thing (wish this blog had a spell check) and I happy to have a chance to show my stuff, and more importantly get some feedback, tips, and tricks of the trade from those who have walked the path of taming maple.
I started with the stairs and railing.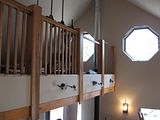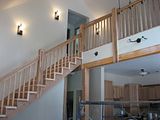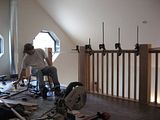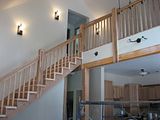 ---