Well my wife has heard a few complaints I've had with my current table saw. Okay, a few years ago after we bought our first house I wanted to start woodworking as a hobby. I only dabbled the little amount in middle school. After that high school and college I never really did any woodworking. So for Christmas one year after in the new house (and a garage I might add) my parents bought me a craftsman table saw. See below:(image courtesy of sears.com)
It had a great benefit of being very portable which was a plus having only 1/2 of a two car garage. My wife does get the other half while my truck is parked outside (it is a F-250 and won't fit either). Quickly I began to see some cons with the saw. First and most importantly was it is very top heavy leaving me with a very unsafe feeling while ripping plywoods. Second was the large amount of plastic that it's built out of, especially the plastic top. No standard track like everyone else's table saw. Anyways, I don't want this to be a review so I'll get back to the point. Christmas '09 brought me a 1956 Craftsman 8" table saw. Real old but simple and durable. Plus it's heavy and has that nice cast iron top we all love. It was in fair shape. Needed some cleaning but no major rust issues. Here it is: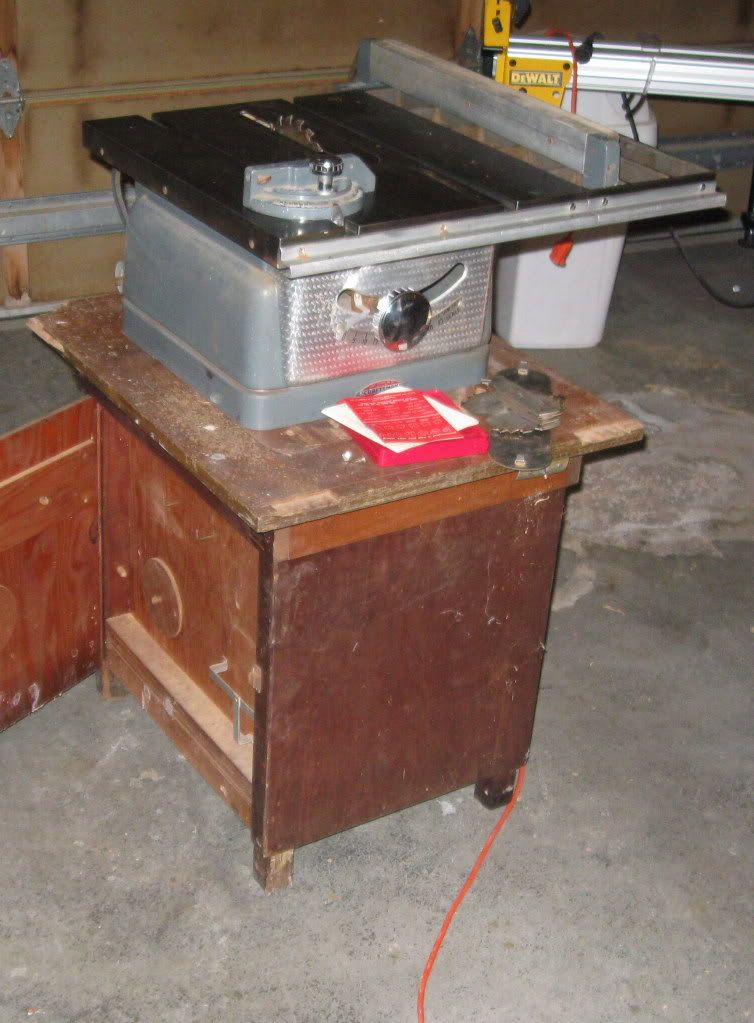 Now I can get inspired to work around this! So my first step is to turn this into a cabinet saw. A new fence is in order as the stock fence won't stay square and is wobbly. After much searching I found an inspiration to follow. I found these at http://www.plansnow.com/dn3090.html.
I have some ideas for some modifications to meet my needs and wants but those are still stuck in my head. Now to put them to wood.
-- Mark DeSchepper -- The things I make may be for gifts for others, but making them is a gift to myself.
---