For the twin screw vise I was a little worried about the chop cupping over time and I couldn't find any quarter-sawn 10/4 Ash so I laminated three pieces of 4/4 together. Here the chop is sitting on top of the two blocks that will be glued to the underside of the bench for the screws.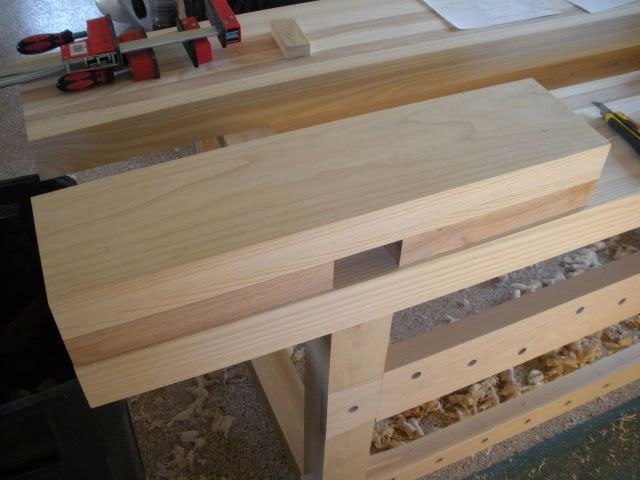 I secured the blocks to the chop with double-sided tape and drilled the 1 1/2" holes thru both pieces at the the same time to ensure proper alignment. Then I glued the blocks to the bottom of the bench.
At this point I got into a zone when installing the twin screw vise and I didn't take any more pictures, sorry. The installation was very straight forward until…
First I secured the vise screw nuts to the back of the jaw blocks with the four/each screws provided. Pay particular attention to the way the threads are machined into the nuts and make them match each other otherwise your screws may be 1/4 of a rotation off – which can be fixed, but it's much easier to pay attention here and save the work later. I deviated from the directions just a bit here. Lee Valley wants you to just start threading the screws then put the chain around the two screws and then thread them the rest of the way together. I couldn't see any benefit in doing it that way and it would be very time consuming, so I just thread each rod into the nut all the way and ensured that they were very close to parallel and then put the chain on. I secured the bolts to the chop with the four lag screws included and that's when I broke the head off of one of the lag screws. To say I was a wee bit miffed would be an understatement. Especially since this happened during my last two minutes of shop time before leaving for work for three days. Argh! When I got home I drilled the shaft of the bolt out and then luckily I was able to back it out with a screw remover. After that I noticed in the Lee Valley directions where it says in bold print "NO NOT OVER-TIGHTEN THE LAG SCREWS". I'm guessing I'm not the first person to do this. I wasn't tightening it very much so I think those screws are pretty soft.
You will need a third hand in order to install the cover properly because there are three pieces and you have to hold them all in place and then mark the holes. The vise is still a little stiff to operate but I think it will loosen up in time. It tracks true with no racking and also grips tenaciously.
-- Mark
---