Having finished milling the half lapped dovetails for the rails yesterday, today I was working on milling the matching dovetails on the outer part of the legs to receive the rails. The legs are made up of two sections of 8/4 ash which are glued together after the milling is complete. Doing it this way makes it very easy to create the dovetailed through mortise for the bottom rail. I started by marking all the joints using the dovetails already cut on the rails. Each piece is made to match it's partner so they all had to be numbered to match. After they were all marked, then I cut just inside the line with a hand saw. After that I went back to the table saw and – making sure I'm starting from the narrow side of the dovetail – cut out all the waste that I could. That left me with a wedge shaped piece that needed to be removed. For that I turned to my Japanese Ryoba saw. Because it is kind of like a huge flush cut saw and has both a rip and a crosscut side it works great for this task.
After I had removed all the waste, then I tried a test fit. One of them fit right in, but the rest needed to be tuned up with a shoulder plane and a rasp. This was the second time that I found a really good place to use a rabbet plane, too bad I don't have one. I then headed back over to the table saw and raised the blade about 1/16" and took just a little more material out of the dovetail on the lower rails. The reason for this is that I had cut everything to be a perfect half lap, but the bottom rails need to be able to slide into the mortise so those mortises need to be slightly wider. After that was done and cleaned up, I wend for a test fit. Here's a picture of what the wedged dovetail joint on the lower rail will look like, but after it's glued up you won't be able to get this perspective.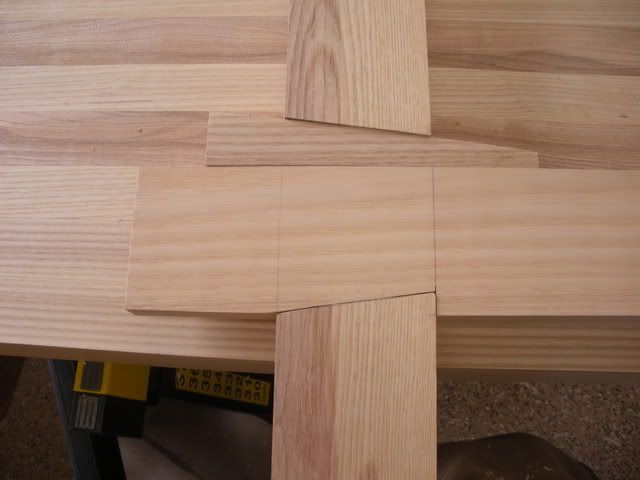 The bench base is made from knock-down but very secure joinery. Here I set the leg frame assembly on top of the outer leg so you can see what the result will look like in the end. I intentionally opset the two halves of the leg so you can se how it's all set up.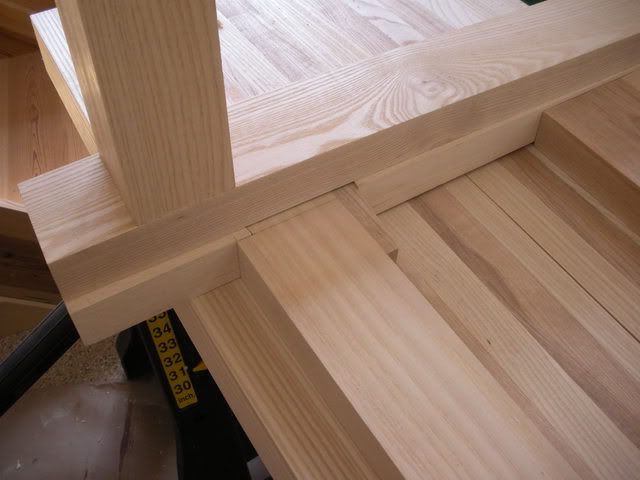 Last but not least I glued the finished outer legs to their corresponding inner leg to make a finished assembly.
Tomorrow I should be able to get the thing supporting it's own weight!
-- Mark
---