If I had one machinery purchase to do over again it would be to buy an 8" jointer and instead of a 6" model. My desire to use wider boards on this project led to a lot of time with my hand planes. I planed one face of each board flat and then ran them through my planer to get them to the proper thickness. After laying out the panels I put the mating glue joints up in my face vise and planed them with my trusty Stanley #7. I feel that doing this always gives me a really great glue joint.
The sub-top will be dovetailed into the sides with through dovetails. The top is 3/4" material and there will be a 3/4" cove molding around the case, but just to make sure the dovetails aren't visible at the bottom of the molding I rabbeted the ends of the top 1/8". Then I cut the 3/8" deep dado that will house the bottom. It will be toe nailed from underneath with cut nails.
Hear is one of the side panels with the dovetails marked out.
After that the cutting began in earnest.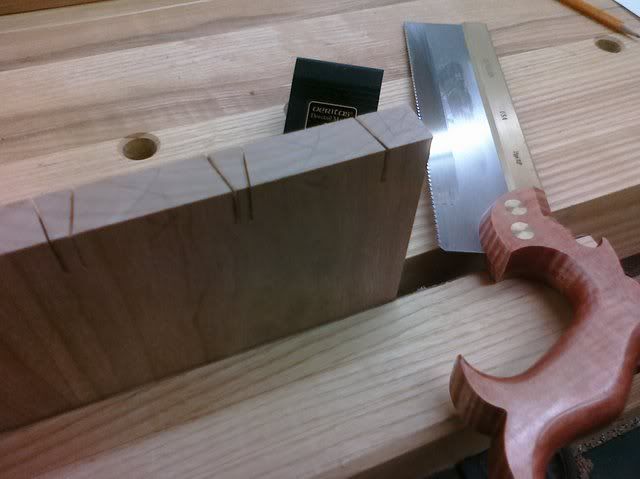 I started cutting out the material with my fret saw but it was just too slow so I switched to my coping saw which was better, but by no means fast.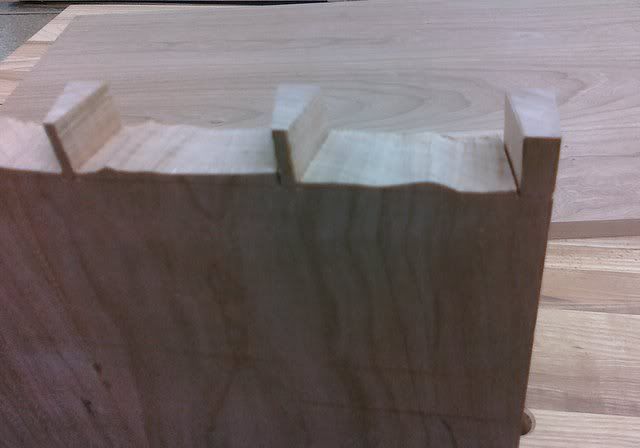 Hopefully I'll get to finish the pin boards tomorrow and start cutting the tails. These are great dovetails to practice hand cutting because they will never be seen.
-- Mark
---