The panels are now ready to run the profile so lets get started.
First we need to make a tray that has the same radius as the outside of the panel. This will help in supporting the panel fully while running the ends of the panel. I use a piece of 3/4 mdf long enough to support at least half of the panels length. Radius pieces are made from 3/4 mdf and screwed to tey base. The base will then be clamped to the shaper table. Another piece of mdf or plywood, 1/2" thick in ths case is attached to the shaper fence creating a full fence smooth fence to run the panel against shown in the picture below.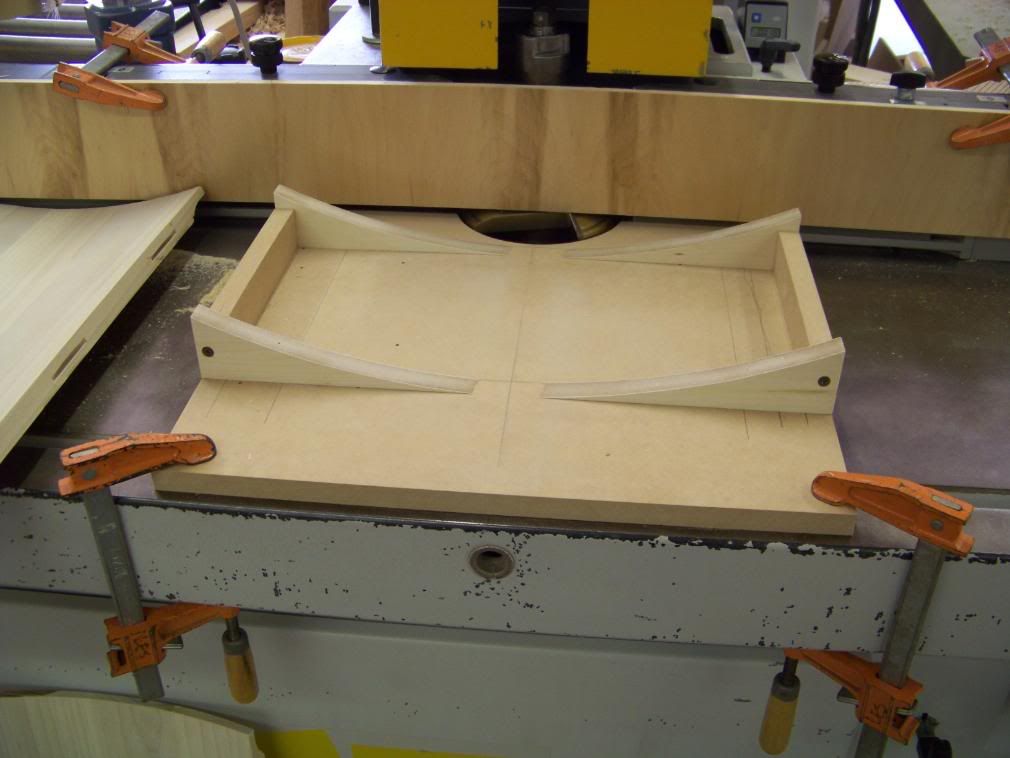 The panel cutter is set to the level of the 3/4 tray base. The tray needs to centered on the cutter head. After everything is set up just right the panel should be able to slide freely through the tray. I some times use drawer lube on the ribs of the tray so it slides a little easier. Now the ends of the panel can be run. A word of caution here,,,,,,,Hold the panel securely! Maybe even take small pass's at a time rasing the cutter a little on each pass until you reach the last pass.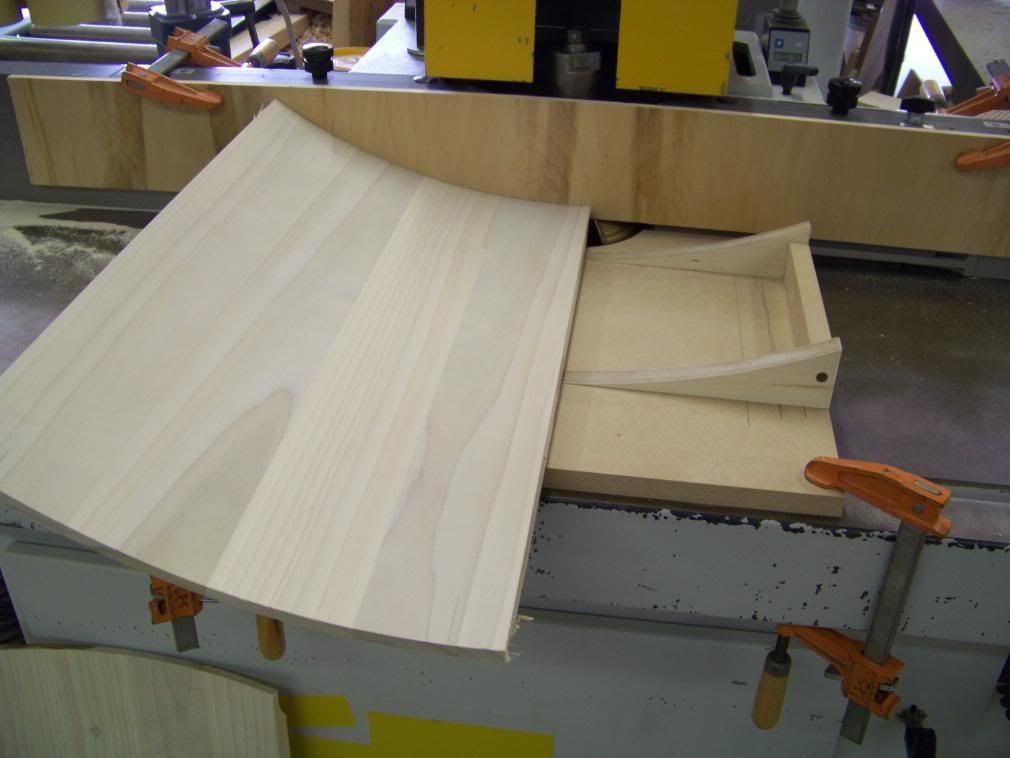 On these panels we need to run a cove on the inside of the panel edges. I do this on a router table. You'll need a fence that is cut to the inside radius this time of the panel to run the ends. I just used a piece of 1" mdf for the fence in this case. See below.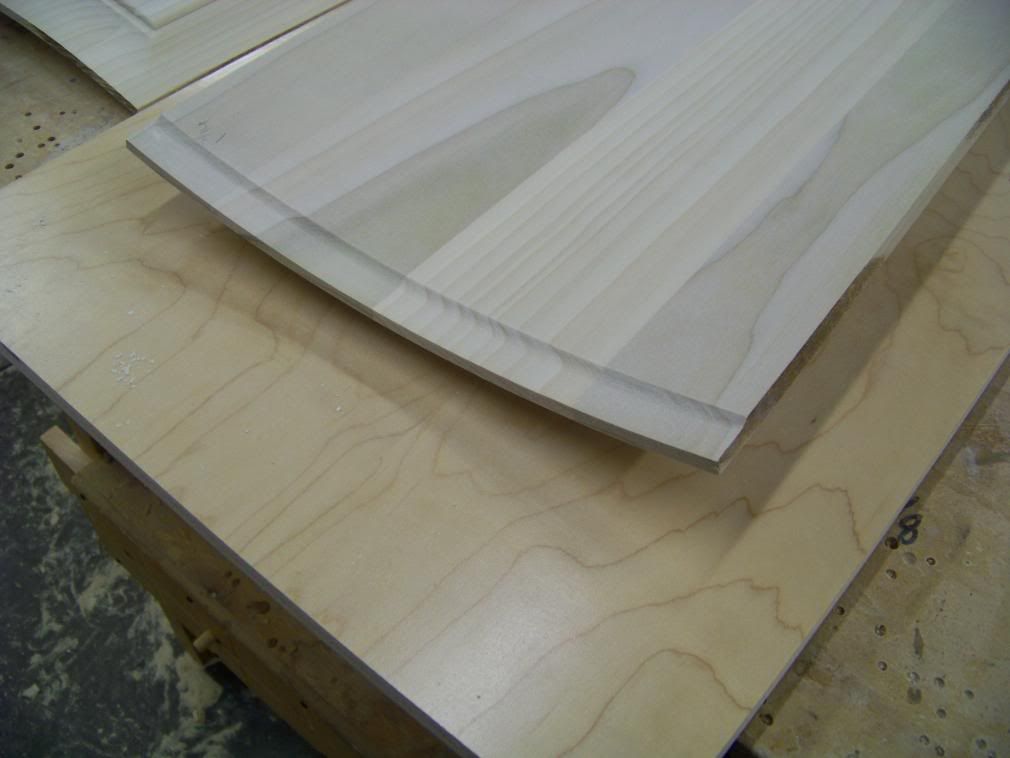 No magic on the side edges in this process. Just set up a straight fence and run the sides. Sorry didn't get any pictures of this set up. That's it for the panels except for more sanding. Now the they can be finish sanded and they are ready for the doors.
Doweling the the styles and rails.
I use an old Newton two head horizontal drill for doweling the styles and the rails. Once again a tray or block is needed that is cut to the same radius as the outside radius of the door. I use double stick tape to hold the block in palce on the bed of the doweler. The angle that is cut on the end of the styles and the rails needs to be held at 90 degrees to the table of the machine. Then its just drilling holes and your done.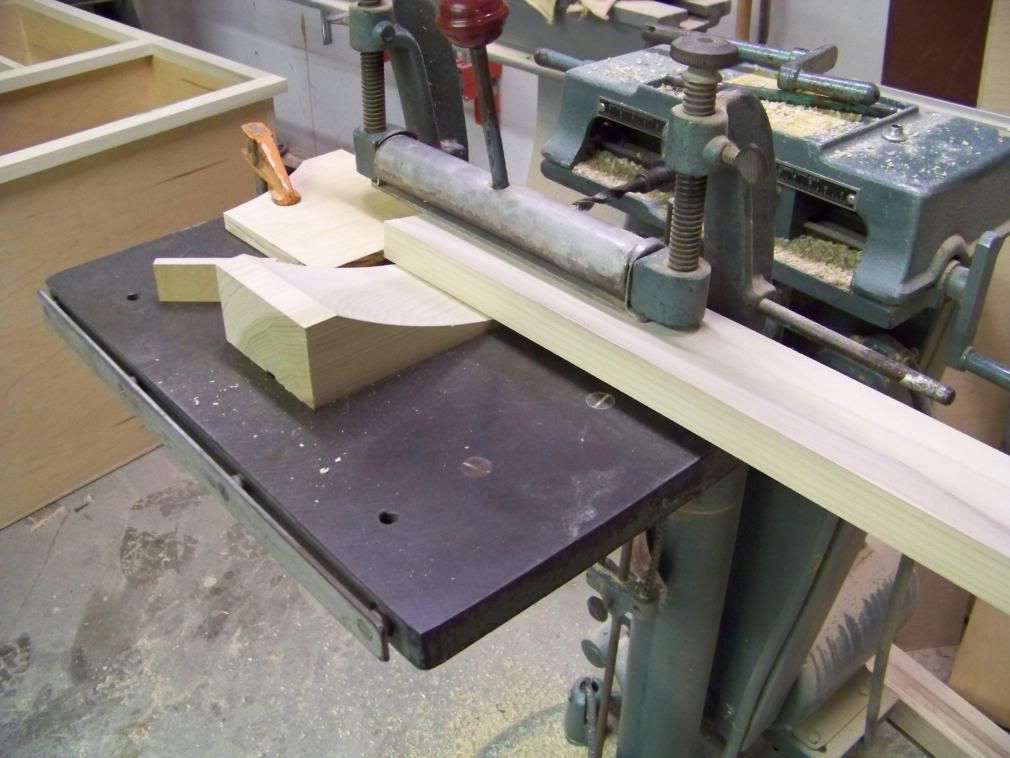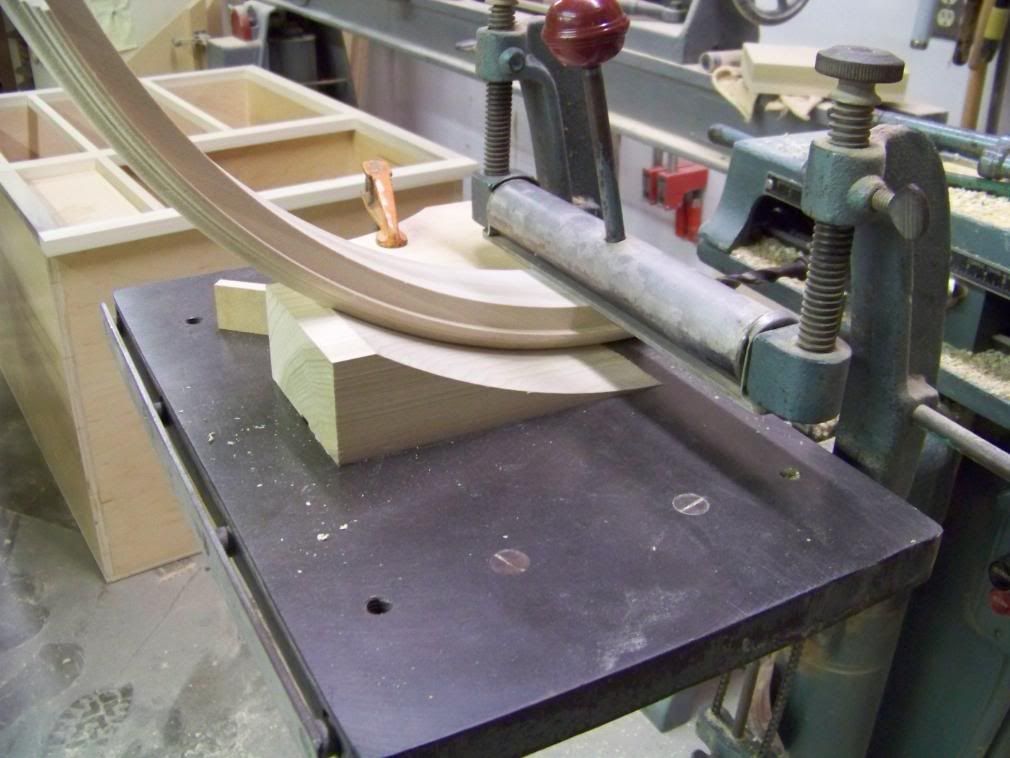 You can drill the holes with a hand dowel jig an old Stanley will work here. It takes a little doing but it is possible.
Time to dry fit and check everything out and see how we did.
Next up,,,,,,,,,gluing the door together.
Thanks for hanging out with me. And I hope this makes you want to try this out sometime yourself.
-- Les, Wichita, Ks. (I'd rather be covered in saw dust!)
---