First off here's a better picture of the radius jig for the styles and panel parts. It shows how I set it up with both the inside and the outside cradles attached to the tray and the router base's. And if you look close you can see the 1/2 inch foam pad that I use to sand the styles with. Just a reminder you can click on the picture to see the whole thing.

Ok, lets get started on the rails for the doors and the the face frame for the cabinet case. I just make a 1/2" thick template out of some mdf or scrap maple fc. I take my time and try to get my template about a 1/32" over sized. In this case my doors are 1" thick so the template for the rails is 1 1/32" wide. I use the same template for the cabinet rails that I use for the doors, so that all parts are the same.
Here is the cabinet case with the rails and the rail template.

Here's the door rails and the case rails, from the same template.

The rails for the doors in this case are 2 1/2" wide if I remember right. I didn't have thick enough poplar for the rails so I just used two pieces of 8/4 and glued them together to make up the rails. These doors paint so I wasn't two concerned about the glue line.
Here's the door rails being glued up.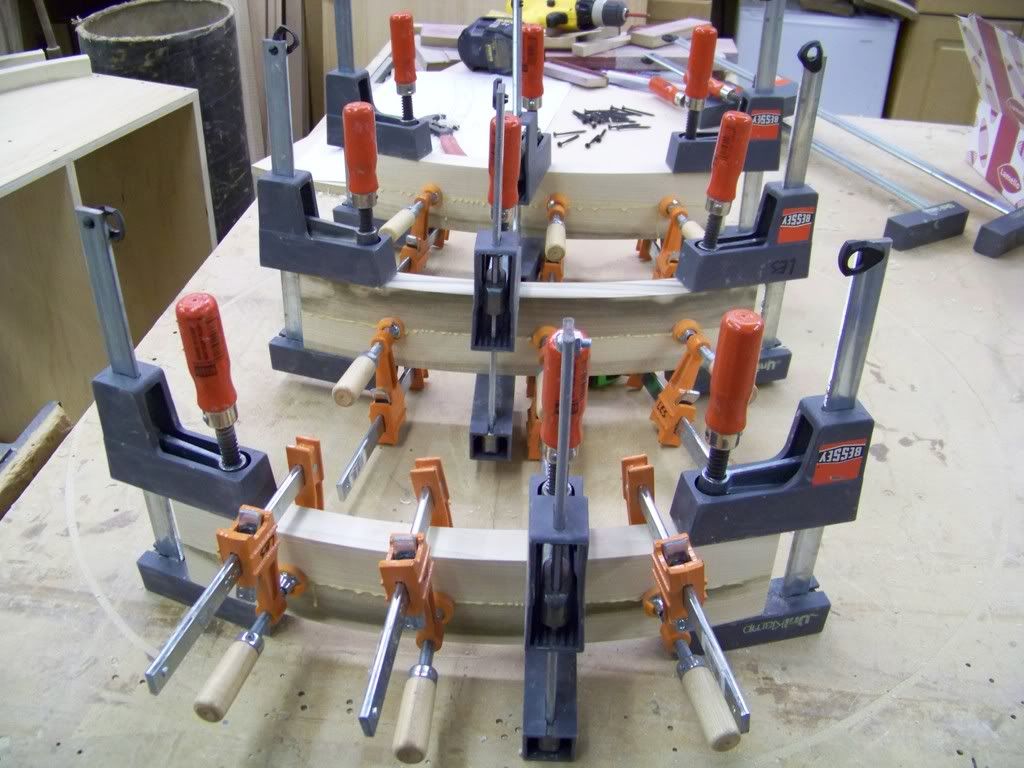 After all are glued then comes the sanding. Remember they are at least 1/32" to thick right now to allow for getting them sanded and cleaned up. This done all by hand. I make sanding blocks out of lumber for both the inside and the outside. Stick them in a vise and go at it. I use sticky back sand paper and just stick to the sanding pads. 80 grit then 120 grit. Final sanding to 180 grit is done after the doors are completely assembled.
Next up,,,,,,,, getting the panels glued up.
-- Les, Wichita, Ks. (I'd rather be covered in saw dust!)
---