It took about 15 mins to get the post on the lathe and get the pattern set and things set just right. So how its ready to let the chips fly and they do fly. I turn the lathe up full speed and go at it.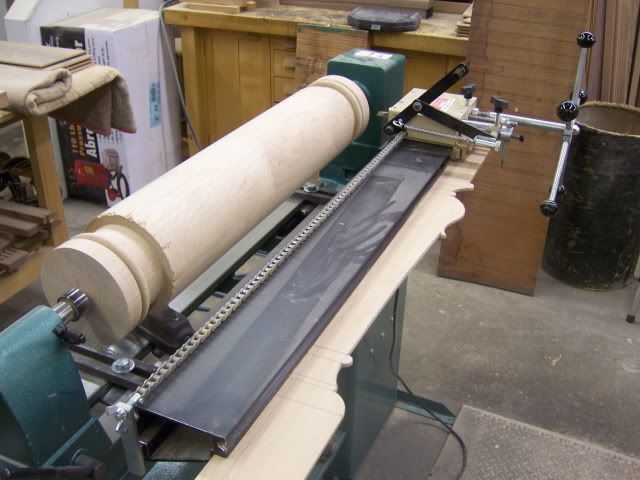 The orginal post is 6 1/4" in dia. I decided to go ahead and use its diameter for the new turning. So the new turning will be 6 1/4 dia. to 2 1/2" dia. at its smallest point and its 33 1/4" long. Total turning time with the duplicator to rough it out 10 mins.
I don't try to get a finished turning with the duplicator. I usually rough out my 1/4 patterns rather quickly, just getting them close. And after the rough out is done I clean the work by hand. That's why the duplicator is mounted on the back side of the lathe, so I can still turn from the front to clean up the piece without changing any set ups. Total time for hand turning and sanding the post to 180, 25 mins.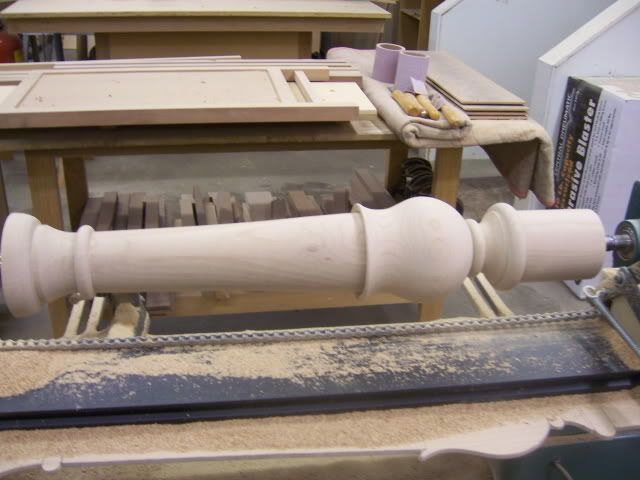 I turned a lip at the top of the turning where the carved leaves will end. This will make shaping the top of leaves a little easier.
The last picture is of the ball area where the leaves will be carved. We'll get back to that a little later on in the project.
From here we'll head over to the Legacy and reed the top portion of the post. Then will get the bottom end milled for the legs and dovetailed and we'll do all that next time around.
-- Les, Wichita, Ks. (I'd rather be covered in saw dust!)
---