I just bought a good assortment of lumber in order to have a stash on hand for potential projects. I saw this post in the Trade/Swap Forum: "Lumber" http://lumberjocks.com/topics/19315. The poster (Rich) removed the specifics regarding what he had for sale. Suffice it to say it included black walnut (16 bd. ft.), cherry (23 bd. ft), red oak (27 bd. ft.), mahogany (36 bd. ft) and Spanish cedar (40 bd. ft.). The thickness ran from 3/4 to 8/4 and he also threw in cutoffs of 8/4 and 6/4 purpleheart, some cherry panels he had glued up, a set of 14 pieces of book-matched birds-eye maple veneer and 2 pieces of fluted cherry that are finished on the fluted side. The Spanish cedar is four pieces 12 feet long and averaging 6.5 inches wide. Now for the mahogany. Rich moved quite often and over time the 10 feet long, 28" wide 6/4 slab of mahogany became to unwieldy for him to move. He cut it into a 4 foot section and a 6 foot section. I don't know what these massive pieces will become but tables certainly are a distinct possibility. Rich was asking for $600 for the whole lot and I countered asking if he would accept $500. I also asked about cupping, warping, checking, etc. He assured me there was next none. This was before I made the one and a half hour trip to see it. Satisfied with what I saw, I paid Rich and he helped me load it all in my car. We spoke a bit and I met his cat Keisha. He commented on how he joined LJ for the sole purpose of selling this lumber. He was impressed with all the welcome messages he received from LJs. I invited him to check in with us once he is settled.
I did some rough calculations and, if new, the lumber he sold me would cost about $1,020. He seemed genuinely happy that it was going to a furniture maker (That's mostly what I do.) as he intended to use it for the same purpose.
Below is a shot of the score. Cherry on the left followed by oak, walnut, mahogany, Spanish cedar (only one of the four pieces is shown) and a crate of cutoffs.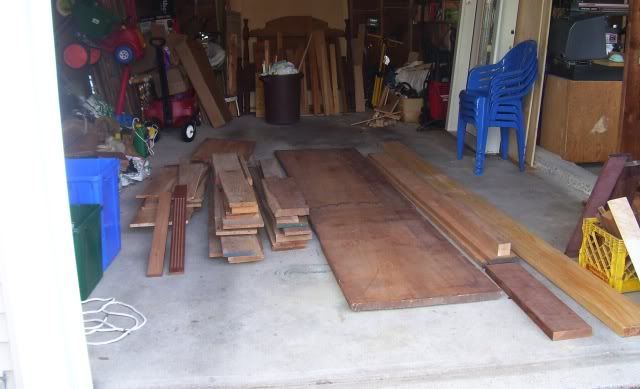 Another view of the stash. The item reflecting the sun is the 14 pieces of bookmatched maple veneer.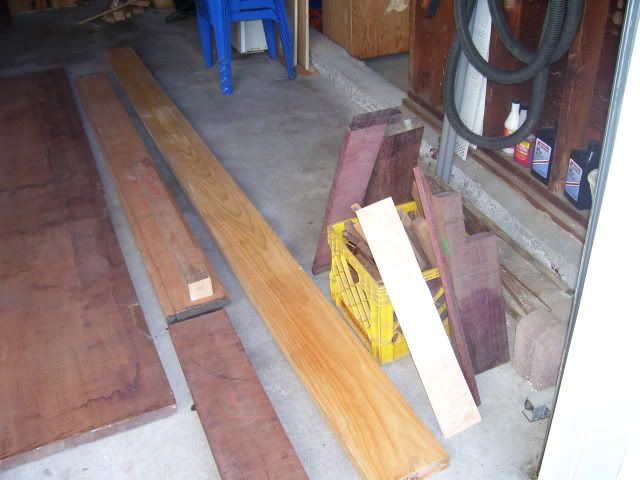 Here I am standing with the two slabs of mahogany. As you can detect, it sustained some water damage but I suspect I can deal with that. As you can tell from my shirt, I am one with the wood as I too have sustained some "water" damage.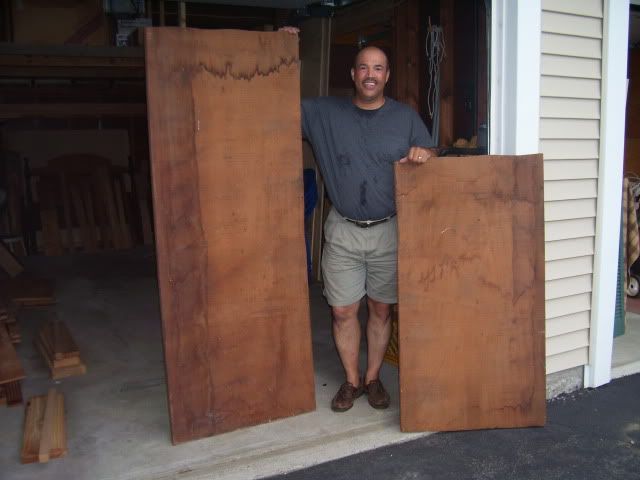 To steal from my buddy Mike's (Littlecope) line, this picture is "Just For Fun".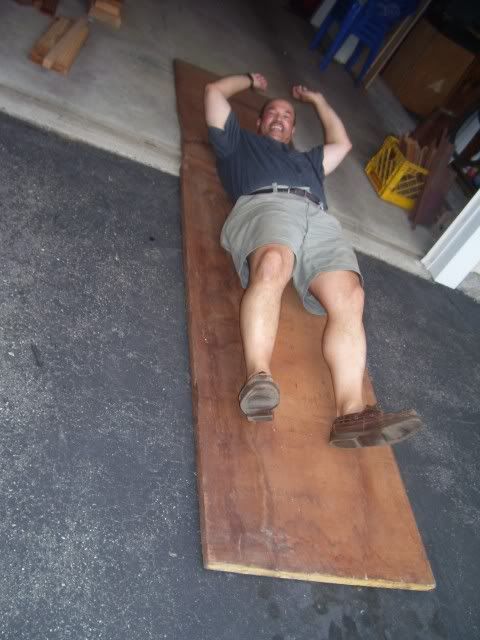 Thanks for viewing!
I almost forgot to give a hearty thank you to David (Patron) who offered some great advice when I asked for his input on the post. Thank you David!
-- On the eighth day God was back in His woodworking shop! Lenny, East Providence, RI
---