On a rainy morning when it was far better to be a New England woodworker than a New England athlete (Bruins, Celtics and Sox all lost the night before), 16 Lumberjocks met in the North End of Boston at the famed North Bennet Street School (NBSS) and enjoyed a day of meeting one another, touring the facility, receiving a tutorial on Google Sketchup and being students once again as we got a crash course on chair-making from a teacher.
I work about a ten-minute walk from NBSS. One day while lamenting about having missed the LJ gathering held in Lexington, MA in September 2009, I thought, wouldn't it be great to hold the next meeting at NBSS. Around December 10, 2009 I wrote a letter to the school inquiring as to whether they do, or would do, that type of thing, i.e., host a meeting of LJs, provide a tour, etc. It was early January and I had no response and so had pretty much given up on the idea. On January 13th, 2010, I received a reply from Claire Fruitman, the Associate Director. Claire assured me they do such things and we were welcome there. Via a few posts on LJ we arrived at the date of May 8th and voila, yesterday it happened.
Note: To those who were there, please add your perspective of the day as well as your photos.
Introductions
The following jocks, in random order, were in attendance: Ryan (Ryno101), Marlon (NewPilgrim), Mark (Mr. Hudon), Sharon (Purplev), Eli (Eli), Chelle (ChelleR), Paul (PaulF), Lou (LouCarb), Ellen (Ellen35), Mike (LittleCope), Frank (Frank Doyle), Jeff (JCantin), Lorna (Moonls), Peter (PSH), Darryl (Darryl) and Lenny (Lenny).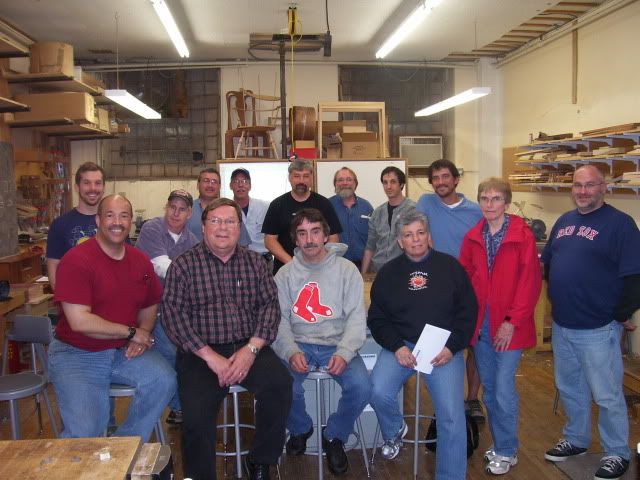 Back Row: Eli (Eli), Jeff (JCantin), Mark (Mr. Hudon), Frank (Frank Doyle), Barry (CessnaPilotBarry), Peter (PSH), Sharon (Purplev), Ryan (Ryno101)
Front Row: Lenny (Lenny), Paul (PaulF), Mike (LittleCope), Ellen (Ellen35), Lorna (Moonls), Darryl (Darryl). Missing from photo: Chelle (ChelleR), Marlon (New Pilgrim), Lou (LouCarb).
During the introductions we learned our length of time in woodworking varied from relative newbies to those who have been at it for 20-30+ years. Shops also vary greatly from postage stamp sized space shared with a washer and dryer to dedicated shop space. Some are hooked on turning, some make boxes and others concentrate on furniture. Time spent woodworking also runs the gamut and those with young children (rightfully so) have other obligations that prevent them from the amount of woodworking they would love to be doing.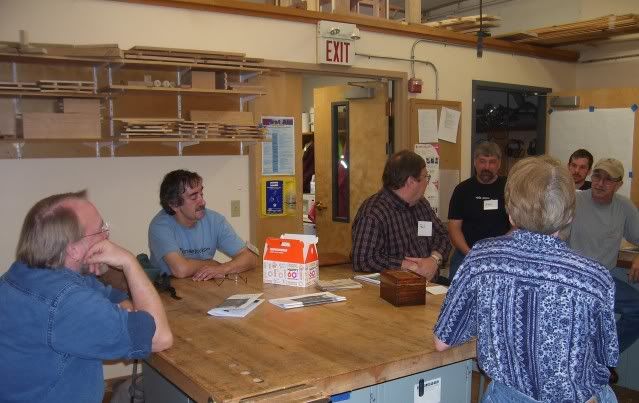 Here we are in the bench room introducing ourselves to one another. We have Peter, Mike, Paul, Barry, Eli, Lou and Lorna's back (Sorry Lorna)
Tour
We were given a tour that lasted about one hour. Claire was our guide and she covered all areas of the school except Jewelry-making as she took us to rooms on all 4 floors. Besides the Cabinet and Furniture-making section, we saw the Violin-making and Repair, Locksmith, Piano Technology and Bookbinding areas as well. The turners in the group drooled when we visited the turning room, filled with large Powermatic lathes. Some had to be pried from the legs of lathes to get them to move on. The machine room was very impressive with its diverse tool types which include a Powermatic TS, a Delta thickness planer, a General hollow chisel mortiser (the plunge is foot operated) and (most impressive to me) a HUGE bandsaw that I think Claire said measures 36". I don't think everyone noticed but we even had a cameo appearance by Thomas McDonald. I happened to be standing near Claire in the large bench room on the 4th floor when Tom walked in. After greeting Tom, Claire said to him, "I don't know if you know anyone." I chimed in, "This is of course Tom McDonald." and we shook hands. It turns out that when Tom attended NBSS, Claire was his instructor. I wished him luck on his upcoming woodworking show which will run on the public broadcasting network. By the way, Eli is on the broadcast crew for the show.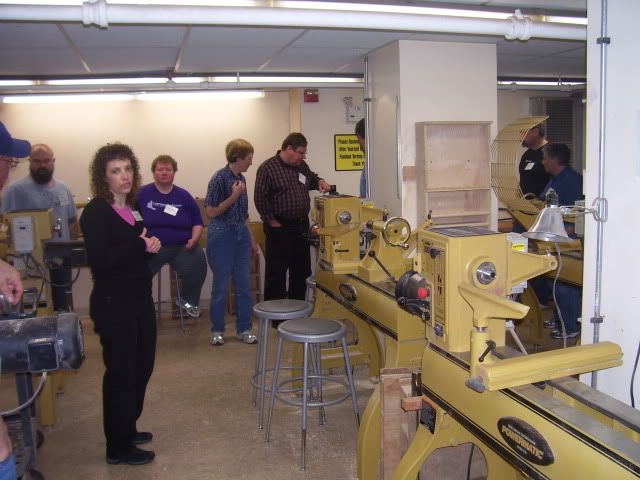 Claire showing us the lathe room. Visible are: the bill of Frank's cap, Marlon, Chelle, Lorna, Paul, Ryan's left ear, some of Barry and Ellen.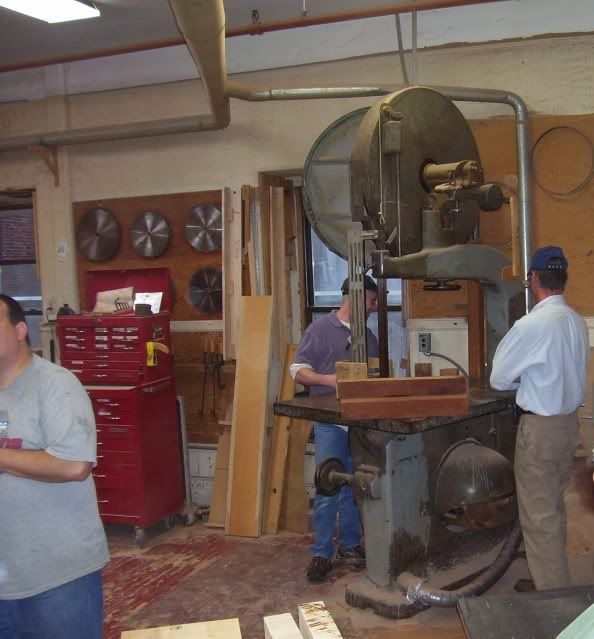 Jeff and Frank checking out the massive bandsaw. Re-saw anyone?
Google Sketchup
After lunch Sharon (Purplev) gave a wonderful live presentation (tutorial) on Sketchup basics. This was a very beneficial tutorial. Many of us had experimented with Sketchup but were unable to break through some of the barriers to a point where we could/would use the program with any regularity or success. Personally, I feel certain my next attempt will bring better results. Thank you Sharon for the time you put into this and the great job you did in presenting the topic in a "user friendly" manner.
Steve Brown on Chair-Making
We were privileged to watch and listen to a Powerpoint presentation by Steve Brown, the Cabinet and Furniture-making department head. Steve took us through how he goes about making a Chippendale style chair from start to completion. It is the same style chair students in the program complete. It was fascinating to learn the depth of thought, level of layout and tools (hand and power) employed in the process to end up with a fine piece of furniture. I always imagined a chair to be a challenging and complex project and I was left believing that even more.
Thanks
I'd like to thank everyone who attended (and some who wanted to but couldn't) for making it an enjoyable event. Your input as we developed plans for the day was very helpful. Special thanks to Ellen who served as a sounding board for me when I needed an ear or an opinion. The same to Sharon, as well as thanks again for the Sketchup presentation. To Eli for arriving early and serving as a host early on. To the RI Woodcraft Store for sponsoring our event with the contribution of 5 Lie-Nielsen card scraper sets (2). We held a drawing of all attendees and the following Jocks won: PaulF, Jeff, Mark, Ryan and Eli. Eli graciously drew another name as he already owns a set. Chelle was the lucky beneficiary of Eli's generosity. Lastly, thank you to North Bennet Street School, Claire Fruitman and Steve Brown. We appreciate you opening your doors to us. We feel we selected a tremendous venue for our meeting and we appreciate the time, information, expertise and instruction you offered to us.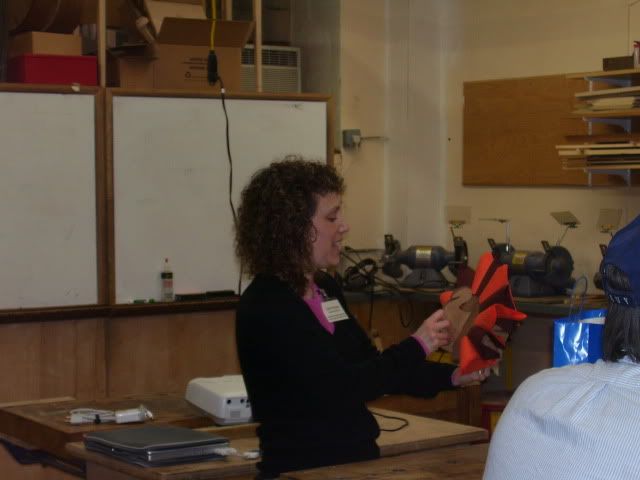 We presented Claire (and Steve Brown too) with a little gift. Here, I just presented her with the wooden "turkey napkin holder" I had made. I got the idea for this from fellow jock, Dean_Morrell. It is among his projects. We also presented an LJ T-shirt to Claire, Steve and Sharon.
-- On the eighth day God was back in His woodworking shop! Lenny, East Providence, RI
---