I guess about ten years ago I made a second router table for certain applications. Mostly it was to be used with Incra jigs and accessories.
This table is a little fancier than the last one I posted ands does have a few advantages.
For example there is no back to this cabinet. Both sides have the same door arrangement, so accessing the router is easier to make height adjustments.
Also there is a lot of bit storage in the four vertical pull outs. These too can be pulled out to either side so your able to access them easily.
The mounting plate was originally made from 1/4" Lexan, however there was too much flexing taking place for really accurate work. I replaced the Lexan with 1/4" aluminum plate. This is rock solid and provided the stability to do really intricate and precise work, as the Incra jigs are designed to do.
In the picture the table is sitting on a furniture dolly. Since having bought a shaper this table, like the last one is rarely used. Now it supports a Blum hinge machine, which is very heavy. Having it on wheels make it easy to move around the shop.
While this cabinet does have dust collection, and it works fairly well, it's not as effective as the one on the other table.
By the way, the laminate was left over from a job. (I don't want anyone thinking I bought this color for a router table)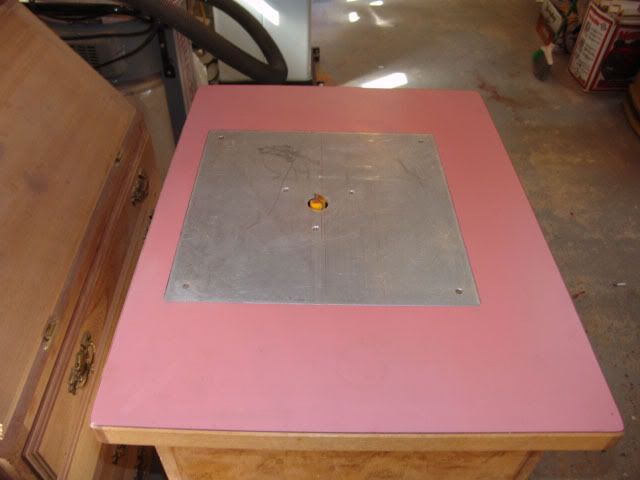 -- by Lee A. Jesberger http://www.prowoodworkingtips.com http://www.ezee-feed.com
---